Blinn government professor receives award for his dedication to the Texas Digital Learning Association
Eric Miller recognized with Bennie Tschoerner Award for Outstanding Commitment to TxDLA by an individual
March 9, 2023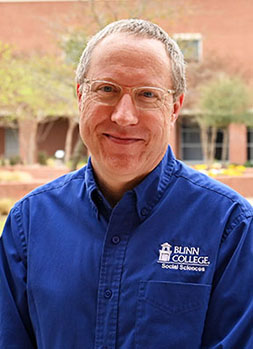 Blinn College District government professor Eric Miller has earned the Bennie Tschoerner Award for Outstanding Commitment to the Texas Digital Learning Association (TxDLA) by an individual.
Miller will receive the award at TxDLA's 2023 Annual Conference in Galveston on Tuesday, March 21.
TxDLA is the leading Texas membership association for digital learning professionals. Members represent public and private education institutions at all levels as well as corporate training professionals and digital learning equipment and content providers.
"I am honored by this award and for being recognized for my service to TxDLA," Miller said. "I'm passionate about online instruction, which includes developing games that have been integrated into the government classes I teach. By teaching online, I am able to reach more students and supply them with the knowledge and tools to be successful at Blinn and beyond. I am thankful to the College and specifically Dean Brandon Franke for supporting my work with TxDLA."
A Blinn faculty member for more than 25 years, Miller currently teaches government courses. Prior to this position, he served as Department Head of Technology for Blinn's Division of Social Sciences. Dedicated to online education, he has been developing online classes since 2000 and is a certified Master Reviewer with Quality Matters, a global organization dedicated to quality digital teaching and learning environments. He has co-authored a Texas government textbook and authored many supplemental materials for use in American government and Texas government courses. Miller earned his Bachelor of Business Administration from Angelo State University in 1987 and his Master of Public Administration from Texas A&M University in 1990.
Blinn's Division of Social Sciences teaches students critical thinking and observation skills by challenging them to examine and analyze the world objectively. Programs include anthropology, criminal justice, geography, history, paralegal and legal studies, psychology, and sociology. Students studying in these programs transfer to the state's leading universities, including Texas A&M University, Sam Houston State University, the University of Houston, Texas State University, and the University of Houston-Victoria (UHV).
To learn more about Blinn's Division of Social Sciences, visit www.blinn.edu/social-science.
Related Links
Archives
GET CONNECTED