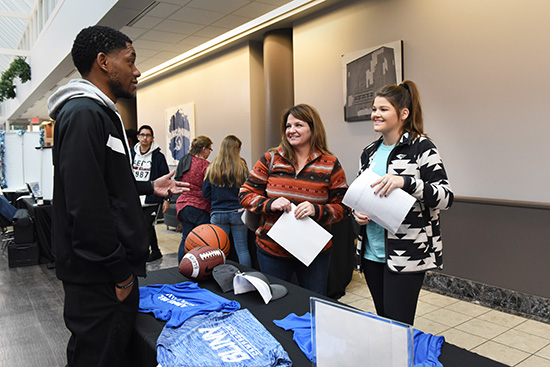 Are you considering attending Blinn? Would you like to find out more about attending one of the nation's most affordable colleges, with tuition and fees about 1/3 the cost of most public four-year institutions? Do you want to learn why Blinn is one of the top community colleges in the state of Texas and recognized for our high transfer rate? Preview Day is a great way to learn more about what Blinn has to offer, whether you want to enter quickly but effectively into a career, or you want to eventually earn a bachelor's degree. 
These fun-filled days feature information sessions about the admissions process, enrollment services, financial aid, housing, and student life. We provide campus tours and some of the dorms and apartments on the Brenham Campus will be open for viewing. There is also a departmental fair that many organizations and departments participate in so students can speak to representatives about programs they may be interested in joining.
Agenda
8:00 – 8:55 – Check-In
8:55-9:00 – Welcome & Introduction
9:00-9:15 – Admissions Presentation
9:15-9:20 – Housing Presentation (Brenham) or Student Life (Bryan)
9:20-9:35 – Financial Aid Presentation
9:35-9:55 – Announcements/Break
*10:00 – 10:20 – Engineering Academy Information Session
*10:20 – 10:55 – Engineering Academy Campus Tour – (Brenham)
10:00-11:40
Campus Tour
Departmental Fair
Assistance with Apply Texas and FAFSA completion
12:00-2:00 - Residence Hall and Campus Apartments open for optional viewing (Brenham)
*Students interested in the Texas A&M Engineering Academy at Blinn should attend the Engineering Academy information session at 10 a.m.