Blinn graduate presents research at national psychology conference
Dylan Franke was one of only six community college participants to showcase their findings at the American Psychological Association's Annual Convention in Minneapolis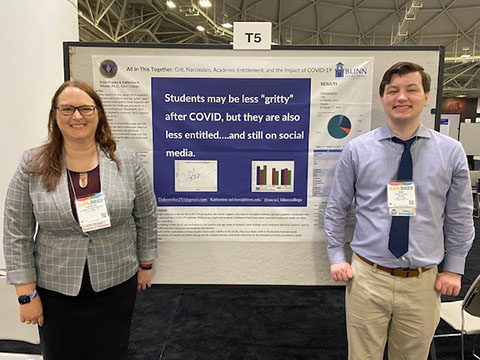 September 9, 2022
A recent Blinn College District graduate presented his research project at one of the nation's largest psychology conferences.
Dylan Franke, 22, recently attended the American Psychological Association (APA) Annual Convention in Minneapolis, Minn., where he participated in a poster session to discuss his work with Psychology Professor and Assistant Academic Dean Dr. Katherine Wickes. Their project focused on how the pandemic impacted students' resilience, social media usage, and other factors. The team's poster was one of only six accepted to the conference at the community college level.
"I had so many people visiting, asking questions, and showing general interest in the poster that I don't think I stopped to take a real breath for the entire hour-long presentation," Franke said.
The team used survey data from Blinn students to conduct their analysis. They compared existing data for several variables from 2017 with survey data collected in 2020 and 2022 to determine the change in student behavior prior to, at the beginning of, and in the middle of the pandemic. Although limited in scope, the data indicates that students became less resilient over time, are still heavily engaged in social media, but were more understanding in believing that everyone deserves a second chance.
"Working on this project was fascinating. Seeing the changes between the studies was my favorite part," Franke said. "Dr. Wickes also was a major driving force for the project, and I have had wonderful experiences with all of the Blinn teachers I've had across the board."
Franke's work was featured in the poster session for Psi Beta, the national community college honor society for psychology. The organization recognized his contributions with an Emerging Researcher Award. This honor is presented to student members who complete a research study during their first two years of college.
"Blinn is unique as a community college in providing students access to an individual research experience where they can work with a faculty member, complete a research project, have a presentation, and it really gives them a deep look into what the psychology major looks like and what the overall field looks like," Wickes said. "This experience is something you don't often get at a community college and very rarely get even at a four-year institution."
The APA's Annual Conference features more than 900 in-person sessions reflecting the more than 133,000 researchers, educators, clinicians, consultants, and students that make up the organization's membership. For Franke, attending an event of this magnitude served as a great networking opportunity and inspired him to explore new projects.
"This was an incredible opportunity for me to get my name out in the psychology community before I even hit the job market," he said. "The connections I made with Psi Beta will be fascinating for future work with them and their sister organizations."
As a result of the interest their project received at the conference, the team plans to submit their findings for publication in an academic journal.
"Research faculty from other institutions are always very impressed with our students," Wickes said. "They are really surprised that this work is from sophomore-level students because most of the research presented at these conferences is from graduate programs. For Dylan to have this type of experience is extremely special."
Franke said he hopes to explore new research opportunities as he works towards his bachelor's degree in psychology at Sam Houston State University. He also plans to continue his education with a master's degree in either child or human factors psychology.
Blinn's Psychology Program offers Associate of Science and Associate of Arts degrees in psychology, and students can complete the degree online or on any of Blinn's five campuses.
Through the RELLIS Academic Alliance, Blinn psychology students can pursue their Bachelor of Arts in Psychology from Texas A&M University-Kingsville, Bachelor of Science in Health Science from West Texas A&M University, or their Bachelor of Science in Public Administration from Tarleton State University. All three bachelor's degree programs are offered at Texas A&M-RELLIS in Bryan.
Through the Clear Affordable Pathways to Success (CAPS) Program offered in partnership with the University of Houston-Victoria (UHV), psychology students can earn their Associate of Arts in Psychology from Blinn and their Bachelor of Science in Psychology from UHV.
To learn more about Blinn's psychology degree offerings and partnerships, visit www.blinn.edu/psychology .