Blinn College at RELLIS
Respect, Excellence, Leadership, Loyalty, Integrity, and Selfless Service
At the RELLIS Campus, the Blinn College District has partnered with The Texas A&M University System as a member of the RELLIS Academic Alliance. Through the Academic Alliance, students can complete their freshman- and sophomore-level courses through Blinn College, and seamlessly complete their bachelor's degree in related fields from an A&M System regional university, including Texas A&M University-Corpus Christi, Prairie View A&M University, Tarleton State University, West Texas A&M University, Texas A&M University-Texarkana, Texas A&M University-Kingsville and Texas A&M University-Central Texas. The RELLIS Academic Alliance website can be found here:   https://rellis.tamus.edu/academicalliance/.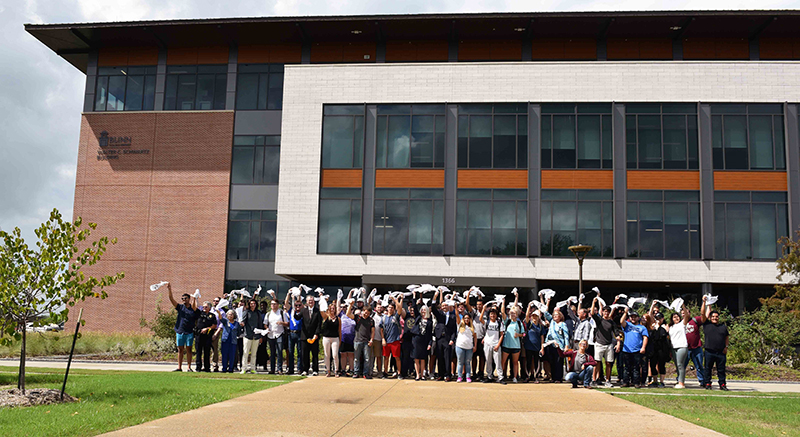 ---
CURRENT OFFERINGS AT THE RELLIS CAMPUS INCLUDE:
Bachelor of Business Administration from A&M Corpus Christi, majors in Accounting, Finance, Management, and Marketing
Bachelor of Science in Criminal Justice from Tarleton
Bachelor of Science in Public Administration from Tarleton
Bachelor of Science in Biology from TAMUT
Bachelor of Science in Health Science from WTAMU
Registered Nurse to Bachelor of Science in Nursing from PVAMU
---
ANTICIPATED FALL 2019 OFFERINGS AT THE RELLIS CAMPUS WILL INCLUDE:
Bachelor of Applied Arts and Sciences (BAAS) in Business Management from A&M-Central Texas
Bachelor of Science in Criminal Justice from PVAMU
Bachelor of Arts in Psychology from Texas A&M-Kingsville
Bachelor of Arts in Communication from Texas A&M International
Bachelor of Science in Computer Science from Texas A&M-Commerce
In addition to a seamless transition process, the RELLIS Academic Alliance offers a competitive tuition rate. Students enrolled in upper-division courses at one of the Texas A&M System regional universities at the RELLIS Campus pay $295 per semester credit hour, or $8,850 for a 15-hour course load for the fall and spring semesters – almost $2,000 less than many other universities in the region.
Students taking Blinn courses at the RELLIS Campus pay Blinn's tuition rate of $111 per semester credit hour for out-of-district students.
---
Meet Our Currently Enrolled Students
---
WALTER C. SCHWARTZ BUILDING
Opened in 2018, the Walter C. Schwartz Building is a high-tech, collaborative learning educational environment designed specifically to help students gain the science, technology, engineering, mathematics, and other skills they need to meet their goals for the future. Please enjoy this walking tour of the Schwartz Building.