Instrumental Studies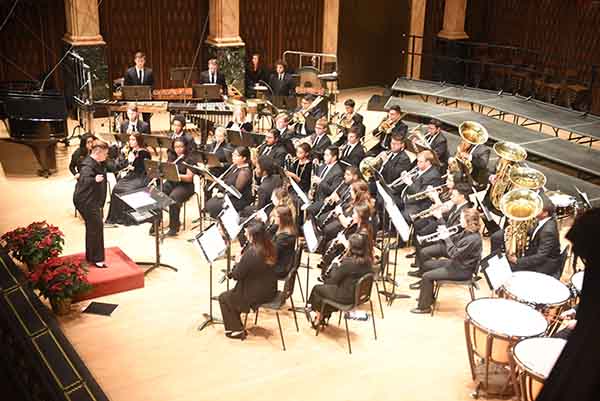 Blinn College District Instrumental Studies offers a wide array of outstanding chamber music ensembles for music students interested in performing in small groups. These groups are open to all music students admitted into the Blinn College Band Program regardless of major, however, music majors are strongly encouraged to participate. The chamber ensembles that comprise the Instrumental Studies Program perform numerous concerts throughout the year both on campus and within the community.
For scholarship information and audition dates, please visit the Auditions and Request
Woodwind Ensemble provides a variety of opportunities to perform excellent literature in many different chamber settings. Our standard ensembles include flute choir, clarinet quartet, quintet, or sextet and choir, woodwind quintet (flute, clarinet, oboe, bassoon, horn), saxophone quartets, mixed woodwind trios and quartets, woodwind choir.
Woodwind Ensemble is an excellent learning experience for future music educators. Previous performances have included works from Piazzolla, Del Borgo, Bozza, Balentine, Uhl, and standard UIL repertoire. Membership is open to all members of the Blinn College Band Program regardless of major with some specialized small ensembles requiring auditions.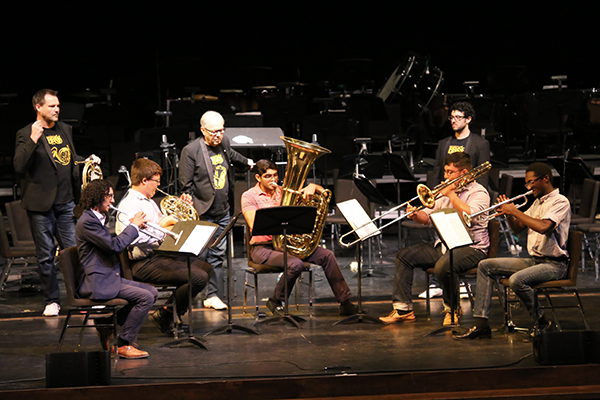 Brass Ensemble includes many different types of chamber music from brass quintets to the Blinn College (BC) Brass, a 30-member brass ensemble. Each group performs regularly and receives coaching by our outstanding brass faculty.
Small Ensembles: Students are formed into groups of four to six players and perform repertoire written specifically for that medium. Small ensemble performance fosters outstanding musicianship and individual performance skills. Possible ensembles include brass quintets, brass sextets, tuba-euphonium quartets, and euphonium quartets.
Like-Instrument Ensembles: Like-instrument ensembles give each studio, including trumpet ensemble, horn choir, trombone choir, and tuba-euphonium ensemble, the chance to create and perform as an ensemble. These ensembles perform at a variety of venues on campus and in the community.
BC Brass Ensemble : The BC Brass is the flagship brass ensemble at Blinn. The ensemble consists of 25-30 college brass musicians and performs music specifically written for large brass ensemble. Previous performances have included works by Brian Balmages, Vaclav Nelhybel, and Tylman Susato.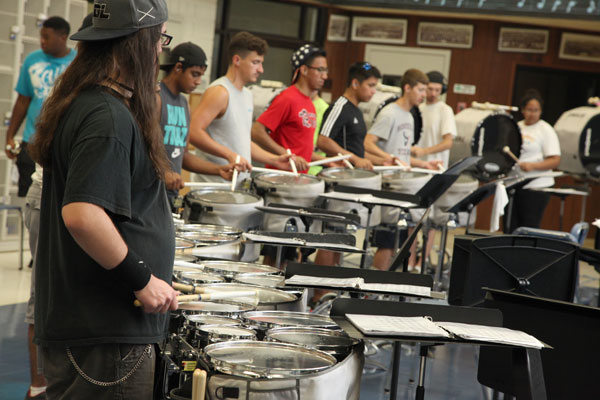 Blinn Percussion Studies strives to attain the highest possible performance standards while helping students experience a diverse array of percussive performance outlets. Students at Blinn have the opportunity to perform in drum line, steel band, percussion ensemble, jazz band, wind ensemble, and marching bands. All students, not just music majors, may receive private instruction that assists each student in attaining their individual artistic goals. Former percussion music majors have been accepted into four-year institutions, including the University of Texas, Texas Tech University, Texas Christian University, Sam Houston State, Texas A&M-Commerce, Texas A&M-Kingsville, the University of Houston, Texas State University, and West Texas A&M.
Percussion Ensemble: The Blinn Percussion Ensemble is a concert ensemble that performs a variety of works ranging from modern percussion compositions and world music to transcriptions. This ensemble focuses on providing the percussionists a musical challenge while creating a rewarding concert outlet. The Blinn Percussion Ensemble typically performs one full-length feature concert in addition to several run-out concerts for area schools.
Steel Drum Band: The steel drum band meets during the Spring semester and is open to members of the Music Program through audition. This ensemble plays a variety of musical arrangements for pan, and is a "combo" style group with one on a part for each pan voicing. The steel drum band also utilizes a standard "engine room" (drum set, auxiliary percussion, handrums, etc.) in addition to an electric bass. We are proud to use a set of pans from Steel of the Night.
Drumline: The Mothership Connection drumline consists of both music majors and non-majors striving to attain the highest possible standards in marching percussion. Each year, this group performs both as a section of the Blinn College marching band and as an exhibition solo group. Members of the Mothership Connection audition in the Spring for acceptance into the Band Program, and are then placed into their various captions through auditions on the first day of summer drumline.
The Mothership Connection drumline exclusively uses  Promark sticks  and mallets, and marches in Evans drumheads.
Facilities and Instruments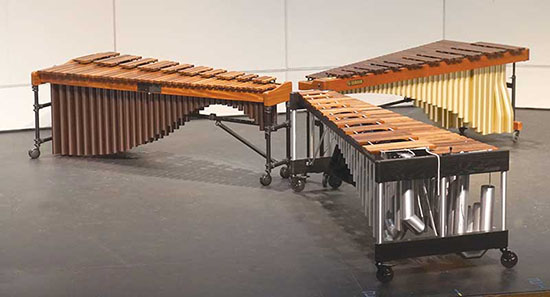 Housed in the Machat Music Facility, Blinn's percussion studio serves as the primary rehearsal area for Percussion Ensemble. Students have access to two studios, as well as numerous practice rooms and two band rehearsal halls.
Blinn's Instrumental Studies Program also features an impressive inventory of state-of-the-art equipment, including three 5.0 octave marimbas purchased with the help and support of the Blinn College Foundation.


Piano students have numerous opportunities to grow at Blinn College. In addition to studying standard piano repertoire, pianists can perform with the chorus, symphonic band, jazz band, and collaborate with fellow students in recitals. Most importantly, they can grow as musicians in a traditional campus atmosphere that is nurturing and personalized, thus helping them to make the transition to college life a bit easier, while preparing them to transfer to a university.
Blinn students have access to numerous pianos for performance and practice, including a Bösendorfer Imperial concert grand piano, Boston 6'5" grand piano, and Kawai grand piano.