Duddlesten Foundation awards the Blinn College District another $100,000 grant for career and technical education scholarships
Gift from the Wayne Duddlesten Foundation will benefit students in Associate of Applied Science and career and technical education programs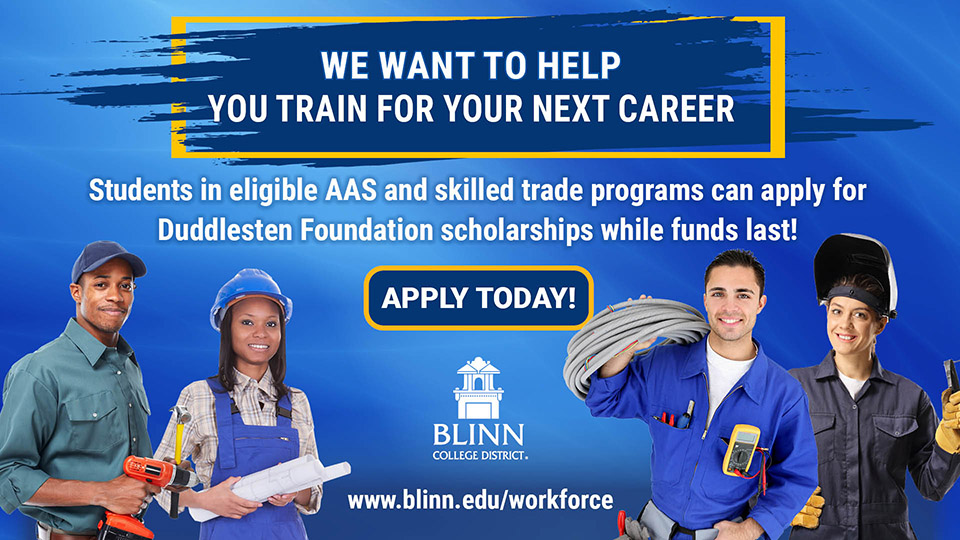 June 13, 2023
With the support of the Wayne Duddlesten Foundation, Blinn College District students enrolled in select career and technical education programs can receive up to $2,500 in scholarship support on their way to a rewarding career.
This marked the third consecutive year the Duddlesten Foundation has awarded a $100,000 grant to the Blinn College Foundation to support student scholarships.
To be eligible, applicants must enroll in an eligible program and write a thank-you letter after the scholarship has been awarded. The scholarships are available to students in the following programs:
These programs place students on the path to careers that are in high demand and offer highly competitive salaries.
Wayne Duddlesten, a prominent Houston businessman and philanthropist, established his foundation in 1981 to help non-profit organizations and educational institutions.
The Blinn College Foundation, which oversees almost 300 endowed scholarships, also provides financial support for programs and activities that enhance the quality of education for Blinn students, looks to heighten community awareness of the mission and accomplishments of the college, and promotes excellence in education.
Registration is now open for the summer II and fall terms and for non-credit courses that are offered throughout the academic year. For more information, visit www.blinn.edu/workforce.
Enjoy this article? Share it with one click!