Blinn recognizes 59 Associate Degree Nursing graduates with pinning ceremony
Blinn ADN graduates rank among the state leaders on the national licensure exam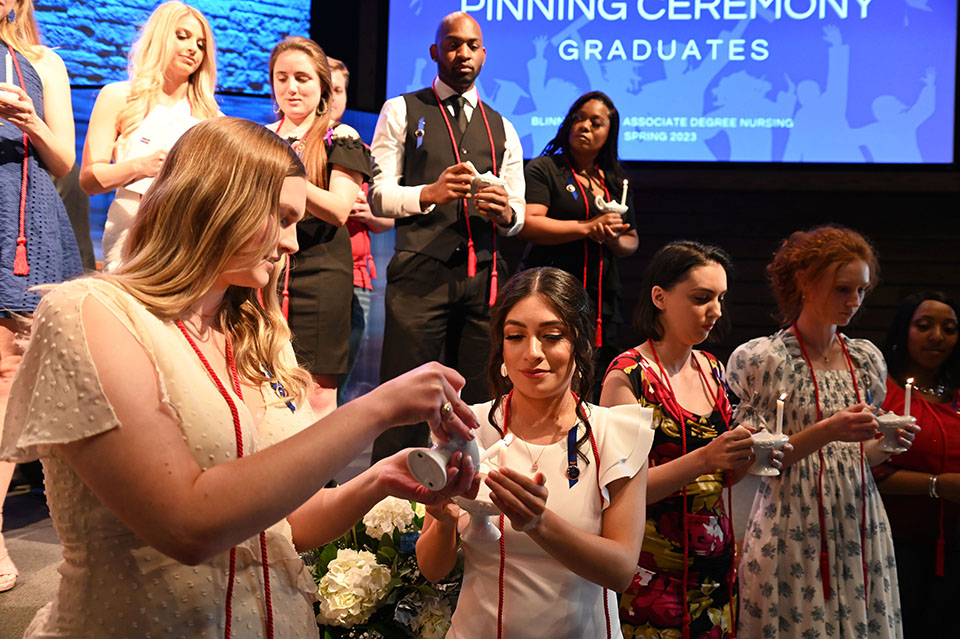 May 2, 2023
Fifty-nine future nursing professionals recently were recognized with their nursing pins after completing the Blinn College District's highly regarded Associate Degree Nursing (ADN) Program.
"The nursing profession needs dedicated caregivers like these graduates who exemplify a commitment to selflessness and compassion for their patients," said Dr. Karla Ross, ADN Program Director. "Each day, they have risen to the challenges that came their way and our faculty is proud to supply them with the knowledge, skills, and support necessary to embark on rewarding careers."
Blinn's two-year program prepares students for nursing careers and for transfer into a bachelor's degree program at a four-year university. Students who complete Blinn's ADN Program and pass the national licensure exam have a job placement rate between 97 and 100% and are qualified for a wide array of nursing positions, including pediatric, geriatric, hospice, school, and clinical nursing. With demand soaring in the nursing field, the U.S. Bureau of Labor Statistics reports that registered nurses earn a median salary of $77,600.
The spring 2023 graduating class includes Hannah Birsinger (Friendswood), Kristen Bristow (Bryan), Madeline Brown (Bryan), Donnell Burns (Brenham), Sherika Burns (Brenham), William Carlton Byrd IV (Wills Point), Jensen Chain, Bianca Cifuentes (Pasadena), Chad Cook (San Diego, Calif.), Mackenzie Eppers (Bryan), Lori Fritts (La Grange), Amber Gipson (Madisonville), Samantha Gregory (Brenham), Emily Grimm (Caldwell), Sidney Herrington, China Herrington (Angleton), Caroline Ivie (Rockwall), Jillian Janicek (Bellville), Abby Jeansonne (Jasper), Luis Jimenez Pena (College Station), Rebecca Johanson (Diamond Springs, Calif.), Rachel John (College Station), Madison Klotz (Sealy), Tristan Lampkin (Waller), Michelle Mayfield (Bellville), Shoncy Mckinney (Kansas City, Kan.), Elyse Menconi (La Grange), Courtney Middleton (Hallettsville), Heather Molloy (Conroe), Carrie Morris Duran (Hummelstown, Pa.), Constance Mouton (La Grange), LaShauna Nelson (College Station), Bay Novak (Caldwell), Amberli Palmer, Lindsey Pena (Dallas), Kristen Pursley (College Station), Taran Riggs-Hart (Boston, Mass.), Amanda Rios (Brenham), Jacolby Robinson (Bryan), Natalie Rodriguez (Midland), Mia Rutherford (Dickinson), Madalyn Rybarski (Brenham), Elizabeth Sanchez (College Station), Taydra Sanders (College Station), William J. Schlottman II (Brenham), Amy Scott (College Station), Jessica Sheridan (Salem, Ore.), Rylee Shields (Brenham), Savannah Smith (Mumford), Diane Spikes (Brewster, N.Y.), Samantha Sprang (Weimar), Quint Stone, Summer Taylor, Haley Thurman (Happy), Sarah Truelove Naumann (North Zulch), Celeste Villanueva (Bryan), Jackson Ward (Kingwood), Carmen Williamson (Hempstead), and Alencia Woodberry (Brenham).
Jimenez, Molloy, Morris, and Mouton each graduate as members of Alpha Delta Nu Nursing Honor Society. Alpha Delta Nu students must maintain a 3.5 grade-point average both overall and in their nursing courses. Members also must complete a capstone project and demonstrate conduct on campus and in clinical areas reflecting integrity and professionalism.
I started Blinn's program with no medical background and gained the knowledge and skills required to embark on my new position as a medical-surgery oncology nurse in Houston," said Academic Excellence Award winner and Alpha Delta Nu inductee Heather Molloy. "The faculty supported and encouraged me throughout my nursing journey, and I know having such a positive experience will help me achieve my long-term goal to become a women's health nurse practitioner and nurse midwife."
Blinn's ADN Program is based at the RELLIS Academic Alliance Complex at Texas A&M-RELLIS in Bryan, where students gain hands-on skills utilizing the facility's 16,000-square-foot simulation laboratories.
Nursing students spend at least two days per week in clinical rotations, in addition to lab, simulation, and lecture time. Most students dedicate 15 to 24 hours each week to scheduled program activities and at least 30 hours per week on study and preparation.
Blinn's ADN Program recently partnered with the Texas A&M School of Nursing to provide students with an affordable pathway to their bachelor's degree in nursing (BSN). The Aggie Student-Centered Express Nursing Degree (ASCEND) Program allows students to co-enroll with both schools to earn their ADN degree with Blinn and their BSN with Texas A&M in as little as one additional semester. Blinn also maintains transfer partnerships with other universities, including Sam Houston State University.
As a result of this success, Blinn has been recognized by Nursing Schools Almanac, NursingProcess.org, RNCareers.org, and RegisteredNursing.org.
For more information about Blinn's ADN Program, visit www.blinn.edu/adn.
Enjoy this article? Share it with one click!