Blinn recognizes 45 Associate Degree Nursing graduates with pinning ceremony
Blinn ADN graduates rank among the state leaders on the national licensure exam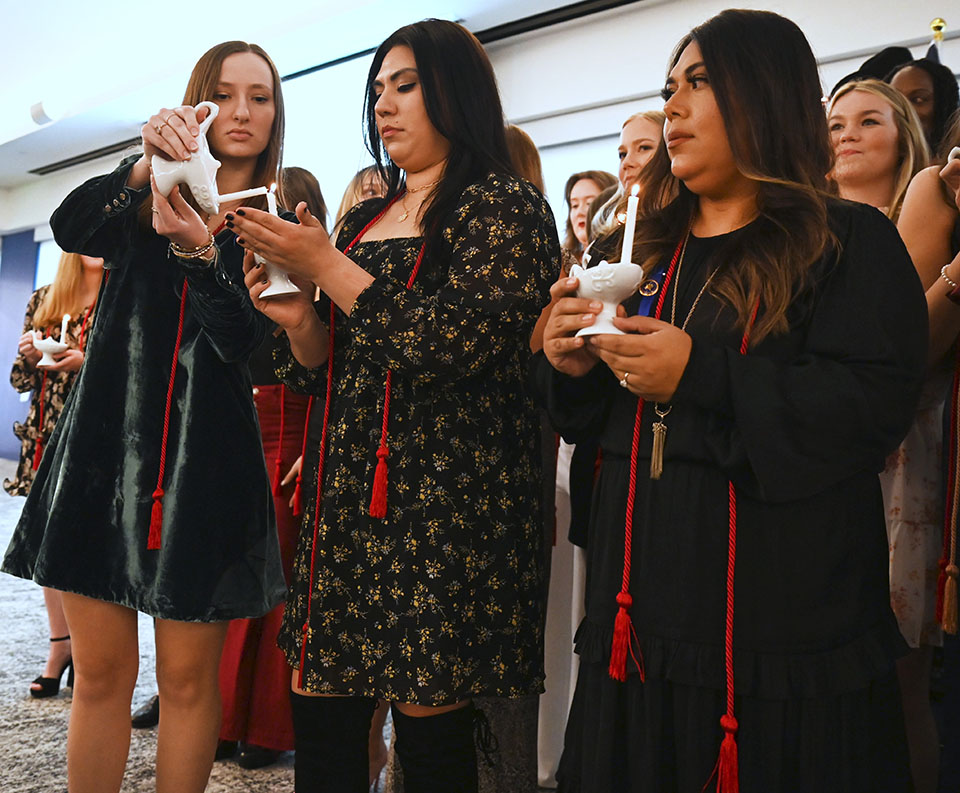 December 14, 2022
Forty-five future nursing professionals recently were recognized with their nursing pins after completing the Blinn College District Associate Degree Nursing (ADN) Program.
"The nursing profession needs dedicated caregivers like these graduates who exemplify a commitment to selflessness and compassion," said Dr. Karla Ross, ADN Program Director. "Each day they have risen to the challenges that came their way, and our faculty is proud to supply them with the knowledge, skills, and support necessary to embark on rewarding careers."
Blinn's two-year program prepares students for a nursing career and for transfer into a bachelor's degree program. Students who complete Blinn's ADN Program and pass the national licensure exam have a job placement rate between 97 and 100% and are qualified for a wide array of nursing positions, including pediatric, geriatric, hospice, school, and clinical nursing. With demand soaring in the nursing field, the U.S. Bureau of Labor Statistics reports that registered nurses earn a median salary of $77,600.
The fall 2022 graduating class includes Kate Bortner (Houston), Madison Laine Bourgeois (Texas City), Tanner Joe Bright (Sherman), Tannah Brister (College Station), Elsa Castillo (Navasota), Ashley Kay Chennault (Fayetteville), Haley Conner (College Station), Alexis Kylynn Copley (Georgetown), Kenzie Crabtree, Haley Davila (Bryan), Madigan Page Davis (Van), Xyrelle Cayabyab De Guzman (Houston), Paige Lunde Friendshuh (Fort Worth), Amber Grief (Bellville), Haley Hallford (Caldwell), Bailey Hartl (Edna), Kathleen Havemann (Caldwell), Konnor Hill, Laura Alejandra Hinojosa (Sacramento, Calif.), Kaylan Leann Hopcus (Bremond), Madeline Johanson (Bandera), Alexys Kenvin (Houston), Kelly Kitchens (Bryan), Lauren Knowles (Euless), Sheneka Manning (Madisonville), Leanne Martinez (Somerville), Kimberley Morris (Burton), Tiffany Wendi Mutune (Little Elm), Mckenzie Northrup (Bellville), Robert Paschal (Bryan), Ana Paulina Perez Loera (El Paso), Gentry Renfro (Mexia), Abigail Reyes (San Antonio), Brianna Rosas (Bryan), Kirsten Rushing (Waco), Jennifer Sanchez (Pattison), Megan Schreuder (Houston), Catherine Ann Siegmund (Lexington), Jordan Smith (Cedar Park), Rebecca Spachek (Houston), Angelica Telford (Seguin), Erin Dozier (Brenham), Abby Vittrup (Tomball), Dena Weisinger (Caldwell), and Lauren Whiting (College Station).
Grief, Kitchens, Renfro, and Smith each graduate as members of Alpha Delta Nu Nursing Honor Society. To be considered for membership, students must maintain a 3.5 grade-point average both overall and in their nursing courses. Members also must complete a capstone project and demonstrate conduct on campus and in clinical areas reflecting integrity and professionalism.
Blinn's ADN Program is based at the RELLIS Academic Alliance Complex at Texas A&M-RELLIS in Bryan, where students gain hands-on skills utilizing the facility's 16,000-square-foot simulation laboratories.
"Choosing Blinn's nursing program is one of the best decisions I ever made," said Kelly Kitchens, ADN graduate and Alpha Delta Nu inductee. "The warm and caring faculty do everything in their power to make sure students succeed. With the hands-on approach Blinn offers, I feel confident in my skills and feel equipped to take the best care of my patients in my new position in oncology at St. Joseph Health Regional Hospital in Bryan."
Nursing students spend at least two days per week in clinical rotations, in addition to lab, simulation, and lecture time. Most students dedicate 15 to 24 hours each week to scheduled program activities and at least 30 hours per week on study and preparation.
As a result of this success, Blinn's program has been recognized by Nursing Schools Almanac, NursingProcess.org, RNCareers.org, and RegisteredNursing.org.
For more information on Blinn's ADN Program, visit www.blinn.edu/adn.
Related Links
Archives
GET CONNECTED