Blinn nursing student encourages fellow graduates to chase their dreams
Paige Friendshuh will graduate with her Associate of Applied Science Degree in Nursing this month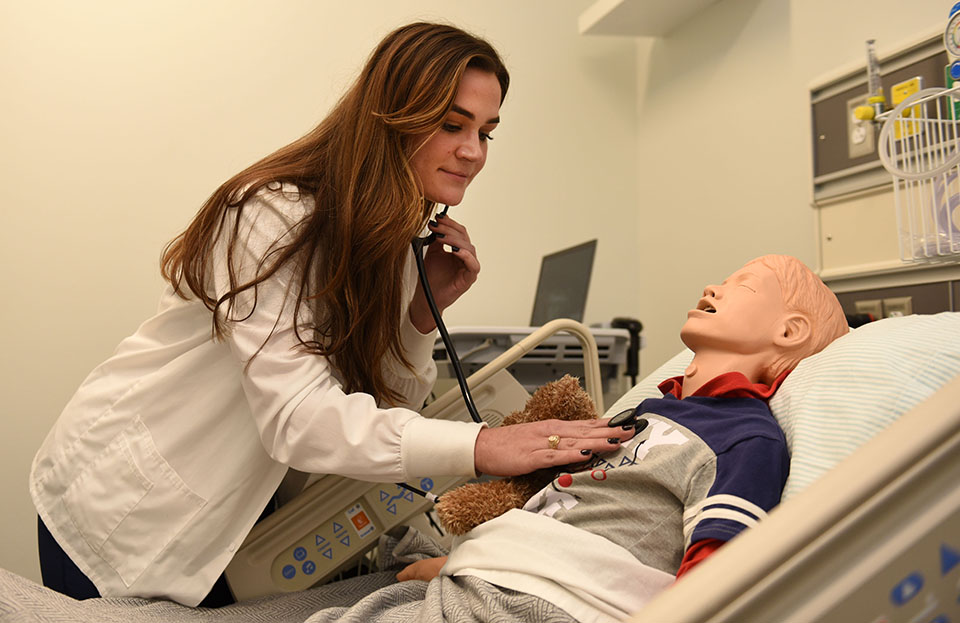 December 6, 2022
After a winding road to her Associate of Applied Science Degree in Nursing, Paige Friendshuh has a message for her fellow Blinn College District graduates.
"I hope I can encourage people to chase their dreams relentlessly," said Friendshuh, who will give one of two student addresses at Blinn's fall 2022 commencement ceremony this month. "When things don't go your way, it's an opportunity to trust in a power greater than yourself. There is no setback too big that you can't overcome when in pursuit of what's meant for you, and you're never late for your own life. Sometimes we have to take things 24 hours at a time and just let it unfold, even in the face of uncertainty."
Friendshuh certainly had moments when she questioned her path toward a nursing career. She arrived in College Station intending to study biomedical science at Texas A&M, but changed majors after her first semester, opting instead to earn her bachelor's degree in sociology with a minor in Spanish.
After graduating from Texas A&M, she applied to Blinn's Associate Degree Nursing (ADN) Program. Her first application to the program was unsuccessful. Undeterred, she took a job with a local oral surgery center, where she coordinated patients' treatment plans and worked on insurance quotes, then communicated those details to patients.
"I attribute a majority of the success I had in school to the two and a half years I have been working for them," Friendshuh said. "Being exposed to patients early on, I was able to establish a comfortable bedside manner, and when I began my clinicals through Blinn, I felt less timid because I had already experienced that patient interaction as a provider."
As she developed her skills at the oral surgery center, Friendshuh's dream of becoming a nurse never faded. A year after she first applied, Friendshuh was accepted to the Blinn ADN Program.
"There's nothing like getting that email," she said. "I think for 72 hours leading up to that day, I was checking my email at least every hour."
Blinn's ADN program is based at the RELLIS Academic Alliance Complex at Texas A&M-RELLIS in Bryan, where students gain hands-on skills utilizing the facility's 16,000-square-foot simulation laboratories. Nursing students spend at least two days per week in clinical rotations, in addition to lab, simulation, and lecture time. Most students dedicate 15 to 24 hours each week to schedule program activities and at least 30 hours per week to study and preparation.
As a result of the program's employment outcomes and high National Council Licensure Examination (NCLEX-RN) first-attempt pass rate, Blinn has been recognized statewide and nationally by Nursing Schools Almanac, NursingProcess.org, RNCareers.org, and RegisteredNursing.org.
"Part of what I love so much about Blinn is the diversity," Friendshuh said. "As a student going through this, everyone has trials and tribulations, twists and turns that brought you here. When you go to nursing school and start hearing other people's stories, it makes you feel a lot less alone about your journey. Everyone's story is different, but we all have this mutual goal of wanting to be a nurse."
Friendshuh credited Blinn's nursing faculty for helping students establish solid nursing fundamentals before building to advanced skills and concepts.
"The faculty is embracing and makes you feel comfortable about this being an environment where you are free to learn and ask all the questions you have," she said. "Even when we're in the hospitals, they are right alongside us, guiding us. They are a wealth of knowledge and serve as amazing mentors."
Once she began nursing school, Friendshuh's role at the oral surgery office where she worked changed, moving from administration to a surgical assistant. Now that she is about to graduate, Friendshuh will continue to work there as needed in addition to accepting a full-time position in the intensive care unit (ICU) at St. Joseph Health Regional Hospital in Bryan.
"I fell in love with the ICU during my preceptorship. I knew after one shift that that's where I was called to be," she said. "This is a fulfilling career. It is hard and it comes with good and bad days, but that's in any profession. This is a job that, at the end of the day, you are providing medical care for someone and improving their quality of life. That makes it all worth it, so I hope that as a nurse, I can show people that it is can be fun with an abundance of opportunities. You don't have to work in a hospital if you don't want to, and you can continue your education even after receiving your RN. I couldn't think of anything else I would rather do."
That spirit of service and passion for nursing has made Friendshuh a leader within her cohort.
"Paige is a bright, shining light. She brings a smile everywhere she goes," Program Director Karla Ross said. "That's what I love about being in this community and being at Blinn. I work with these people at the hospital and Paige will be my charge nurse in a year or two. I love to see our students step into these leadership roles."
Friendshuh will step forward once again when she represents Blinn's fall 2022 graduating class as a speaker at commencement on Thursday, Dec. 15. The ceremony will begin at 6 p.m. at the Brazos County Expo Center and be streamed live at Blinn's YouTube channel .
"It feels surreal," Friendshuh said. "It's the end of a rollercoaster chapter, but in reality, it's just the beginning. It's the infancy of your career. It was a tough two years that required more of me than anything before, but I'm looking forward to that next chapter and what will come from it."
For more information about Blinn's ADN Program, visit www.blinn.edu/adn.
Related Links
Archives
GET CONNECTED