Blinn College engineering students make suggestions for improving Brenham park
Teams propose enhancements to Hattie Mae Flowers Park in public service project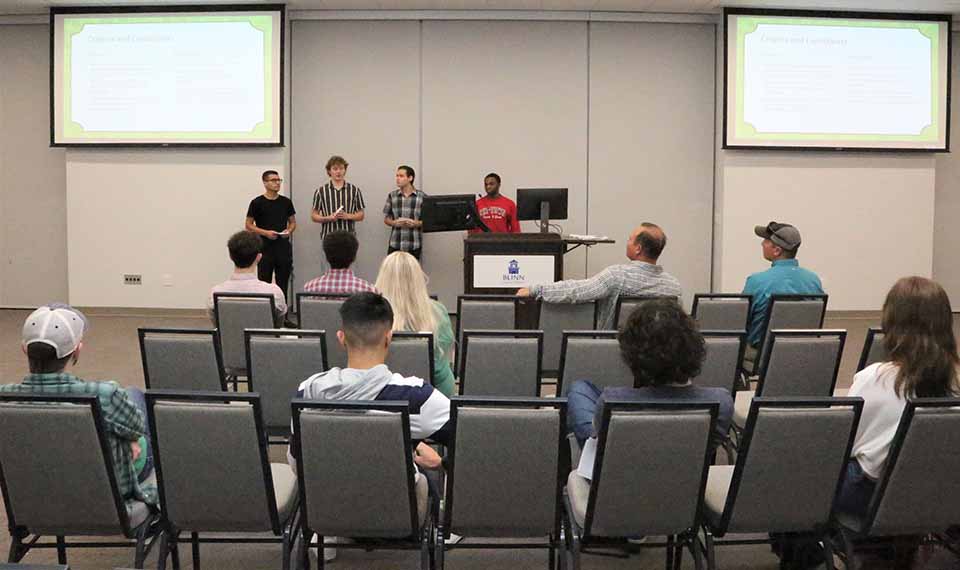 December 16, 2022
Students in a Blinn College District engineering class have offered ideas to improve a city of Brenham park.
Three teams from an ENGR 1201: Introduction to Engineering class on the Brenham Campus recently presented their ideas to city officials regarding potential upgrades at Hattie Mae Flowers Park.
The park, named after the first black principal in the Brenham School District, was dedicated in 1977. It has relatively few amenities other than a restroom, several grills and tables, a small play area, and a basketball court.
Students suggested improvements that included new Americans With Disabilities Act-compliant restrooms, fences to separate the park from the street, a drainage ditch, and a fenced dog park.
Engineering Instructor Ron Kelling, P.E., said the teams were asked to identify cost-effective improvements to the park that would encourage more use by residents in the surrounding neighborhoods.
"The park provided an opportunity for students to engage in a real-world project in the community where they live and learn and was an opportunity to combine classroom instruction with community service," he said. "The park project provided an opportunity for the students to apply concepts of teamwork, project management, communication, professionalism, problem recognition/solving, design process, and societal impact that were discussed in class and which are critical for an engineer."
Daniel Mercadel, a freshman from Spring, said the project was good experience.
"I don't think I could get this amount of exposure anywhere else," he said. "I wouldn't be able to talk to city council, I would be able to talk to city officials. That's why I feel that Blinn is the place for me.
"I'm very proud of what my group and I have accomplished. I went to the park three or four times. It's a nice park, but we definitely feel like we can improve it. I hope I can come back someday, see some of our ideas, and say, 'Hey, this is a really nice place.'"
Dane Rau, City of Brenham Public Works Director, said the city plans to make improvements in the park in the next seven years.
"This is a way to get some ideas from kids who aren't from Brenham but have experienced parks in the towns they grew up in," he said. "I think the students did a great job getting up here and presenting their ideas. It got them out of the comfort zone a little, and they should be proud of themselves because they showed up and presented it."
Blinn offers one of the premier two-year engineering programs in the state. Based at the Brenham and RELLIS campuses, Blinn's Engineering Program offers an Associate of Science Degree in Engineering as well as two co-admission programs with the Texas A&M College of Engineering: the Texas A&M Engineering Academy at Blinn-Brenham and Texas A&M Engineering at Blinn.
Additionally, as the community college partner at the RELLIS Academic Alliance, Blinn engineering students can co-enroll at Tarleton State and pursue their Bachelor of Science in Civil Engineering or Mechanical Engineering or co-enroll with Texas A&M University-Texarkana and pursue their Bachelor of Science in Electrical Engineering.
Through the Transfer Academy for Tomorrow's Engineers (TATE) Program, Blinn students also can co-enroll at the University of Texas at San Antonio College of Engineering and pursue their Bachelor of Science in Mechanical Engineering.
The Hattie Mae Flowers Park project represents just one of the hands-on learning opportunities available to Blinn engineering students.
"This project is also an example of collaboration of various Blinn College resources to help develop students," Kelling said. "Each student group conducted a practice run of their presentation with an individual Blinn Speech Department faculty member to receive comments/guidance on how to improve their presentation. Some student groups met with a tutor at the Blinn Writing Center to receive comments/guidance on how to improve their written report."
For more information, visit www.blinn.edu/engineering.
Related Links
Archives
GET CONNECTED