Bill Thienes Engineering Endowed Scholarship established at Blinn College
Retired engineer seeks to help future Blinn engineering students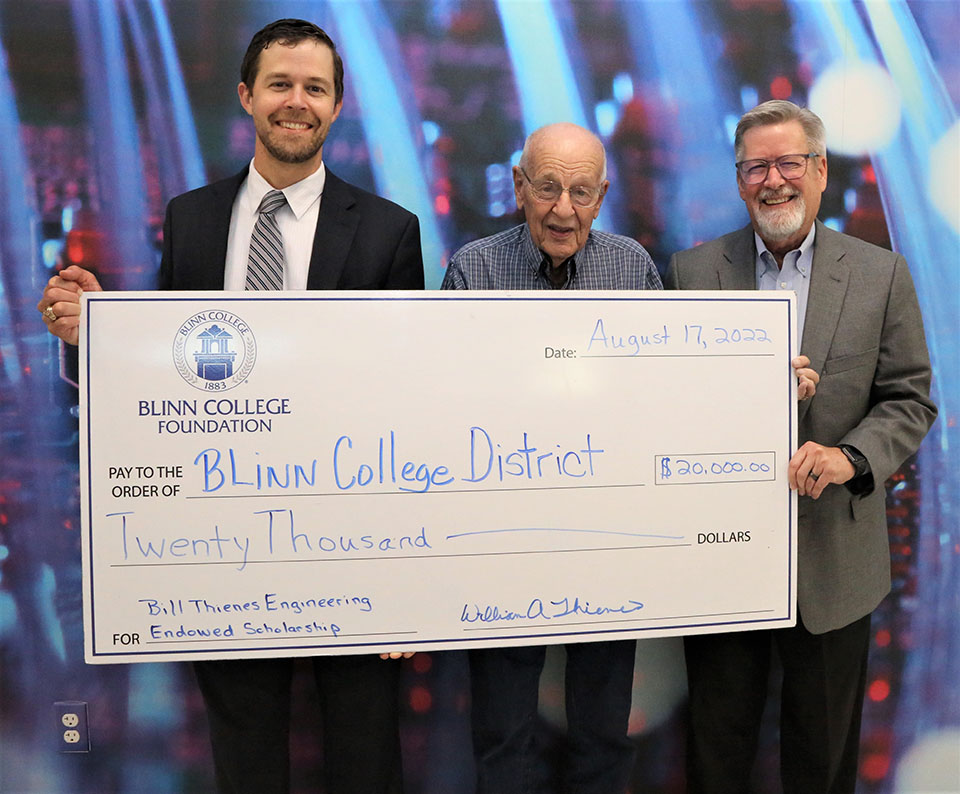 September 7, 2022
After a successful engineering career, Bill Thienes of Brenham wants to help the next generation of students who choose that career path.
Thienes, a retired petroleum engineer, has gifted $20,000 to the Blinn College Foundation to establish the Bill Thienes Engineering Endowed Scholarship. Earlier this year, he gifted $33,000 to the Foundation to establish a scholarship for students in the Blinn College District nursing program in honor of his late wife Nina and daughter-in-law Janet Davis.
Thienes' wife, a Brenham native, was elected sophomore class favorite when she attended Blinn. The two met after Nina transferred to the University of Texas.
"I was always interested in seeing how things worked. I wanted to build something," Bill Thienes said. "An engineering degree provided a decent living for my family and a comfortable retirement. I would like to think that this donation would encourage engineering students at Blinn to go on to a four-year college."
After earning a degree in petroleum engineering, Thienes served two years in the Air Force and then joined the Texas Co., which later became Texaco. His career included working with geologists to evaluate drilling proposals.
Based at Blinn-Brenham and Texas A&M-RELLIS , Blinn's engineering program offers an Associate of Science Degree in Engineering that transfers to the state's leading engineering bachelor's degree programs.
Blinn also offers co-enrollment programs with streamlined pathways to engineering bachelor's degrees from Texas A&M University (the Texas A&M Engineering Academy at Blinn-Brenham and Texas A&M Engineering at Blinn ) and the University of Texas at San Antonio ( Transfer Academy for Tomorrow's Engineers ).
"The Blinn College District offers a multitude of options for students who want a career in engineering, partnering with four-year universities to provide seamless transfers," said Max Hibbs, Academic Dean of Blinn's Division of Engineering, Computer Technology, and Innovation. "Mr. Thienes' endowed scholarship will give financial help to deserving students who might not otherwise be able to pursue that goal."
According to the U.S. Bureau of Labor Statistics, the annual median pay for employees in architecture and engineering fields was $79,840 in 2021. National demand is expected to grow 6% between 2020 and 2030.
The Blinn Foundation, which oversees more than 300 endowed scholarships, is a tax-exempt organization that provides financial support for programs and activities that enhance the quality of education for Blinn students and expand educational opportunities.
"Scholarships are so important to many students. In some instances, they are truly life-changing," said Sam Sommer, Past Chair of the Blinn College Foundation Board of Directors. "People like Mr. Thienes don't endow scholarships for the publicity. They simply have a desire to help others, and we are extremely grateful to him and all the donors who have given so generously."
The Foundation also looks to heighten community awareness of the mission and accomplishments of the college and to promote excellence in education. More information is available at www.blinn.edu/foundation.
Endowed scholarships are available to incoming and returning students from a wide range of backgrounds, majors, and experiences. Students are considered based on high academic achievement, participation in student activities, and community involvement.
Current high school and college students can apply for Blinn scholarships by completing the application at www.blinn.edu/scholarships. Prior to applying for scholarships, students must complete their application for admission to Blinn College at www.applytexas.org .