Blinn launches new mechatronics program to begin this fall
Mechatronics blend electrical, mechanical, software, and computer engineering skills to meet the technological needs of 21st-century industry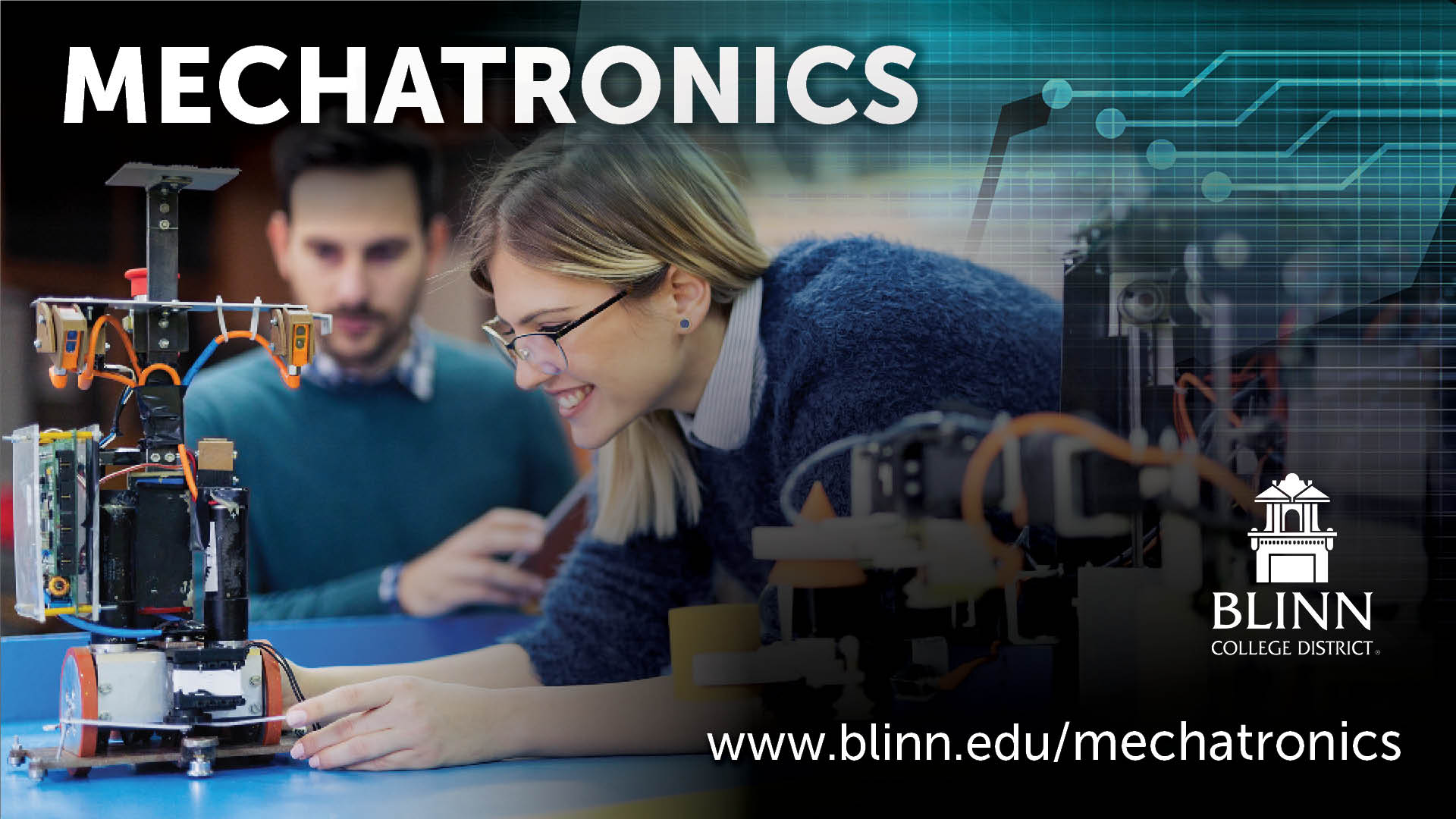 March 23, 2022
Students seeking an affordable pathway toward a career in engineering and manufacturing technology will have a new opportunity at the Blinn College-Brenham Campus this fall.
Beginning with the fall 2022 semester, Blinn will offer a new Associate of Applied Science (AAS) Degree, Level 1 and Level 2 certificates, and an occupational skills award (OSA) in mechatronics. These stackable credentials allow students to earn the OSA and certificates on their way to the AAS degree. The OSA can be completed in a single semester, the Level 1 certificate can be completed in two semesters, and the Level 2 certificate can be completed in three. Students typically complete the 60-credit hour AAS degree in four or more semesters.
"Blinn's mechatronics degree will give students a competitive edge in this emerging growth area by providing them with the skillset required to install, calibrate, modify, troubleshoot, repair, program, and maintain automated systems and industrial robots," said Max Hibbs, Dean of the Division of Engineering, Computer Technology, and Innovation.
Mechatronics technology is a multi-disciplinary field of study that takes a hands-on approach to the most applicable topics in electrical, mechanical, software, and computer engineering to prepare students for technician-related jobs. Graduates of the program are prepared to repair and maintain the electrical and mechanical systems used in the advanced manufacturing, semiconductor, electronics, transportation, medical, biotechnology, aerospace, and construction industries. According to the U.S. Bureau of Labor Statistics, mechatronics technicians earn a median salary of $59,800.
Blinn's Associate of Applied Science Degree will prepare students for positions in the emerging mechatronics field by teaching them to install, maintain, diagnose, and repair robotic and automated manufacturing systems. Through the program, students study electrical systems, electronics, mechanical systems, hydraulics, pneumatics, networking, computer controls, and robotics.
While the AAS in Mechatronics is designed for students interested in immediate entry into the engineering technology industry, students enrolled in the program can continue their education by pursuing Tarleton State University's Bachelor of Applied Science Degree in Mechanical Engineering Technology at the RELLIS Campus.
Courses in the degree plan include Electricity Principles, Robotics, Principles of Automatic Control, Basic Fluid Power, Digital Systems, Industrial Automation, Industrial Electronics, Microcomputer Control, Instrumentation and Safety, Industrial Maintenance, Advanced Programmable Logic Controllers, Electromechanical Systems, Computer Integrated Manufacturing, and an industry internship. Students also learn key workplace attributes, including time management, collaboration, operations analysis, and customer service.
The program will be based at Blinn's new Science, Technology, Engineering, and Innovation Building on the Brenham Campus. For more information, visit www.blinn.edu/mechatronics.