Recently Completed Projects
Prairie Lea Hall

Prairie Lea Hall opened in fall 2022 and accommodates approximately 500 students as Blinn's newest residence hall on the Brenham Campus. This two-building complex was funded through a public-private partnership.
---
Blinn RELLIS Administration Building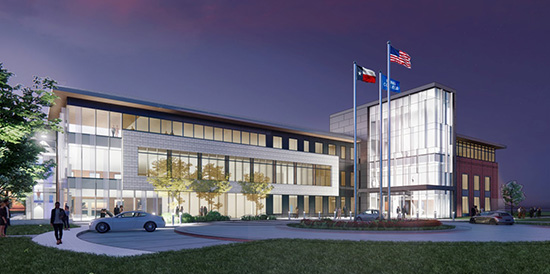 The Blinn RELLIS Administration Building opened in fall 2022 and is located next to the Walter C. Schwartz Building at Texas A&M-RELLIS.
This three-story, 80,000-square-foot facility includes an engineering lab, computer science classroom, information technology lab, esports arena, student services suite, 19 lecture classrooms, study spaces, faculty and administrative suites, and meeting rooms. Development also included faculty/staff and visitor parking, sidewalks, pedestrian lighting, a circular entry drive, and a plaza.
---
Science, Technology, Engineering, and Innovation Building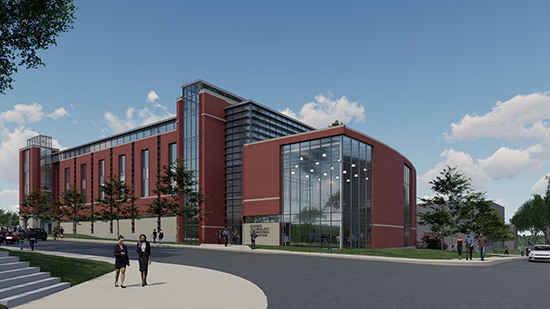 Completed for the fall 2021 semester, the Science, Technology, Engineering, and Innovation Building on the Brenham Campus provides expanded laboratory space for Blinn's science, engineering, and health science programs, and creates space for high-demand programs in new and emerging technologies.
Three stories tall and spanning 72,000 square feet, the new building features 17,000 square feet of laboratory space and a 3,000-square-foot innovation center that includes a 3D printing lab, soldering space, robotics area, and a space where students can work with interrelated computing devices. The innovation lab also includes a virtual reality space and a high-tech fabrication shop where students can use laser cutters to make precisely fitted materials.
The new facility also includes anatomy and physiology, biology, chemistry, computer science, engineering, geology, information technology, microbiology, nursing, organic chemistry, and physics labs. On the roof, students have access to a weather station where they can monitor and gauge local weather.
RELLIS Agriculture and Workforce Education Complex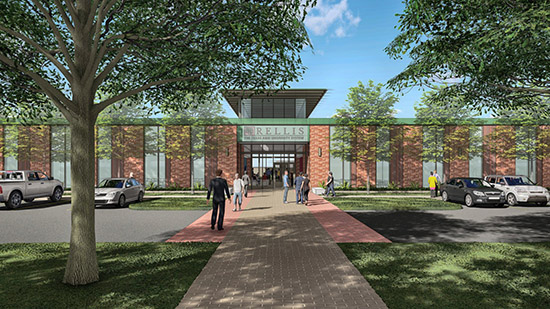 The Texas A&M University System and Blinn College District have partnered to develop the RELLIS Agriculture and Workforce Education Complex. This facility opened in August 2020 and has allowed for the expansion of Blinn's workforce education programs, including high-demand skilled trades such as electrical, plumbing, HVAC, welding, and CNC machining training.
Ann Gardner Livestock Annex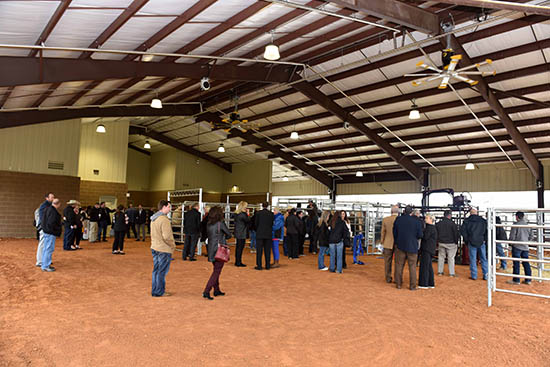 Located on the Brenham Campus, the Ann Gardner Livestock Annex allows additional space for hands-on learning activities and accommodates the growth of Blinn's Agricultural Sciences Program.
This 6,000-square-foot addition opened in February 2020 and includes a livestock demonstration room, tack room, farrowing house, livestock pens, and a livestock chute. The new facility allows Blinn to accommodate additional classes each semester while also expanding its space for summer camps and agricultural continuing education.
Bryan Campus Cast Stone Replacement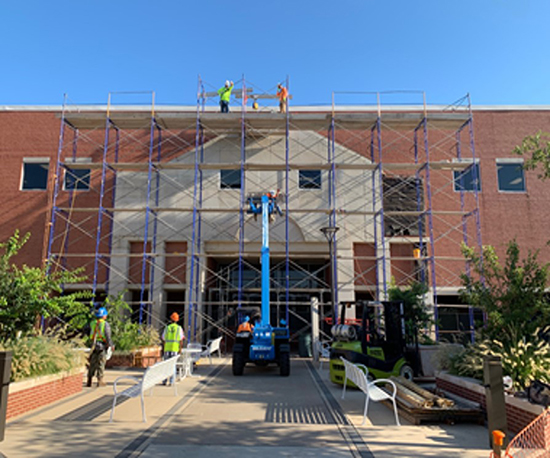 Blinn recently replaced the cast stone and rehabilitated the exterior walls for buildings A, C, D, F, G, and H on the Bryan Campus. Construction was completed in summer 2020.
Walter C. Schwartz Building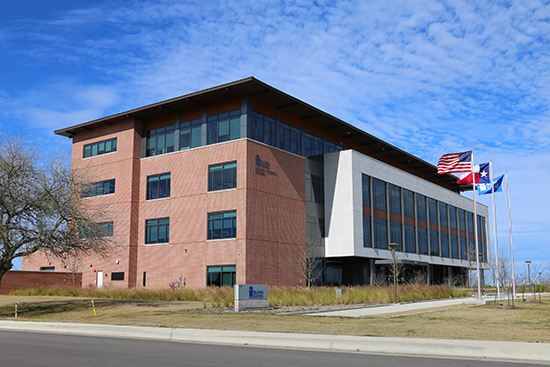 Completed in time for the Fall 2018 semester, the 83,000-square-foot Walter C. Schwartz Building at the RELLIS Campus features 19 classrooms and eight laboratories and allows students to learn cutting-edge, high-demand skills in a welcoming environment. The four-story Schwartz Building was built with collaboration in mind, with study rooms and spaces designed specifically to encourage students to learn and problem-solve together.
Mill Creek Hall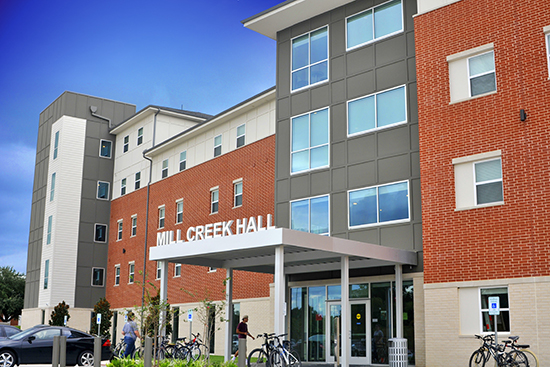 Blinn opened Mill Creek Hall in advance of the fall 2018 semester. This 464-bed student housing facility is located at the corner of Saeger Street and Old Mill Creek Road and features two technology classrooms with 3D printer rooms. Each of the building's four stories includes community and study rooms, and students can choose from two- and four-bedroom suites.
Kruse Center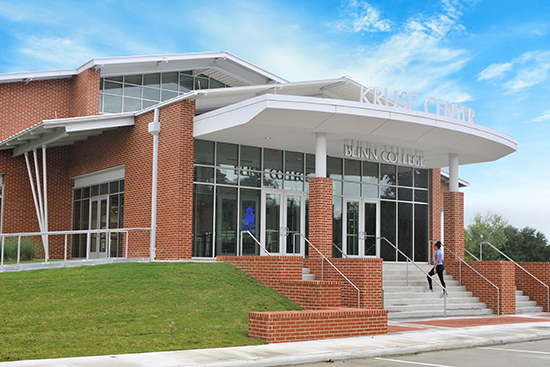 Blinn opened the Kruse Center, a 36,000-square-foot student recreation and activities center on the Brenham Campus, in December 2017. Made possible through a generous donation from the Kruse family, the Kruse includes space for general fitness, dance and yoga, kinesiology classes, student organization meetings, weightlifting and fitness space, and multi-purpose rooms for community events and meetings. In addition, the Center features a gymnasium to host Buccaneer volleyball and basketball games, serves as a venue for high school playoff games, and hosts summer camps.
W.L. Moody, Jr. Library Renovations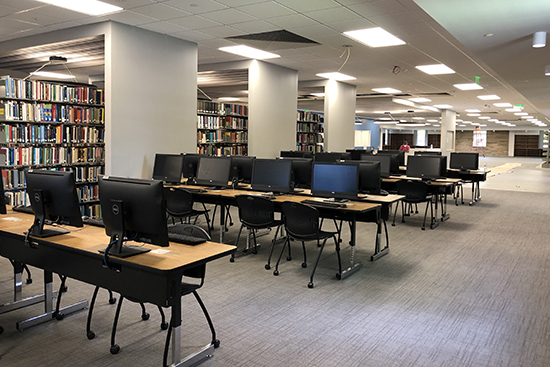 In fall 2019, Blinn completed a multi-phase renovation of the W.L. Moody, Jr. Library on the Brenham Campus to create a modern, more welcoming atmosphere for students.
The renovated design includes new lighting, upgraded finishes and furnishings, improved electrical and technology connectivity, and HVAC and restroom upgrades. The circulation desk was relocated toward the front of the building to better welcome entrants while widening the space connecting the original library and its 1981 addition.
Brenham Campus Student Center Food Service Renovations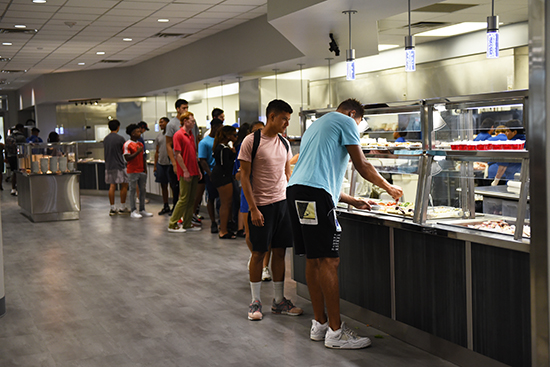 In advance of the fall 2018 semester, Blinn remodeled its Brenham Campus dining hall to expand seating, provide additional serving stations, update the appearance, and improve the kitchen equipment and space usage. As a result of these renovations, Blinn now is able to offer a wider variety of food options for its students.
Doyle Coatney Center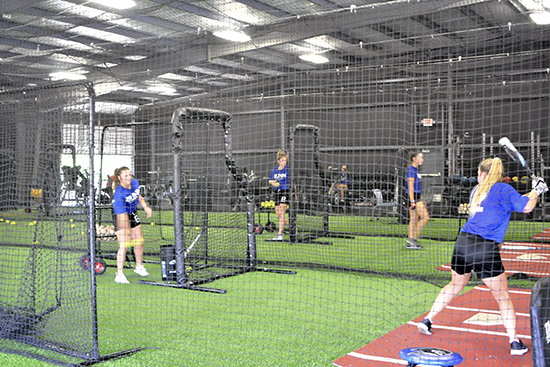 In spring 2017, Blinn opened the Doyle Coatney Center, an 11,184-square-foot indoor training facility for baseball and softball, on the Brenham Campus. Made possible through a generous gift from Doyle Coatney, a former member of Blinn's football, basketball, baseball, and track teams, as well as gifts from the estates of Bernice Leissner and Janette and Ruben Schmidt, the Coatney Center provides indoor batting cages and classroom space for Blinn's baseball and softball teams.