2013
Emerging Writers Contest Winners
Students' work lauded by best-selling novelist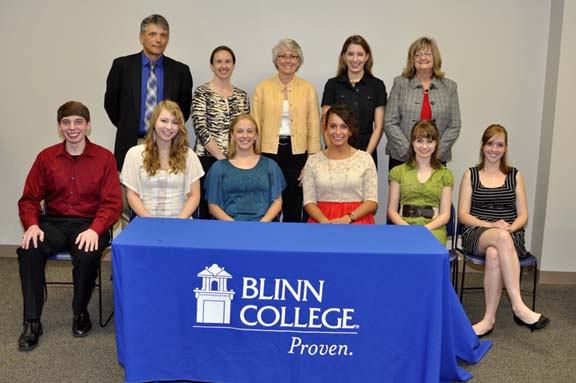 PHOTO – The Blinn College – Schulenburg campus recently recognized the seven winners of its second annual Emerging Writers Contest. Front row (L to R): Zachary Denny, Mary Cernoch, Stacie Brown, Madison Knesek, Melanie Hovis and Cierra Kenyon. Not pictured: Marco Martinez. Showing their support for the students' accomplishments were (back row, from left): Schulenburg Campus Advisory Committee President and Schulenburg ISD Superintendent Walter Padgett, Associate Vice President for Institutional Advancement/Governmental Affairs Cathy Boeker, Senior Vice President for Finance & Administrative Services Kelly Shomaker, English Professor Audrey Wick and Schulenburg Campus Director Rebecca Garlick.
Seven Blinn College – Schulenburg campus students recently won honors in the College's second annual Emerging Writers Contest.
The winners were:
ACADEMIC WRITING
First place: Zachary Denny, Weimar
Second place: Melanie Hovis, Columbus
FICTION
First place: Stacie Brown, Round Top
Second place: Mary Cernoch, La Grange
NON-FICTION
First place: Stacie Brown, Round Top
Second place: Madison Knesek, La Grange
POETRY
First place: Cierra Kenyon, La Grange
Second place: Marco Martinez, La Grange

Beth Wiseman, the best-selling author of the Daughters of Promise series, served as guest judge. The author of 11 novels and six novellas, she has been listed on the Christian Booksellers Association and Evangelical Christian Publishers Association bestseller lists.
"I really enjoyed reading the contest entries, and I am very impressed by the potential these talented students possess," said Wiseman. "I hope that some of them will venture into my world and feel called to put their passion to work for them."
The students were honored at an awards luncheon before members of the Blinn – Schulenburg Advisory Board and personnel from the College. First-place winners received $25 gift cards and second-place winners received Blinn College T-shirts.
This year's contest drew 137 entries after attracting 83 in the inaugural contest. It was open to students who had taken a course from the Schulenburg campus within the last academic year, including dual-credit and online classes.
"This contest has been met enthusiastically by our students because it serves as an outlet for them to share their work publicly, which many are doing for the first time," said English Professor Audrey Wick, who organized the competition. "By doing so, they become part of a larger community of writers."
Cengage Learning sponsored the event and its Wadsworth division annually reviews the academic winners' submissions for possible use.
Blinn – Schulenburg offers a variety of academic transfer, workforce training and continuing education classes to fit the needs of any student.