2012
Blinn-Schulenburg names winners of Emerging Writers Contest
Students lauded by best-selling novelist and national publishing company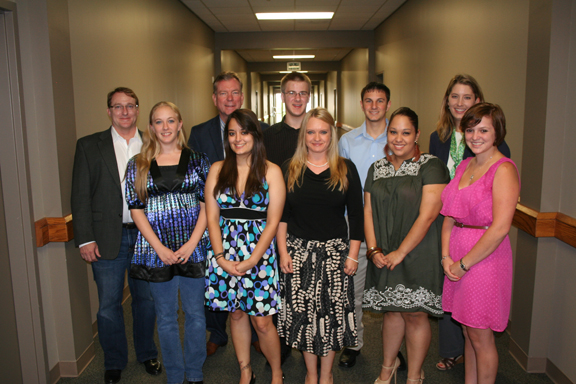 Eight Blinn College-Schulenburg students recently won honors in the College's first Emerging Writers Contest.
Olivia Wettstein (Weimar) placed first and Stacie Brown (Round Top) was second in the fiction competition, Aaron Kubicek (Columbus) placed first and Shee Marie Besch (Weimar) was second in the non-fiction category, Shelby Nava (La Grange) placed first and James Willbanks (Schulenburg) was second in poetry and Courtney LaPrelle (Kingwood) placed first and Emilee Smith (Smithville) was second in academic writing.
Beth Wiseman, best-selling author of the Daughters of the Promise series, served as a guest judge.
"I really enjoyed reading the contest entries, and I am very impressed by the potential these talented students possess," said Wiseman, who has authored eight novels. "I hope that some of them will venture into my world and feel called to put their passion to work for them."
The students were honored at an awards luncheon before members of the Schulenburg Advisory Board and Blinn College personnel, including President Harold Nolte. Also in attendance was Matt Ball, English specialist for Cengage Learning, a college textbook publishing company, who acknowledged the students' work with certificates and National Geographic reader textbooks. In addition, first prize winners received $25 Amazon gift cards while runners-up received Blinn College t-shirts.
"Cengage is proud to be a part of this celebration of student writing and recognizes the valuable contribution these students have made to the world of writing, both creatively and academically," Ball said.
This marked the first year Blinn-Schulenburg has held the competition, which drew 83 entries across four categories. It was open to students who had taken a course from the Schulenburg campus within the last academic year, including dual-credit and online instruction.
"It was really inspiring to see the enthusiasm of our students," said English Professor Audrey Wick, who organized the competition. "This year's contest proved to be a celebration of the very big talent that we have on our rather small campus."
This year's contest was honored to have award-winning fiction writer Beth Wiseman as its celebrity judge.
---
Prizes sponsored by Cengage Learning.