Blinn College Class of 2023 celebrates spring commencement
More than 730 students earned degrees, certificates, and occupational skills awards this spring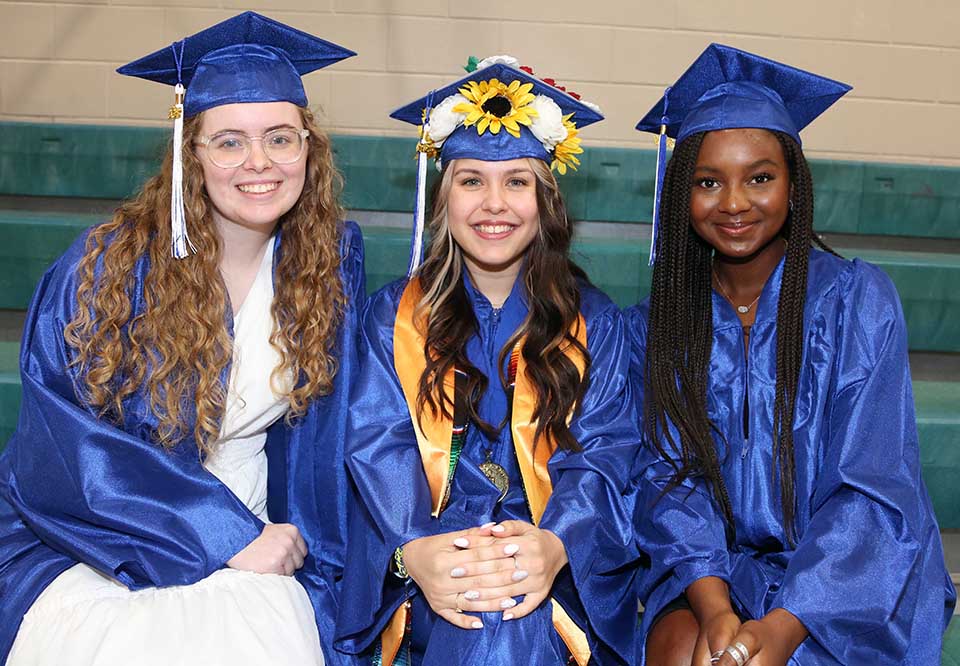 May 12, 2023
Two hundred and twenty-seven Blinn College District graduates walked the stage during the College's 147 th commencement ceremony Thursday, May 11, at Brenham High School.
The exercise recognized students who earned associate degrees, certificates, and occupational skills awards. Including students who reverse transfer, approximately 730 Blinn students graduated this spring.
The ceremony featured two student speakers, D'Arius Mitchison and Shelina Washington. Mitchison received her Associate of Arts in Liberal Arts and plans to pursue her Bachelor of Business Administration in Management at Texas A&M-Corpus Christi.
"Don't be afraid of success," Mitchison told her fellow graduates. "If you haven't already, start making goals for yourself – realistic goals that take you out of your comfort zone. Make the conscious decision to wake up in the morning and choose you."
Washington received her Associate of Applied Science in Legal Assistant (Paralegal) after previously earning her Associate of Applied Science in Child Development and her real estate certificate from Blinn.
"Blinn gave me exactly what I needed to be a better mom to my son," Washington said. "Not only to my son, but to my family, friends, and community."
Livestream footage of the ceremony is available at the Blinn College YouTube page.
Registration is now open for Blinn's May minimester, summer, and fall terms.
The May minimester runs Monday, May 15, through Wednesday, May 31, allowing students to earn full course credit in just a few weeks. These accelerated courses cover the same material as a full-length course, allowing students to make rapid progress toward their degree. For more information about the May minimester, including the courses offered and their transfer equivalents, visit www.blinn.edu/may.
Summer I classes begin Monday, June 5, and summer II courses begin Monday, July 10. For more information about the summer I and summer II terms, including the courses offered and their transfer equivalents, visit www.blinn.edu/summer.
The fall semester begins Wednesday, Aug. 23. For a list of fall courses and transfer equivalents, visit www.blinn.edu/fall.
New students can apply to Blinn via the GoApplyTexas.org application. Once admitted, they can register for classes at https://my.blinn.edu. Blinn recommends that all students speak to an academic advisor prior to registering for classes. Students can chat online with a Blinn admissions specialist between 8 a.m. and 5 p.m. Monday through Friday at www.blinn.edu/admissions and can call Enrollment Services at 979-830-4800.
Enjoy this article? Share it with one click!