Blinn celebrates 14 dental hygiene graduates with pinning ceremony
The Dental Hygiene Program recently was named a Bellwether finalist for its annual Give Kids a Smile event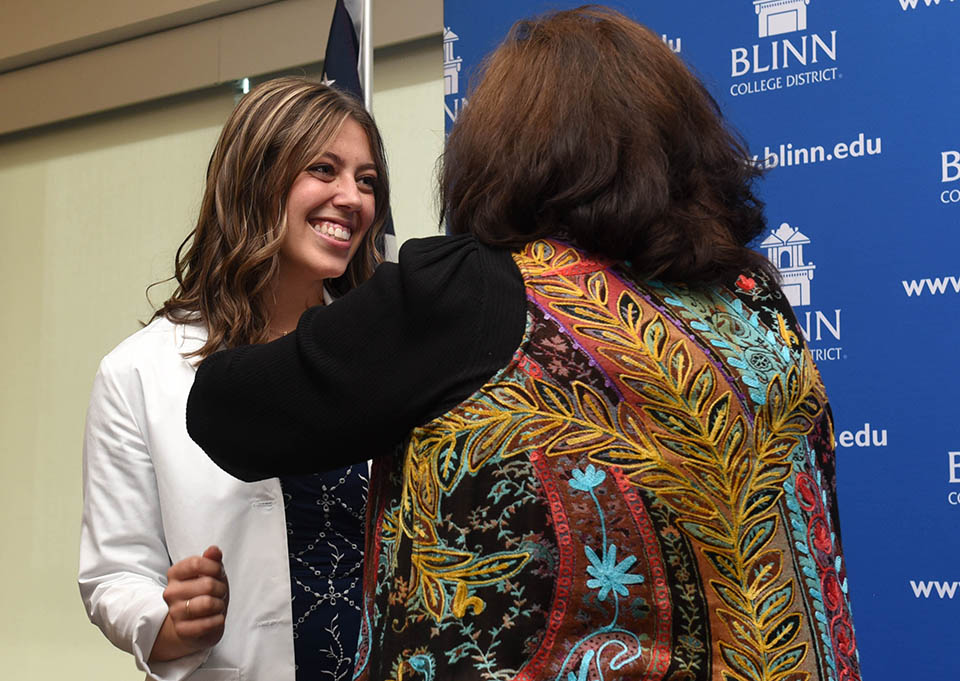 May 9, 2023
Fourteen future dental hygienists were honored Saturday, May 6, with a pinning ceremony to celebrate the completion of the Blinn College District's nationally recognized Dental Hygiene Program.
The Blinn College Dental Hygiene Program is a competitive-entry program accepting 14 students each fall semester. Upon satisfactory completion of this two-year program, students earn an Associate of Applied Science Degree in Dental Hygiene and are eligible to take the National Board Dental Hygiene Examination and a regional/state clinical board examination.
The Class of 2023 includes Jacyln Akers (Grandview), Sierra Bowen (Burnet), Cheyanne Carter (Hempstead), Jordan Carter (Cleveland), Ashley Castillo (Laredo), Lauren Corley (Magnolia), Michelle Davies (Brenham), Wendy Franty (Humble), Taylor Hedspeth (Bryan), Mackenzie Kenner (Huntington), Soyeon Kim (Bucheon, Gyeonggi Province, South Korea), Minh Quan Nguyen (Lagi, Binh Thuan, Vietnam), Sierra Stire (Montgomery), and Sydney Wabnegger (Keremeos, British Columbia, Canada).
"I am extremely proud of this stellar group of graduates," said Lisa Wiese, Program Director. "They have worked hard and supported each other through the entire two years. They are all going to make fantastic contributions to the dental hygiene profession."
In addition to pursuing their degrees, Blinn dental hygiene students host an annual Give Kids a Smile event that provides exams, x-rays, cleanings, sealants, fluoride, and oral health education to local children without access to regular dental care. Through these events, the program has partnered with local dentists, hygienists, and volunteers to provide almost $300,000 in dental services to the local children who need them most. The program recently was named a finalist for a national Bellwether Award.
Prospective students interested in applying to Blinn's Dental Hygiene Program can register for upcoming information sessions at 12:30 p.m. Friday, May 12, and 5:30 p.m. Wednesday, May 31. Both sessions will be held in Room CC-7 of the Post Office Center at 301 Post Office Street in Bryan. To register, visit www.blinn.edu/dental-hygiene/information-session.html.
For more information regarding the Dental Hygiene Program, visit www.blinn.edu/dental-hygiene.
The Dental Hygiene Program is part of Blinn's Division of Health Sciences, which offers associate degree nursing, emergency medical services, fire science, health information technology, physical therapist assistant, radiologic technology, surgical technology, and vocational nursing programs designed to quickly train students for high-demand professions.
Enjoy this article? Share it with one click!