Blinn named a finalist for two national Bellwether Awards
For the second consecutive year, Blinn has been named a Bellwether Award finalist for two pioneering initiatives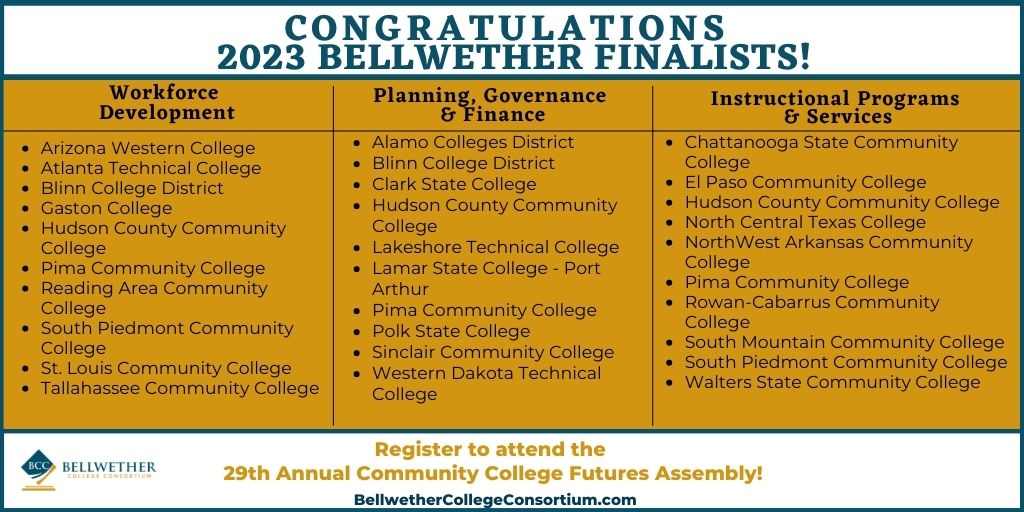 November 15, 2022
For the second consecutive year, the Bellwether College Consortium has named the Blinn College District a national finalist for two highly coveted Bellwether Awards.
Bellwether finalists represent the leading community colleges across the country, whose outstanding and innovative programs were selected as exemplary among competitive submissions. The Consortium named finalists in three categories: Instructional Programs and Services; Planning, Governance, and Finance; and Workforce Development.
"Earning national recognition for two more outstanding programs is a testament to Blinn's faculty and staff and their dedication to innovative educational excellence," said Dr. Mary Hensley, Chancellor of the Blinn College District.
Blinn's FutureWorks Academy, a two-semester leadership development program open to all full-time faculty, staff, and administrators, was named a finalist in the Planning, Governance, and Finance category. Blinn College FutureWorks Academy is designed to enhance participants' knowledge of the College, its priorities, and operations, as well as foster personal and professional growth. Innovative projects suggested, developed, and implemented by FutureWorks class members support student, staff, and faculty success. Blinn's orientation course for students enrolled in online classes was developed through the FutureWorks Academy and was named a Bellwether Award finalist in the Instructional Programs and Services category last year.
Blinn also was named a finalist in the Workforce Development category for the Dental Hygiene Program's annual Give Kids a Smile initiative, which supplies oral health care to local children who lack access to regular dental care. This annual event has provided more than $200,000 in free dental services since 2008 and is coordinated, planned, and executed by Blinn dental hygiene students as a component of their community dentistry course.
In 2021, Blinn was a Bellwether Award finalist in the Planning, Governance, and Finance category in recognition of its partnership with The Texas A&M University System at Texas A&M-RELLIS. In 2022, in addition to being named a finalist for its online orientation course, Blinn was recognized in the Workforce Development category for its offender re-entry training developed in partnership with the Federal Bureau of Prisons and Brazos County Detention Center.
This year's Bellwether Award finalists will undergo a rigorous final round of review at the 29th Annual Community College Futures Assembly taking place Feb. 26-28, 2023, in San Antonio. Each selected college provides a 60-minute presentation on its program to an anonymous panel, recognized as skilled practitioners and thought leaders in the field.
"The Bellwether College Consortium prides itself on identifying and celebrating replicable, scalable, and results-based programs and models and disseminating these highly lauded examples of institutional success to peer institutions," said Dr. Rose Martinez, Director of the Bellwether College Consortium.
Related Links
Archives
GET CONNECTED