Blinn College helping students launch careers in video game development
Freshman Zach Beavers is earning his associate degree in Simulation and Game Programming at the Brenham Campus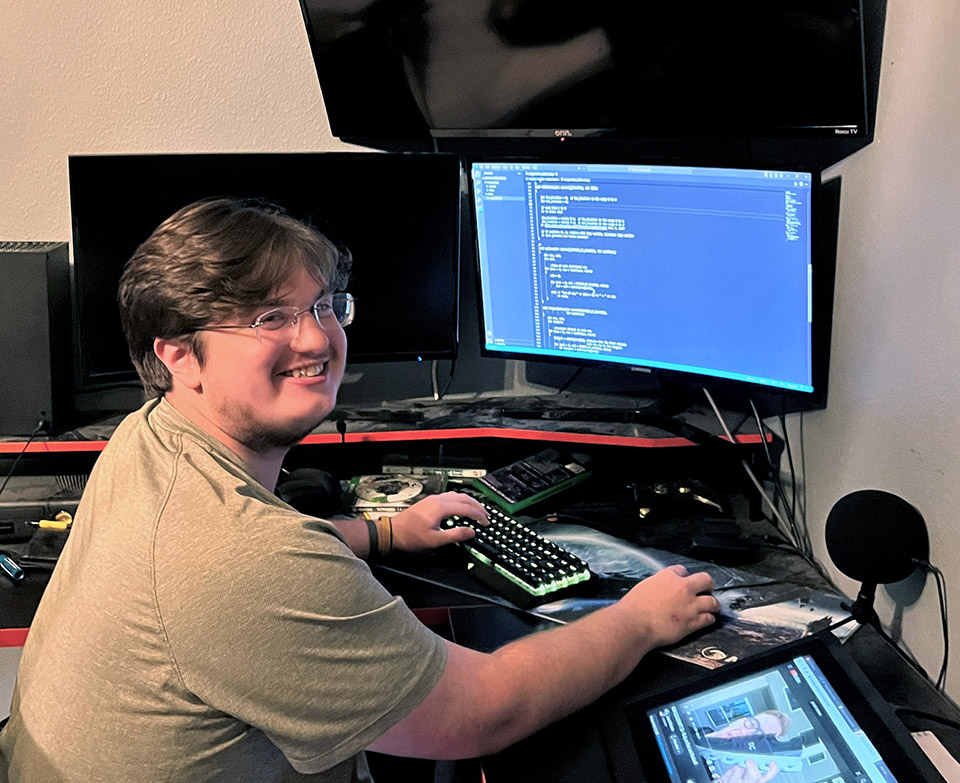 April 4, 2023
Zach Beavers once won a PlayStation 4 playing an arcade game. Now he is preparing for a career developing games.
The Blinn College District freshman is working toward an associate degree in simulation and game programming, taking classes on the Brenham Campus. Beavers, from College Station, has been enamored with video games since he was 10. He won his PlayStation 4 in a block stacking game at an arcade.
Beavers said it's his dream now to land a position at one of the major game-making companies like Rockstar Games or Electronic Arts. He already has contacted both industry leaders, who told him an associate degree qualifies him to launch his career with their companies.
Blinn's 60-credit-hour Associate of Applied Science Degree in Simulation and Game Programming prepares students for careers in video game design and testing, television and film production, medical and scientific simulation, industrial animation and training, aeronautic and transportation industries, architecture and landscape design simulations, forensics, engineering simulations, education, and government.
Classes are available on the Brenham Campus. The program has a collaborative partnership with the University of Houston-Victoria (UHV) through the Clear Affordable Pathway to Success (CAPS) Program, offering a seamless transfer pathway from Blinn to UHV's degree programs, including earning a bachelor's degree in Applied Arts and Sciences in Digital Gaming and Simulation.
Beavers said his favorite class so far has been Introduction to Game Development. Dr. Bruce Gooch, who heads the department, is a leader in the field, publishing more than 50 research papers on computer graphics. Gooch and his students have started 21 companies, including four that have generated multi-million-dollar revenues.
"A big part of the program's success is thanks to Dr. Gooch, who is seriously one of the best professors I've ever had," Beavers said. "He's never afraid to help with any problem, and it's really obvious he cares about our success. His dedication is a huge reason why the programming classes are so awesome and why they really get us ready to dive into the computer science world."
Gooch was chosen to head Blinn's simulation and game programming degree when it was launched in the fall of 2021. Beavers, he said, "is one of the very best students I have ever taught."
"I expect to see great things from him in the future," said Gooch.
Beavers has developed small apps for smartphones, and as a final project in his introduction to game development class, he and a fellow student developed a parkour game that involved jumping from point to point.
"In my studies as a game and simulation major for game development at Blinn, I've honestly had an amazing experience getting started in the industry," he said. "One thing I really like about the classes is how they promote working together and learning from each other. Let's face it, programming can be a challenge, but everyone I've met in the classes has been super helpful. Even folks from higher-level classes are always ready to lend a hand with whatever you need, whenever you need it. It's just an all-around supportive environment to learn."
Blinn offers one of the most comprehensive programs in the state, Beavers said.
"Honestly, Blinn has gone beyond my expectations. I never thought a community college could have such an awesome game development program," he said. "With Dr. Gooch leading the way, the courses offered, and the supportive learning environment, my experience at Blinn has been great overall."
For more information regarding Blinn's Simulation and Game Programming Program, visit www.blinn.edu/simulation-game-programming.
Related Links
Archives
GET CONNECTED