Blinn College District, Texas A&M School of Nursing announce co-enrollment partnership
Through the ASCEND Program, nursing students can earn their associate and bachelor's degrees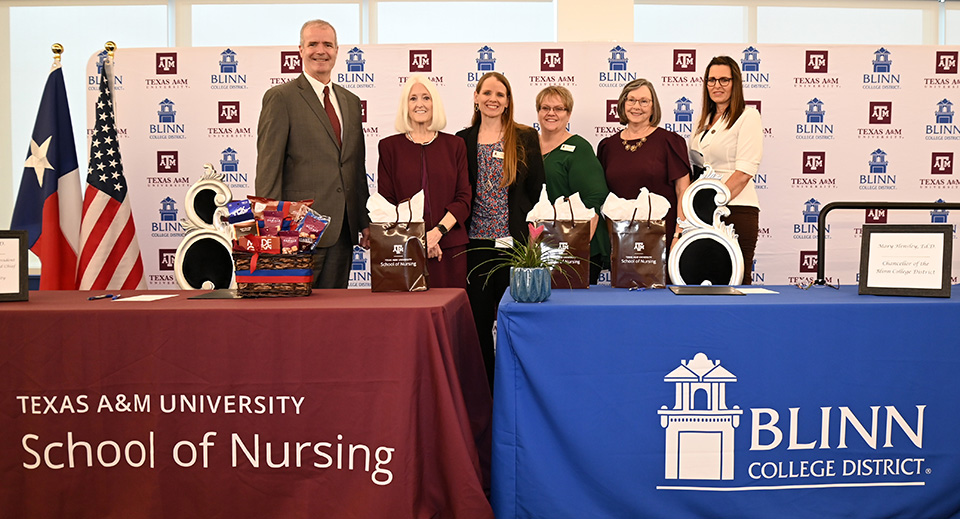 March 2, 2023
The Blinn College District and Texas A&M University School of Nursing have announced a new co-enrollment partnership providing Blinn Associate Degree Nursing (ADN) students a new pathway to their Bachelor of Science in Nursing (BSN) from Texas A&M.
The Aggie Student-Centered Express Nursing Degree (ASCEND) Program offers students an affordable path to earn their bachelor's degree in just one or two semesters after completing their associate degree. By providing these students with a faster, alternative pathway to earn their bachelor's degree, Texas A&M and Blinn are reducing traditional admission barriers, lowering student costs, and helping the State of Texas meet the growing need for highly trained nursing professionals.
"Blinn has regularly sent well-prepared, talented nurses to our bachelor's degree program, and the formalization of this partnership means these students have a clear and direct path to becoming an Aggie nurse," said Susan McLennon, PhD, ARNP-BC, CHPN, interim dean of the Texas A&M School of Nursing. "Importantly, this collaboration will help meet the persistent demand for more nurses in the Brazos Valley and across Texas."
"The ASCEND Program provides an excellent opportunity for our nursing students," said Michelle Trubenstein, Blinn College District Dean of Health Sciences. "With the growing healthcare shortage, we need as many safe and prudent nursing graduates as possible. This partnership removes multiple barriers for nursing students seeking to further their education and we are excited to partner with Texas A&M to support those students and meet our community's need for outstanding nursing professionals."
Students complete an Associate of Applied Science in Nursing degree from Blinn and Bachelor of Science in Nursing degree from Texas A&M while co-enrolled in both institutions. ADN courses are completed in person at Blinn, while BSN courses are finished completely online through Texas A&M.
Students may apply to ASCEND during their first, second or third semester of the Blinn ADN Program. Depending on their Blinn entry term, students can earn their BSN from Texas A&M in as few as one semester after completing their ADN at Blinn. ASCEND graduates are eligible to receive an Aggie Ring upon graduation from Texas A&M.
ASCEND students from Blinn enter the Texas A&M School of Nursing's BSN program through a special RN-to-BSN track. The BSN program includes advanced coursework in nursing informatics, community health, pathophysiology and pharmacology, leadership and more. This coursework is delivered virtually by faculty ranked No. 4 nationally and No. 1 in Texas by U.S. News and World Report for online bachelor's degree programs.
The BSN degree at Texas A&M prepares nurses to advance in management and leadership positions. It also is a pre-requisite for nurses seeking an advanced degree to become a nurse practitioner or other advanced practice registered nurse.
Blinn's ADN Program is based at the RELLIS Academic Alliance Complex at Texas A&M-RELLIS in Bryan, where students gain hands-on skills utilizing the facility's 16,000-square-foot simulation laboratories.
Students who complete Blinn's ADN Program and pass the national licensure exam have a job placement rate between 97 and 100% and are qualified for a wide array of nursing positions, including pediatric, geriatric, hospice, school, and clinical nursing. With demand soaring in the nursing field, the U.S. Bureau of Labor Statistics reports that registered nurses earn a median salary of $77,600.
In 2022 and 2023, NursingProcess.org ranked Blinn the No. 2 nursing program in the Southwestern U.S. region based upon its affordability, reputation, academic quality, and National Council Licensure Examination first-time pass rate.
Blinn's out-of-district tuition and fee rates save students 40% compared to the average state university and Blinn students can apply for more than 300 scholarships through the College's Endowed Scholarship Application.
To learn more about the ASCEND program, visit nursing.tamu.edu/ascend and www.blinn.edu/ascend.
Enjoy this article? Share it with one click!
Related Links
Archives
GET CONNECTED