Cybersecurity degree opens doors to new opportunities for recent Blinn graduate
Demand for information security analysts continues to explode
February 27, 2023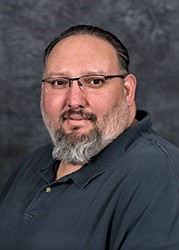 Ruben Jesus Martinez's introduction to computers came in a garage almost 30 years ago. Now, a career that began repairing automobiles has led the Bryan man to the exciting world of cybersecurity.
Martinez, 46, received his Associate of Applied Science (AAS) degree in the Blinn College District's Cybersecurity Program.
"I started working in IT (information technology) when I was 18 years old," Martinez said. "I thought I would be a mechanic but ended up helping the shop with computer duties."
That triggered Martinez' fascination with computers. A supervisor urged him to continue that path after vehicles with onboard computers began appearing at the repair shop.
"I wanted to learn how to be a mechanic at first," Martinez said. "I was kind of forced into IT/computer duties because of what the shop needed at that point in time. We would use a computer to troubleshoot and determine the error codes.
"From that point on, I told myself I wanted a career in IT. I never went back to auto repair or wanted to go back after starting to learn about computers."
His entry into information technology was boosted when he worked for the Texas Department of Transportation and was assigned to handle the agency's computers after an employee left.
"My supervisor asked me to step in and learn how to do the computer duties for the office. The older computers would always break down," said Martinez. "I would call the real IT office and ask for help. They could come over and fix the issues and as they were doing that, I asked questions about what was wrong, what they did, and how they fixed it."
Martinez eventually was given administration privileges to make repairs himself.
With a passion for computers and information technology, he began taking classes at Blinn in 2018 after his supervisor at work talked him into going back to school to finish his Associate of Applied Science degree in Information Technology Administrator.
Martinez met with Carol Wiggins, Information Technology Program Coordinator for Blinn, who told him the College would soon offer a new degree plan in cybersecurity. He was intrigued.
"I felt like it was great timing for me," he said. "Cybersecurity is in high demand right now and this was my opportunity to get this degree to add to my work experience. I felt it would help my resume stand out from others."
Martinez already works in Texas A&M University's IT Service Department as a manager in the School of Education. He is now taking classes he needs to transfer to Texas A&M with plans to earn a bachelor's degree, possibly in human resources development with a minor in cybersecurity and business. He also is considering pursuing a master's degree from Texas A&M's prestigious Mays Business School.
Martinez said Blinn's Cybersecurity Program helped prepare him for this new career path.
"The instructors and classes were great," he said. "Every instructor I had would respond to any question I had. They always had time for me to pick their brains and let me ask them questions that were not always class-related. Being able to chat with the instructors about their experiences and how they got to where they are now was a great opportunity for me to learn."
According to the U.S. Bureau of Labor Statistics, the demand for information security analysts is expected to soar by 35% from 2021-31. The median pay in that field is more than $100,000 per year.
"Our program is designed to give students the tools they need to be successful in the growing field of cybersecurity," said Max Hibbs, Dean for the Division of Engineering, Computer Technology, and Innovation. "Our graduates will play an important role in the ever-changing world of securing information for government agencies, businesses, and the public."
Blinn's Cybersecurity AAS Degree is a two-year program that prepares students to enter the workforce or pursue their bachelor's degree in computer science or computer information systems at four-year institutions. Classes are held at Blinn's campuses in Brenham and Texas A&M-RELLIS in Bryan.
The program prepares students for various entry-level technician opportunities in the information security sector. Emphasis is on cybersecurity and digital forensics in government, private sector, and law enforcement agencies. The degree emphasis combines networking and systems administration fundamentals, with a focus on defensive strategies in securing networks and systems.
Students also can earn a 30-credit-hour Level-2 Certificate in Cybersecurity, either as part of the AAS degree or on its own. The certificate can be applied to individuals' current positions or utilized for professional development.
The knowledge and skills students gain through the program prepare them for specialized industry credentials from companies like Cisco and Microsoft.
"These certifications demonstrate to a potential employer that they have the classroom knowledge as well as the hands-on knowledge for the job," Wiggins said. "Having any of these certifications on their resumes instantly places them in a better position for an interview and a job offer. Approximately 50% of our students graduate with at least one industry certification."
For more information, visit www.blinn.edu/cybersecurity.
Enjoy this article? Share it with one click!
Related Links
Archives
GET CONNECTED