Blinn education major looks forward to inspiring children as an elementary school teacher
Katelyn Sassin plans to complete her bachelor's degree with Stephen F. Austin State University at Texas A&M-RELLIS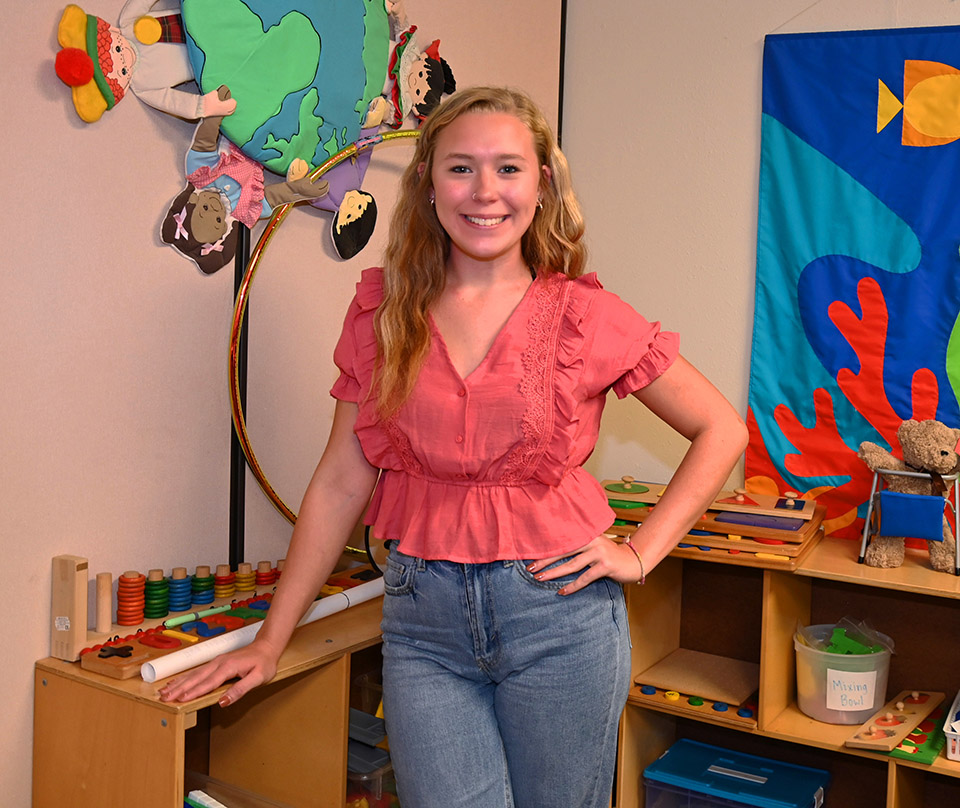 February 2, 2023
Sitting in a Blinn College District classroom adorned with teddy bears and picture books, sophomore Katelyn Sassin, 20, can barely contain her passion for teaching.
"Seeing the light shine in a child's eye when you teach them something is priceless because I'm actually going to impact children and help them create the life they want," Sassin said.
Sassin initially planned to study nursing but changed course when she realized her true calling.
"As I got older, I started to feel a connection to children. It really brought me joy," Sassin said. "That's when I knew, OK, this is what I want to do with my future."
Sassin credits Blinn's affordability, caring faculty, and academic partnerships with placing her on the course to achieving her goals.
"My experience has been nothing but exceptional. I feel welcome here and like my future matters because the faculty and staff want nothing but the best for me," Sassin said. "I'm also getting an affordable education, which is important since I'm paying for college by myself. My next step is to transfer to Stephen F. Austin State University (SFA) at Texas A&M-RELLIS to complete my bachelor's degree and become a teacher."
Through the RELLIS Academic Alliance, Blinn education students can pursue their Bachelor of Science in Interdisciplinary Studies (EC-6) from SFA at Texas A&M-RELLIS in Bryan. The newest model of higher education in Texas, the RELLIS Academic Alliance allows students to complete their foundational coursework at Blinn and guarantees acceptance, if they meet university admissions requirements, to more than 24-degree options from 10 regional universities.
"The transfer process is really easy because I don't have to move away from the community I'm already used to," Sassin said. "It's so convenient that I can gain my bachelor's degree without having to leave the area."
This unique partnership with Texas A&M-RELLIS makes Blinn a great option for students, said Program Coordinator Amy Jones.
"The benefit of pursuing an Associate of Science (AS) in Education at Blinn is that very early on, students have the opportunity to take two education courses and two early childhood courses that get them into classrooms to begin to observe and apply what they are learning in their courses," Jones said. "SFA also has an amazing teacher education program and the ability for our students to move seamlessly from the AS degree to the bachelor's degree program at Texas A&M-RELLIS is an amazing resource. This partnership gives students another point of access to an outstanding education program to get new teachers into the pipeline."
In addition to the AS in Education degree, Blinn offers two Associate of Arts in Teaching (AAT) options. All three degrees are designed for students to transfer to a four-year bachelor's degree program, depending on their area of specialization. In addition to SFA's program at Texas A&M-RELLIS, Blinn maintains transfer partnerships with programs at Texas A&M University and Sam Houston State University.
Through the Clear Affordable Pathways to Success (CAPS) Program, education students can earn their Bachelor of Science in Education – Early Childhood through Sixth Grade or Bachelor of Science in Education – Grades 4-8 through a partnership with the University of Houston-Victoria (UHV).
As she looks towards her next steps, Sassin is motivated by the teachers who impacted her and hopes to one day be that same force for her students.
"I feel like for children to learn, they need someone to help them through that journey and that's someone I want to be. I want to inspire that future child that wants to go into teaching so that when they think back, they say, 'Wow! My kindergarten teacher was amazing! I want to be a teacher because of Ms. Sassin.'"
For more information about Blinn's education and teaching degree offerings and partnerships, visit www.blinn.edu/teaching.
Enjoy this article? Share it with one click!
Related Links
Archives
GET CONNECTED