Blinn cybersecurity student prepares for high-wage, high-demand career in information security
'I've always thought of it as cyber cops and robbers,' says Cameron Watt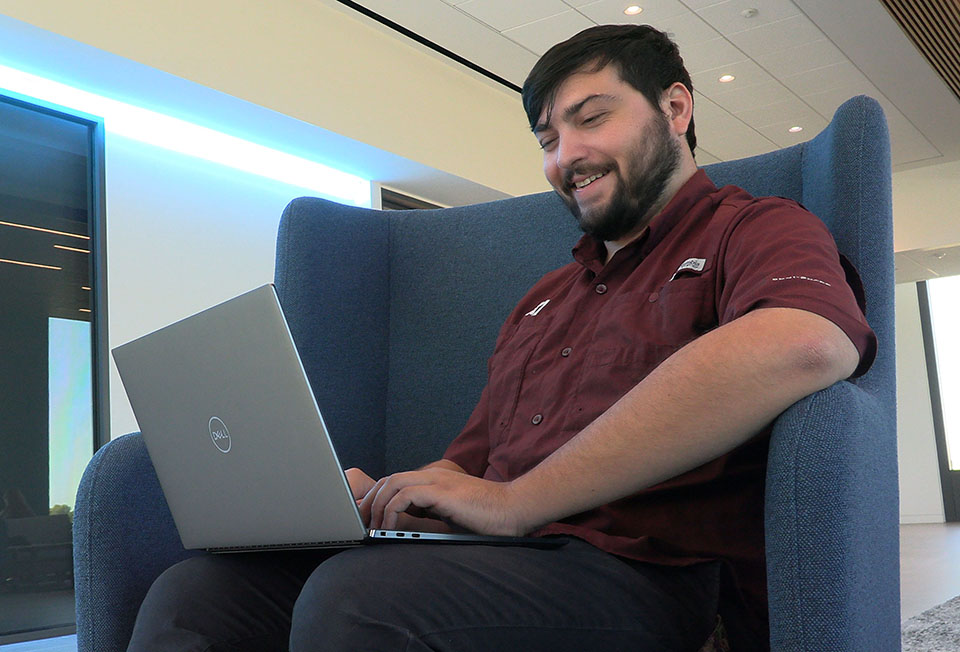 February 6, 2023
For Cypress native Cameron Watt, something about technology just clicks.
After his interest in video games morphed into building his own computers during the pandemic, he was eager to turn his passion into a career but was unsure how to get started. When a family friend working in cybersecurity at Texas A&M University told him about the Blinn College District's new Associate of Applied Science (AAS) degree in cybersecurity, he decided to enroll.
"Blinn's program is great if you're like me and didn't know where to start," Watt said. "When I was first looking into cybersecurity, it was a big black box, so coming to school and getting my foot in the door helped define my pathway into the field."
Blinn's AAS Degree in Cybersecurity is a two-year program offered at Texas A&M-RELLIS and the Brenham Campus that prepares students to enter the workforce or pursue their bachelor's degree in computer science or computer information systems at four-year institutions. Coursework includes hardware components, network structures, and the techniques and tactics hackers use to exploit these systems. Graduates of the program also earn the Cybersecurity-Level 2 certificate. This 30-credit-hour certificate is available separately and can be applied to individuals' current positions or utilized for professional development.
Many faculty members who teach in the program also maintain security jobs in the field.
"The faculty are very helpful and care about you succeeding," Watt said. "My favorite part of the program is all the hands-on work with the equipment. We go into the online environments where you get to use the tools that you'll be using in the industry."
Blinn Cybersecurity Program graduates are on track for careers as information security analysts and other roles in computer network administration. According to the U.S. Bureau of Labor Statistics, information security analysts earn a median salary of $102,600 per year. Employment opportunities are surging in this field as technologies are constantly evolving. Between 2021 and 2031, the demand for information security analysts is expected to grow 35%, creating an additional 56,500 jobs nationwide.
According to CyberSeek, a website that provides detailed data about demand in the cybersecurity job market, there are approximately 82,000 cybersecurity jobs available in Texas. In addition, many cybersecurity employers will pay for staff to earn additional certifications and participate in professional development opportunities.
"With the way our world is going everything is online, everything is electronic, everything is computer-based, and you have to protect that information, which is why positions in cybersecurity are in such high demand," Information Technology Program Coordinator Carol Wiggins said. "As a result, career opportunities in cybersecurity offer exponential growth and many students already have job offers before they graduate."
Watt already has earned an internship in cybersecurity at UTSI International that will transition into a full-time position when he graduates at the end of the spring semester.
"I haven't even graduated yet and I already have a job lined up in the industry that I'm really excited about," Watt said. "I have always thought of it as cyber cops and robbers. There are bad people trying to attack and I'm going to defend. I'm working in critical infrastructure and a lot these networks can be insecure because they're built with old technology. It's really scary how things can go bad if you don't have good security."
For more information about Blinn's Cybersecurity Program, visit www.blinn.edu/cybersecurity.
Enjoy this article? Share it with one click!
Related Links
Archives
GET CONNECTED