Award-winning mezzo-soprano to teach master class and perform at Blinn College-Brenham
Utah opera company operator will be featured in two concerts, master class with choral students
February 13, 2023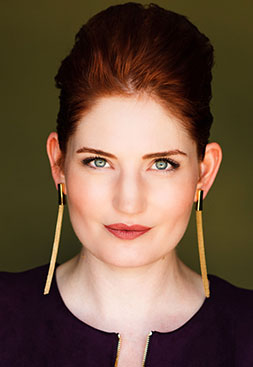 Award-winning mezzo-soprano Mandi Barrus will visit the Blinn College District choir in February for two concerts and a master class with the College's choral students.
Barrus, who operates an independent opera company in Utah, is a musician and actor originally from Seattle, Washington. With her "impressive technique and clear tone," Barrus recently was described as "a breath of fresh air" by Front Row Reviewers. She is known for her versatility of performance, with credits in both musical theater and opera.
Barrus's recent portrayal of Mere Marie in Dialogues des Carmelites was praised in the Daily Utah Chronicle, where critic Hannah Keating wrote, "I was blown away by ... Mandi Barrus as Marie."
A recent winner of Utah Opera's AriaFest and the University of Utah's Concerto Competition, Barrus holds a Bachelor of Musical Arts degree with a minor in Theatre Arts from BYU-Idaho and a Master of Music degree from the University of Utah. She shares her love of music as a dedicated teacher of young voices, at her church as the alto section leader and soloist, and by presenting opera outreach programs in elementary schools throughout Utah.
"Over the past four semesters, we have been visited by a baritone, soprano, tenor, and now a mezzo-soprano," said Daniel Johnson, Blinn Voice and Choir Professor. "So I am excited for all the students to have opportunities to work with and learn from someone of their voice part."
Barrus will perform "A Song for All Seasons" Tuesday, Feb. 21, at Finke Recital Hall in the C.F. Schmidt Building at 800 College Avenue on the Brenham Campus. The free recital will feature works by composers Franz Schubert, Aaron Copland, Angela Morley, and Gabriel Fauré. Barrus will sing a song for each month of the year, representing many different languages, artistic periods, and compositional styles.
Complimentary tickets are available at www.blinn.edu/boxoffice. It will also be streamed live on the Blinn College Music Department YouTube Channel.
Barrus, Johnson, and Blinn choral students will perform a free concert at 7 pm. Friday, Feb. 24, in Finke Recital Hall. "A Bernstein Bash" will feature works and narrations exploring the life and legacy of composer Leonard Bernstein, including a performance of his chamber opera "Trouble in Tahiti."
"The crown jewel of the evening will be a performance of 'Trouble in Tahiti,' an autographical work set in 1950s American suburbia that tells the story of Bernstein's troubled childhood through the experiences of an arguing married couple, Sam and Dinah," Johnson said. "We explore the pitfalls of putting a happy face on the world and letting a marriage canker through living parallel rather than truly united lives."
Barrus will portray Dinah and Johnson will perform as Sam.
Complimentary tickets also are available at www.blinn.edu/boxoffice and the concert will be streamed on the Music Department YouTube channel.
Blinn's Music Department offers small classes, one-on-one attention, practical learning, and accessible faculty so that students are actively engaged in a superior learning environment. Students can pursue an Associate of Arts Degree in Music that provides a solid foundation in the creative and technical aspects of music, including music theory, history, composition, and performance. For more information, visit www.blinn.edu/music.
Enjoy this article? Share it with one click!
Related Links
Archives
GET CONNECTED