U.S. Marine veteran continues dedication to service through Blinn's Associate Degree Nursing Program
Blinn graduate Donald E. Boston III works as an ICU trauma nurse at St. David's South Austin Medical Center
November 8, 2022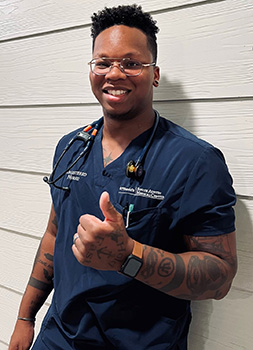 When San Antonio native Donald E. Boston III put on his uniform in 2012 to serve as a U.S. Marine, he never imagined he'd be trading it for nursing scrubs.
"Before I enlisted, I thought I wanted to be an engineer," Boston said. "Nursing was the furthest thing from my plans."
After five years in the infantry, multiple deployments, and even a post serving on a presidential security detail, Boston was honorably discharged and ready to continue a life of service. Nonetheless, his journey to nursing still took some twists and turns.
"I liked the science aspect of it, but I didn't really fall in love with nursing until I was working as a certified nurse aide at an assisted living facility," said Boston. "I loved the little things that I was doing that made a difference to their quality of life. That's what made me really want to pursue healthcare and from then on I knew I wanted to enter the nursing profession."
This decision led him to contact Karla Ross, Director of the Blinn College District Associate Degree Nursing (ADN) Program, and there was no looking back.
"Donald came for a campus tour and he just fit right in," said Ross. "I interviewed him on the spot and told him to apply. His military background already showed his commitment to serving others and reflected a sense of discipline I knew would enable him to be an exceptional nurse."
Looking back, Boston thinks this career change was inevitable. After all, nursing and military service both were in his blood. During World War II, Boston's grandmother made parts for an airline manufacturer and served as a nurse.
"She was a real-life Rosie the Riveter," Boston said. "Several of my cousins are also nurses and I have a history with the Marines as well through my uncle and grandfather."
His grandfather, Edward Baker, started his military career in the Navy, eventually becoming a Monford Point Marine in 1942. These servicemen were the first black Marines to enlist after President Franklin Roosevelt signed an executive order prohibiting racial discrimination in the U.S. Armed Forces.
Ready to chart his own course, Boston began Blinn's ADN Program in January 2020, but his expectations quickly shifted when the pandemic struck in March.
"At first it was really tough because I like to leave the house to go to school," Boston said. "It was an adjustment for sure, but I think my military background helps me with stress management and adapting to different environments because I was still able to perform well."
Boston also credited the support of his Blinn instructors.
"Every semester, our professors were fantastic," he said. "They are just so knowledgeable, and they genuinely wanted us to succeed and we as students felt that."
Blinn's ADN program is based at the RELLIS Academic Alliance Complex at Texas A&M-RELLIS in Bryan, where students gain hands-on skills utilizing the facility's 16,000-square-foot simulation laboratories. Nursing students spend at least two days per week in clinical rotations, in addition to lab, simulation, and lecture time. Most students dedicate 15 to 24 hours each week to schedule program activities and at least 30 hours per week on study and preparation.
As a result of the program's employment outcomes and high National Council Licensure Examination (NCLEX-RN) first-attempt pass rate, Blinn has been recognized by Nursing Schools Almanac, NursingProcess.org, RNCareers.org, and RegisteredNursing.org.
After graduating in December 2021, Boston began working as an intensive care unit (ICU) trauma nurse at St. David's South Austin Medical Center. He also is completing his Bachelor of Science in Nursing online though the Texas A&M University School of Nursing with plans to obtain his doctorate.
"I always knew I wanted to do critical care. It fit with my personality and the adrenaline and pressure that went along with my military background," Boston said.
He credits Blinn with putting him on the path to a successful career and toward achieving his ultimate goal to become a certified registered nurse anesthetist (CRNA), a nursing specialty that requires some of the highest levels of training.
"There have been so many moments where I reflect back on my education at Blinn and how well it prepared me to be an actual nurse," Boston said. "I feel privileged to work in a job I love and know the guidance I received at Blinn will stay with me my whole career."
For more information regarding Blinn's ADN Program, visit www.blinn.edu/adn.
Related Links
Archives
GET CONNECTED