Blinn students see the law come to life during Texas 10th Court of Appeals visit.
2022 marks the court's first visit to the Blinn RELLIS Administration Building at Texas A&M-RELLIS after holding court on the Blinn-Bryan Campus since 2012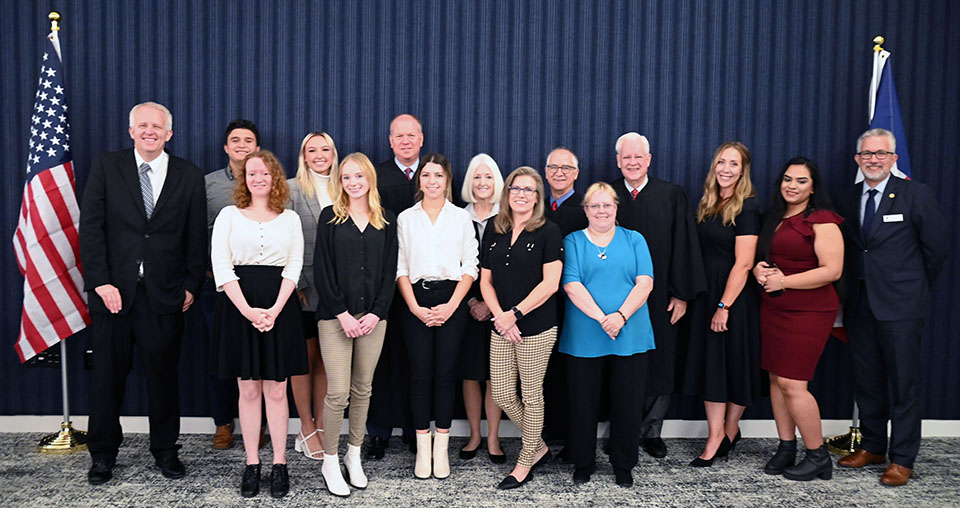 November 18, 2022
The law met education during the recent Texas 10th Court of Appeals visit to the Blinn College District's new Blinn RELLIS Administration Building at Texas A&M-RELLIS.
"This is the first time we've been at this location and it's an incredible facility," Chief Justice Tom Gray said. "If students and the public leave here with a little better understanding of what the judicial system is, how it functions, and how we try to do our very best at each stage of the process, then we accomplished what we came for."
This year marked the court's 11th annual visit to Blinn with students, faculty, and community members hearing oral arguments involving issues of ineffective counsel and governmental immunity.
Seeing the law in action was especially beneficial for students in Blinn's Paralegal and Legal Studies Program and the Legal Assistant Student Organization (LASO), who helped organize the event.
"I got to see an appellate trial happen in person and get to apply what we are learning in the classroom to actual court cases," Blinn student Lola Dean said.
Consisting of Gray and Justices Matt Johnson and Steve Smith, the Texas 10 th Court of Appeals is based in Waco and hears approximately 400 civil and criminal appeals a year from 18 counties in Central Texas, including Brazos County.
"What makes this event so exciting to me is to see the great enthusiasm and interest of our students," Department Head and Program Coordinator Robert Stanberry said. "The students got a chance to meet with the judges and the attorneys that were arguing the cases and to really be a part of the legal community."
The first case the court heard, Holden Douglas Crucet v. The State of Texas, involved a defendant with a traumatic brain injury arguing ineffective assistance of counsel. The second case, City of Madisonville v. Ivan Aristides Cruz Hernandez, Andrew Diaz, Individually and as Representative of the Estate of Apolo Estrada Diaz, and Maria Diaz, as Representative of the Estate of Apolo Estrada Diaz, focused on the issue of governmental immunity by the city.
The justices returned to Waco to research the legal questions and precedents that relate to each case and will issue a written opinion.
The opportunity to visit one-on-one with the justices was especially meaningful for LASO Vice-Chair Sanjana Salam, an engineering student who also plans to attend law school.
"I was very confused as an engineering student pursuing pre-law," Salam said. "Justice Gray told a story about one of his attorneys doing very well in law as an engineering major, so that was very inspiring for me."
Dean also found the small group conversation with the judges to be a highlight of the event.
"My favorite part of today was getting to meet the judges face-to-face and talk to them about their careers and their backgrounds to see where they came from and why they are where they are today," Dean said.
Blinn's Paralegal and Legal Studies Program prepares students for a variety of law career options with an Associate in Applied Science (AAS) degree, a Legal Office certificate, and an Occupational Skills Award in Mediation. Daytime and evening classes are available that can be taken as traditional or online courses or as a combination of the two formats. Faculty is comprised entirely of lawyers and judges whose classes are structured to promote quality student-faculty interaction. Students who complete the Legal Assistant AAS degree are eligible to sit for the National Association of Legal Assistants certification exam.
For more information on Blinn's Paralegal and Legal Studies Program, visit www.blinn.edu/paralegal.
Related Links
Archives
GET CONNECTED