Larry and Mary Whigham, Blinn College Foundation gift Blinn Music Department a grand piano
Blinn Music Department offers associate degrees and ensemble performance opportunities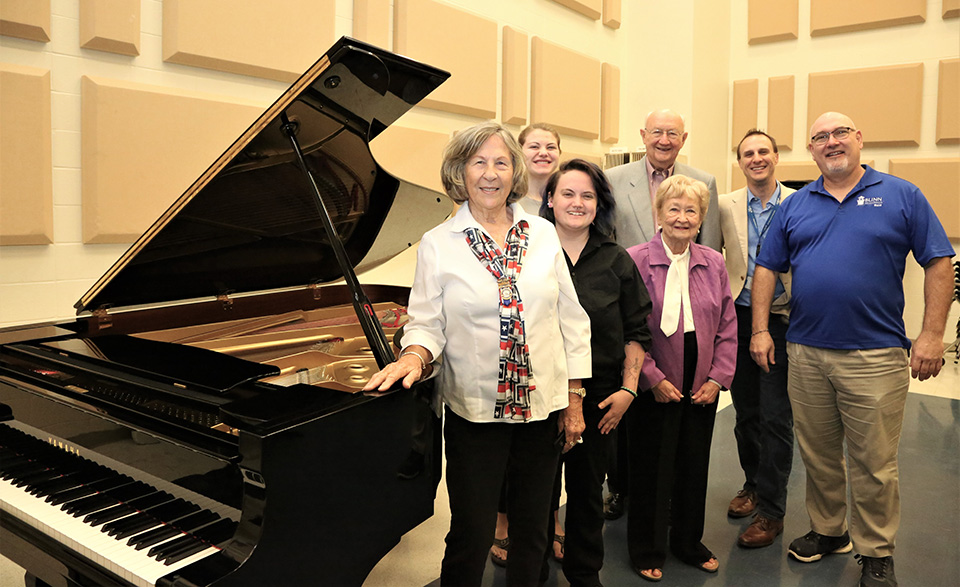 October 14, 2022
The Blinn College-Brenham Campus has a new "grand lady" at its Machat Music Facility.
Longtime supporters Larry and Mary Whigham gifted $25,000 and the Blinn College Foundation gifted $7,590 for the purchase of a Yamaha C7 grand piano, one of the most sought-after pianos in the world for live music venues, theatres, and recordings.
This is the third piano the Whighams have gifted to Blinn, beginning with the piano they donated approximately 15 years ago after Blinn renovated the C.F. Schmidt Building to add Finke Recital Hall.
The Whighams met John Dujka, Instrumental Music Professor, at the ceremony celebrating Finke Recital Hall's opening.
"Our relationship with John goes back to the first piano we bought for the Schmidt Building," Mary Whigham said. "We went to the celebration for opening the recital hall and they had an upright piano that the students played on. I walked up to him – having never met him – and said, 'You guys need a bigger piano,' and he said, 'Let's talk.'"
The Whighams have been tremendous patrons and advocates for Blinn's Music Department, particularly piano studies.
"They have given so much support in big ways, and this piano is a high-grade, concert-quality instrument," Dujka said. "Being a grand piano, it has a touch that's unlike an upright piano."
Earlier this year, the Whighams gifted $15,000 to the Blinn Foundation to establish the John Dujka Excellence Scholarship, which will be awarded annually to a music student whose primary focus is the piano.
Mary Whigham said the latest piano is the crown jewel.
"I'm a frustrated piano player. Mother didn't make me do enough with my piano lessons, so every time I can do something like this, I'm happy to do it," she said. "We want the students to have the best."
Charis Whirtley, a sophomore voice and piano major at Blinn, said the new piano is a grand addition to the Music Department.
"It's a gorgeous piano," he said. "It has a gorgeous tone and plays like a dream. It's an amazing piano, and we're very fortunate to have it."
Located on the Brenham Campus , the Blinn Music Department offers small classes, one-on-one attention, practical learning, and easily accessible faculty so that students are actively engaged in a superior learning environment.
The department's outstanding, world-class music instructors care about students and encourage their individual growth. Teaching is a top priority as students are exposed to a wealth of music, ideas, and issues that expand learning horizons.
The Blinn College Foundation, which oversees more than 300 endowed scholarships, provides financial support for activities and programs that enhance educational opportunities for Blinn students.