More than 150 high school students take part in the inaugural Buccaneer Band Experience
Day culminates with performance with Blinn band at halftime of football game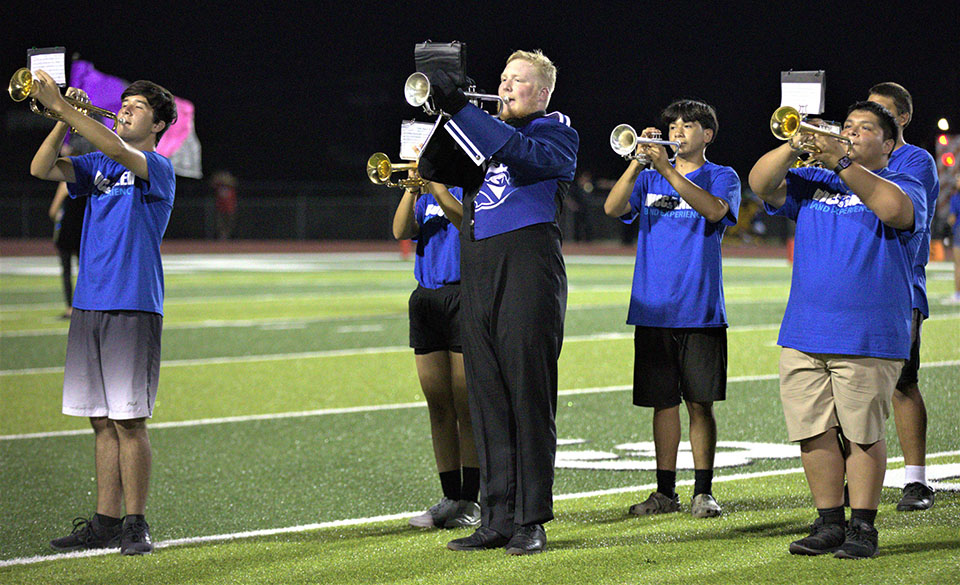 September 15, 2022
More than 150 band students from area high schools had the opportunity to perform with the Blinn College Buccaneer Band during halftime of a recent football game at Cub Stadium.
As part of the inaugural Buccaneer Band Experience, high school students took part in a day of activities that included joining the Blinn band for its halftime performance during the Blinn-Cisco football game.
"We are thrilled with the success of our first-ever Buccaneer Band Experience," said Dr. Sarah Burke, Director of Bands. "We had between 150 and 180 high school students from approximately 20 different high schools join us for a full day of rehearsals and master classes, culminating in the performance alongside our students at the football game.
"For most of these high school students, this was the largest ensemble they have ever performed with. It's often hard for students to imagine continuing band after high school, and this event helps show them the fun of collegiate band."
The Buccaneer Band Experience included indoor and outdoor rehearsals with the Blinn band and clinics with Blinn faculty members and guest artists.
Student participants came from Bellville, Bremond, Brenham, Burton, Cypress Ranch, Danbury, East Bernard, Giddings, Harper, Lago Vista, Lexington, Magnolia West, Riesel, Schulenburg, Stanton, Summer Creek, Waxahachie, and Yoakum high schools.
The Buccaneer band is active throughout the year, appearing at halftime shows during the football season, exhibition performances as a guest college band at regional and area University Interscholastic League marching band contests, campus concerts, and a concert tour each spring. The Buccaneer band also hosts and performs at the annual Buccaneer Marching Band Festival, which this year will be held Saturday, Oct. 8, at Cub Stadium.
The Buccaneer Band is part of the Blinn College Music Department, which also offers choral and vocal studies, piano study, brass ensemble, woodwind ensemble, jazz band, percussion ensemble, and steel drum band.
For more information regarding the Blinn Music Program, including scholarship and audition opportunities, visit www.blinn.edu/music.