A California nomad finds her home in Blinn's Welding Technology Program
Associate of Applied Science degree provides universally recognized credentials and training to succeed in the welding field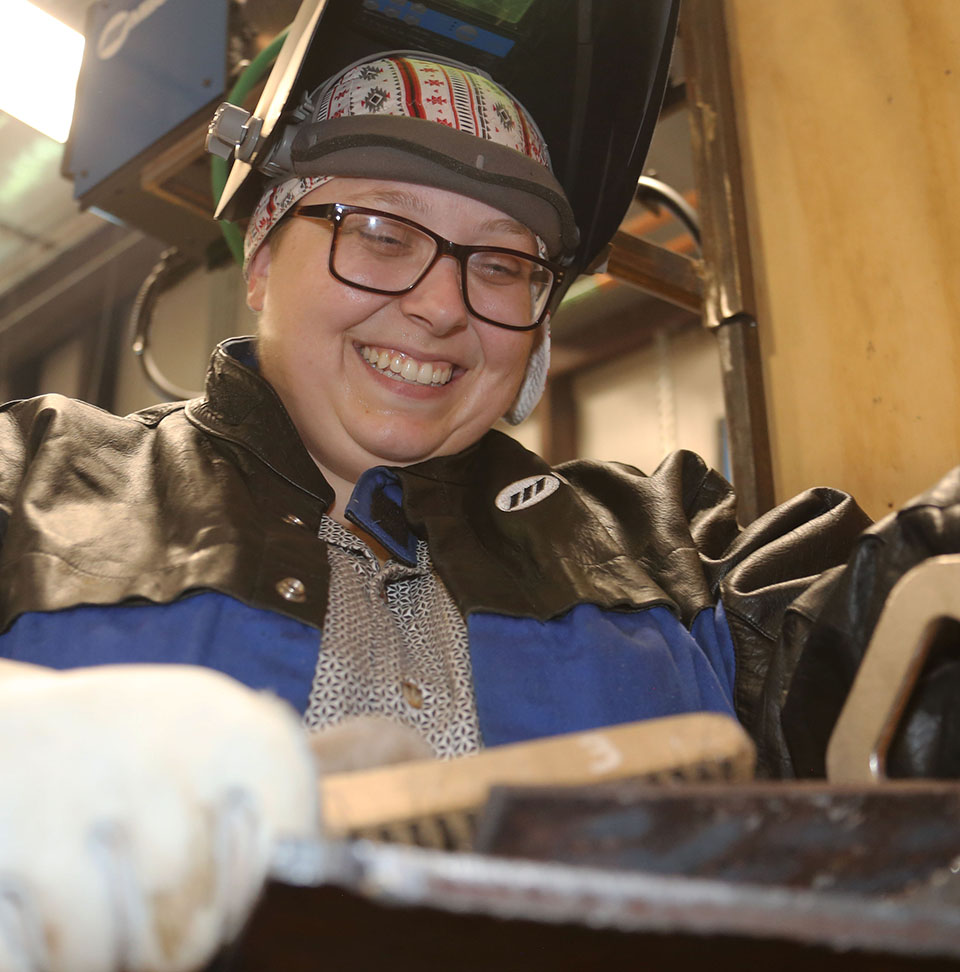 September 12, 2022
Anna Bartolomei's path to the Blinn College District Welding Technology Program was not a straight line. From working the rodeo circuit to serving as a jailer to becoming an emergency medical technician, this northern California jack of all trades tried on a variety of hats before she found a welding helmet.
"I wasn't meant to sit behind a desk. I want to be able to build something with my own hands," the 31-year-old Bartolomei said. "I always thought fabrication was really cool and growing up on a ranch, welding was something that somebody had to be able to do."
Initially drawn to Blinn to pursue nursing, she quickly changed course after realizing her skills were a better fit for welding.
"I need something to do with my hands and so I decided to switch degrees, which Blinn made super simple," she said. "The teachers here also have been great. They are always willing to step up and help no matter how many questions I have."
Blinn's Welding Technology Program offers competency-based training for students pursuing college credit or participating in continuing education. The hands-on skills development curriculum includes entry-level to advanced training in a variety of welding processes such as Shielded Metal Arc Welding (SMAW), Gas Metal Arc Welding (GMAW), Gas Tungsten Arc Welding (GTAW), Flux Cored Arc Welding (FCAW), basic metallurgy, and inspection procedures based on industry welding codes.
College credit programs build upon each other and include Level I and Level II certificates and an AAS degree in Welding Technology. In the credit program, technique coursework is interwoven with blueprint reading, quality control and inspection, and hands-on experience provided through internships.
Bartolomei is currently honing her welding skills at Circle H Manufacturing in Bryan, a custom heat exchanger and pressure vessel manufacturer. She stresses the value in earning her degree in the trade.
"I knew I always wanted to have a degree of some sort," Bartolomei said. "These are all hands-on classes and I feel like it really does help to have that degree to give you a leg up in the workforce."
According to the U.S. Bureau of Labor Statistics, the national demand for careers as welders, cutters, solderers, and brazers is expected to grow 8% between 2020-30, adding 34,100 new jobs with a median salary of $47,010 per year.
Bartolomei encourages other women to consider welding as a career.
"You can't let anything stop you just because the guys are doing it. You can do it too," she said. "If it's what you want to do, don't think about it. Look up women and welding online and you'll find a lot of inspirational stories out there. Just run with it – you don't have time not to."
This demand for female welders is a trend that welding technology program manager Dickie Jones also emphasizes as he recruits students, especially at the high school level.
"You get into some manufacturing companies that are doing TIG welding, which is a very fine, detailed type of welding, and more and more companies are finding out that women do much better than men," said Jones.
Blinn offers credit and non-credit welding courses at the A.W. Hodde, Jr. Technical Education Center on the Blinn-Brenham Campus and at the Agriculture and Workforce Education Complex, a 38,000 square-foot facility at Texas A&M-RELLIS in Bryan. Students in Blinn's Welding Technology Program may be eligible for financial aid and Duddlesten Foundation scholarships, which was an added benefit for Bartolomei.
"Blinn helped me like crazy with financial aid and figuring out how to do all the paperwork. The staff held my hand and walked me through the process," she said.
In addition to welding technology, Blinn also has AAS degrees in carpentry, construction management, facility maintenance, HVAC, power line worker, surveying technician, and water purification. Each degree was developed in partnership with local industry leaders and create pathways into high-wage, high-demand careers.
To learn more about Blinn's welding technology program, visit www.blinn.edu/welding-technology or email welding@blinn.edu.
Enjoy this article? Share it with one click!