Cloud computing courses place Blinn students on the path to high-wage careers with Amazon Web Services, Microsoft, and Google
Students who earn cloud computing certifications can earn six-figure salaries in this high-demand field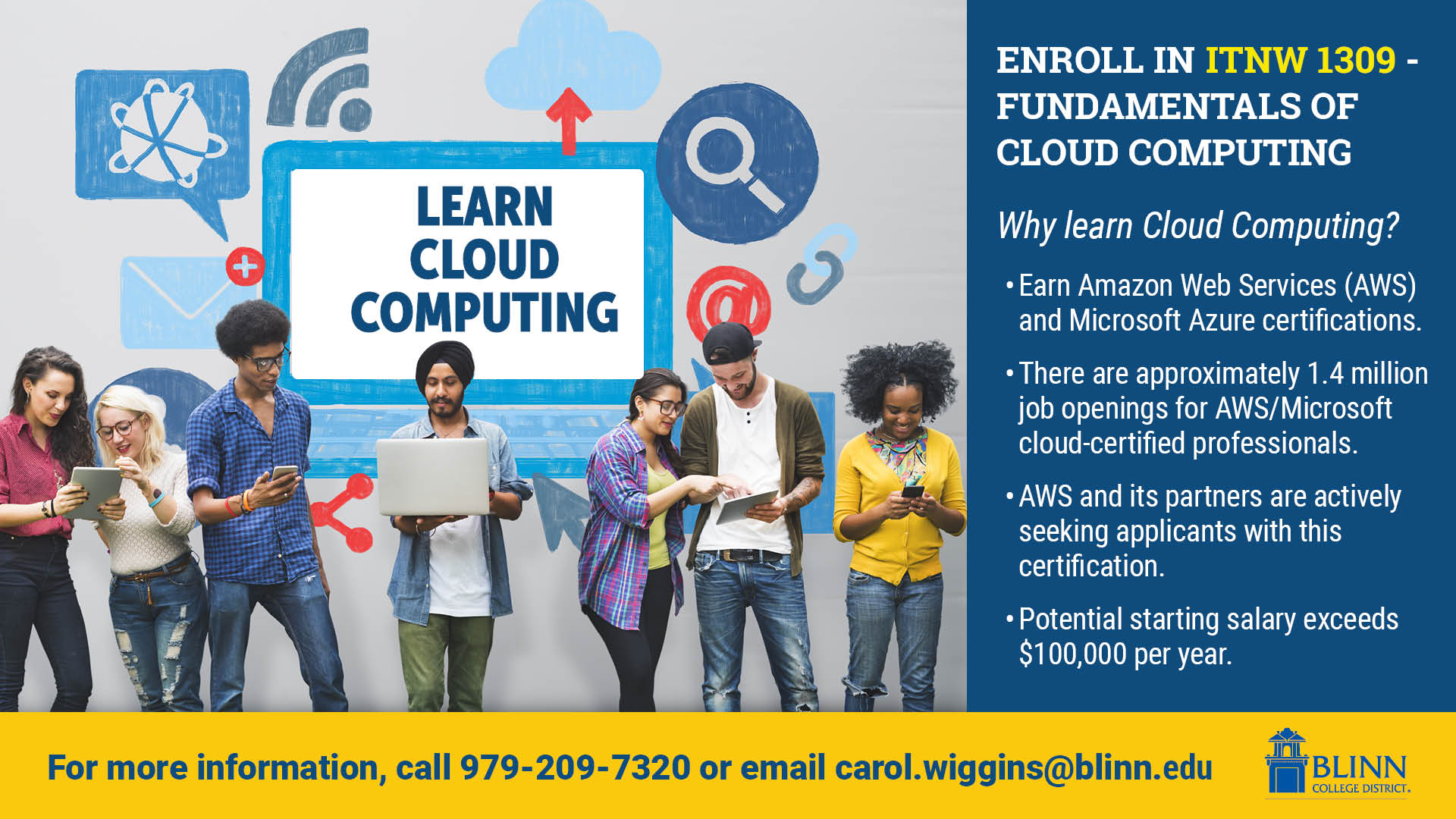 August 5, 2022
A new cloud computing class offered at Blinn College this fall will place students on the path to one of the most high-demand job markets in the world.
ITNW 1309: Fundamentals of Cloud Computing is the initial class in Blinn's new Associate of Applied Science Degree in Cloud Computing. The degree combines networking and system administration fundamentals with a focus on cloud strategies to secure networks and systems.
The "cloud" isn't as mysterious as it sounds, said Carol Wiggins, Program Coordinator of Blinn's Computer Information Technology Department . Most people associate it with storing data, but it has evolved in many areas.
"It used to be that businesses would have servers of their own and they would have an operating system and applications that would run them," Wiggins said. "Each company had their own server room. That's a lot of overhead because not only do you need the space, you have to have all of the equipment.
"So what they have done is shifted all of these servers into what they call 'the cloud.' Companies like Amazon, Google, and Microsoft have massive servers and a business can contract for capacity and only pay for what they use. They don't have all the overhead for the equipment, the security, the software."
The cloud computing world is dominated by Amazon Web Services (AWS), Google, and Microsoft. Wiggins said Blinn has partnered with each to help fill a massive need for qualified employees.
"There is a 1.4 million employee shortage in just cloud services," she said, "and the work can all be done remotely."
The need for qualified workers is so competitive, said Wiggins, that AWS will interview any students who receive two certifications, both which can be earned after a student completes Blinn's classes.
"There is such a demand that Amazon Web Services will guarantee an interview with students who earn this certificate (AWS Certified Cloud Practitioner) and one other (AWS Certified Solutions Architect), which is taught in the next class in the spring," she added.
Students only need the two certifications to catch the attention of AWS, Microsoft, and Google.
"That will get them a foot in the door," Wiggins said. "A student graduating out of this program can get introductory and associate-level certifications that meet the requirements of Amazon, Microsoft, and Google by the time they graduate."
The payoff can be a career with a salary of $100,000 or more.
"It depends on the student and their history. If they have some computing background and experience, it is absolutely possible," Wiggins said. "If they are fresh out of high school, it might be closer to $50,000 to $60,000 without a degree, which is still very good."
Classes are available online and at the Blinn-Brenham Campus and Texas A&M-RELLIS .
For more information, contact Wiggins at 979-209-7320 or by email at carol.wiggins@blinn.edu .