Blinn provides the community with more opportunities to grow careers and earn nationally recognized trade credentials
Blinn becomes National Center for Construction Education (NCCER) Accredited Training Sponsor (ATS)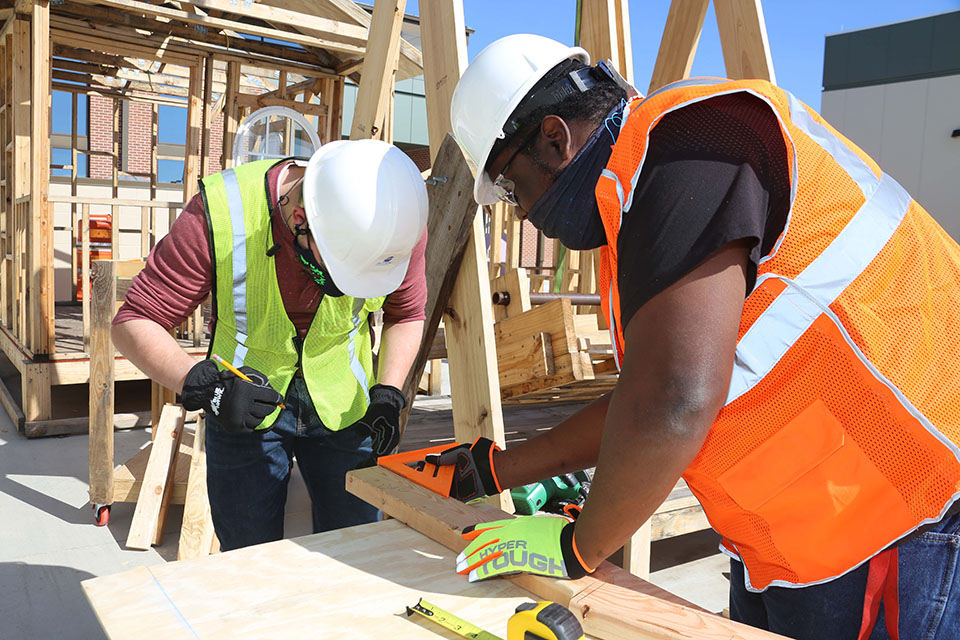 August 26, 2022
The Blinn College District's welding and construction trades programs have been recognized for their expertise and commitment to excellence by being designated a National Center for Construction Education (NCCER) Accredited Training Sponsor (ATS).
This status allows Blinn to offer more dual credit opportunities to area high schools, preparing students to enter the workforce with nationally recognized credentials. In addition, Blinn has added authority to provide tailored employee training resources to area businesses through the Corporate Training Program .
"This accreditation indicates that Blinn College and our instructors have reached one of the highest levels of expertise in being able to train people in the trades," said Dickie Jones, Welding Technology Program Manager.
NCCER is an education foundation that has developed standardized industry training and credentialing with the support of more than 125 construction CEOs, trade association officials, and academic leaders. The NCCER offers nationally recognized curricula in more than 70 craft and maintenance areas.
"Being an ATS means our service area will have more access to the NCCER's stackable and buildable credentials, which translates into employment opportunities and higher wages," said Karla Flanagan, Dean of Technical and Community Education. "This status allows Blinn to expand its work to make sure local students and employees have the highest level of training, which helps put them on a path toward long-term career success."
High schools that use Blinn as their ATS would be assigned a Blinn instructor as a direct mentor, a valuable resource to ensure that the training students receive meets the standards of local and national employers.
"The Gulf Coast is the largest industrialized area in the world and 90% of those industries look to contractors to train their people using the NCCER curriculum," Jones said. "As these students complete certain levels and points within the training, they will have a permanent NCCER transcript that gives them an advantage to go out and get that job over other applicants."
For companies that seek employee training through Blinn, course materials can be tailored to their industry.
"We can create personalized textbooks to train people specifically to fit a company's needs," Jones said. "We can go to companies, discuss their needs, then develop customized training specific to their business."
Offered through the Division of Technical and Community Education , Blinn's skilled trades programs provide students with the knowledge and training needed to enter the workforce. Courses are available at the A.W. Hodde, Jr. Technical Education Center in Brenham, the Blinn-Schulenburg Campus, and at the new Agriculture and Workforce Education Complex, a 38,000 square-foot facility at Texas A&M-RELLIS. In addition, Blinn faculty work with clients to train their employees on site.
Course options include non-credit classes, certificate programs, industry-recognized credentials, and AAS degrees in Carpentry, Construction Management, Facility Maintenance, HVAC, Power Line Worker, Surveying Technician, Water Purification, and Welding Technology.
To learn more about Blinn's Technical and Community Education Programs, visit www.blinn.edu/workforce.