Blinn Health Sciences Summer Camp introduces students to health science career options
7th and 8th graders used Blinn's state-of-the-art clinical simulation labs to learn about real-world emergency scenarios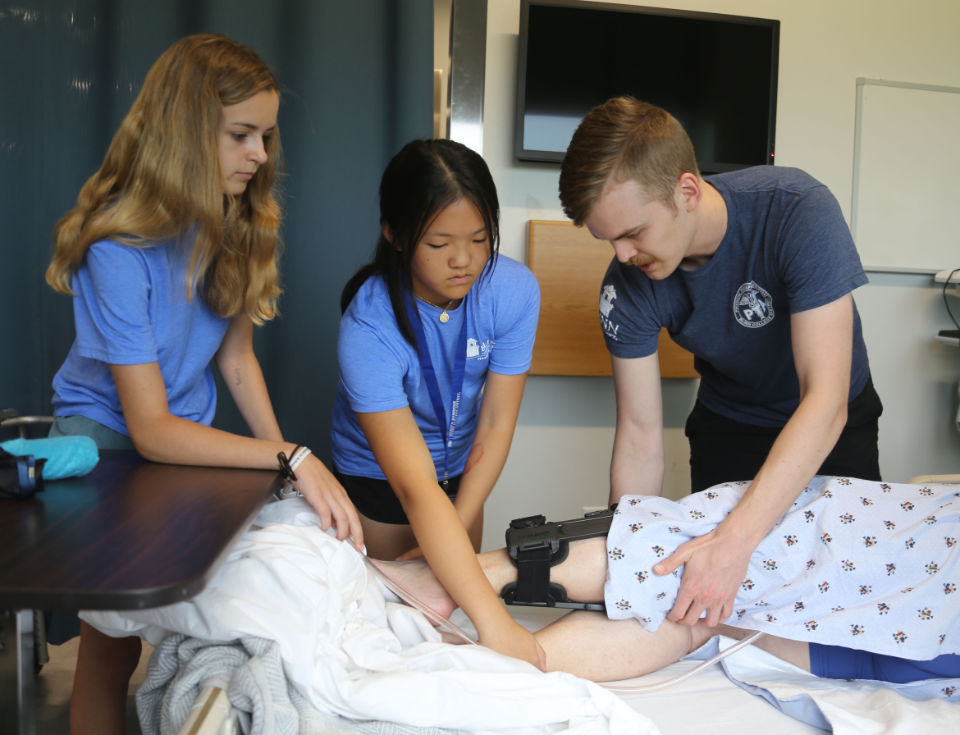 June 16, 2022
Holding her patient's neck steady, 13-year-old Brooke Dawson counted to three before she and several Blinn Health Science students worked in unison to move a young car accident victim from a gurney to the x-ray table for a CT scan. Assisting the Associate Degree Nursing Program in this emergency room x-ray simulation was just one of the activities Dawson participated in during the Blinn College District's seventh annual Health Sciences Summer Camp.
"Nursing has been by far my favorite," Dawson said. "It's a two-year program for school, which is motivating for me to know that I can actually get a degree without having to go to college forever."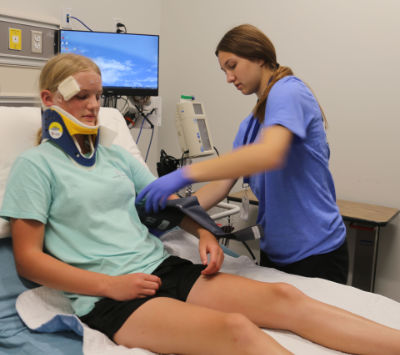 Hosted at the RELLIS Campus, the three-day camp introduced Dawson and 16 other 7 th and 8 th graders to a variety of high-demand careers in the health sciences.
Students and faculty from Blinn's Associate Degree Nursing (ADN), Emergency Medical Services (EMS), Fire Science , Physical Therapist Assistant (PTA), Radiologic Technology , Surgical Technology , and Veterinary Technology programs demonstrated the basics of each profession, from the equipment they use to the techniques necessary to ensure quality, compassionate patient care.
"The benefit of this camp is for the participants to see a variety of health science professions that they wouldn't normally be exposed to," said Karla Ross, ADN Program Director. "Being here at the RELLIS Campus also shows the campers that they don't need to leave the area to have access to this type of technology and hands-on experience. Exposing middle and high school students to these careers early really gets them excited about learning and sparks that interest."
The camp was primarily held at the RELLIS Academic Alliance Complex on the RELLIS Campus in Bryan. This facility includes 16,000 square feet of space dedicated to clinical simulation laboratories featuring the latest technologies.
On the first day of the camp, participants received an overview of the Veterinary Technology, EMS, and ADN programs. Students learned what veterinary technicians do and even simulated performing CPR on a dog.
Campers also explored the equipment inside a working ambulance and learned important lifesaving skills. ADN faculty and students taught camp participants to take blood pressure, conduct patient assessments, hear a variety of heart and lung sounds, and start an IV using a virtual IV system.
On day two, campers "scrubbed in" with Surgical Technology Program faculty and students to get a first-hand look at the vital role surgical technologists play in preparing and assisting during surgeries. The Radiologic Technology Program assisted students in conducting x-rays using state-of-the-art equipment, even giving participants a glimpse inside their own smartphones. The PTA Program showed campers how important physical therapy is to the recovery process, demonstrated a variety of restorative exercises, and used technology like an anatomage table to give campers a closer look at different body systems.
"I think I might want to go into pediatric health care so just seeing the campers enjoy the experience makes me feel like I'm making an impact," said Collan Cardwell, a second-year PTA student. "Teaching is one of the best ways to learn. By getting to teach these kids, it showed me how much I've learned as well."
Throughout the camp, students were introduced to the simulation technology used in various healthcare fields, including Blinn's high-fidelity simulators.
On the final day, students explored a working fire truck during a visit to the Brayton Fire Training Field to learn more about the Fire Science Program. The camp culminated in a simulation event featuring live "patients" simulating real-world emergency scenarios. Campers shadowed Blinn faculty and students as they were guided through the entire treatment process, from emergency response to radiology and nursing to physical therapy.
"I really want to help people, so I think this is such a good thing to do," Dawson said. "They showed us a little bit of everything."
Blinn's Division of Health Sciences offers Associate Degree Nursing, Dental Hygiene, Emergency Medical Services, Fire Science, Health Information Technology, Physical Therapist Assistant, Radiologic Technology, Surgical Technology, and Vocational Nursing programs designed to place graduates on the fast track to rewarding healthcare careers.
For more information, visit www.blinn.edu/health-sciences .