More than 200 Blinn College graduates to walk the stage at spring commencement
Altogether, approximately 900 Blinn students will earn degrees, certificates, and occupational skills awards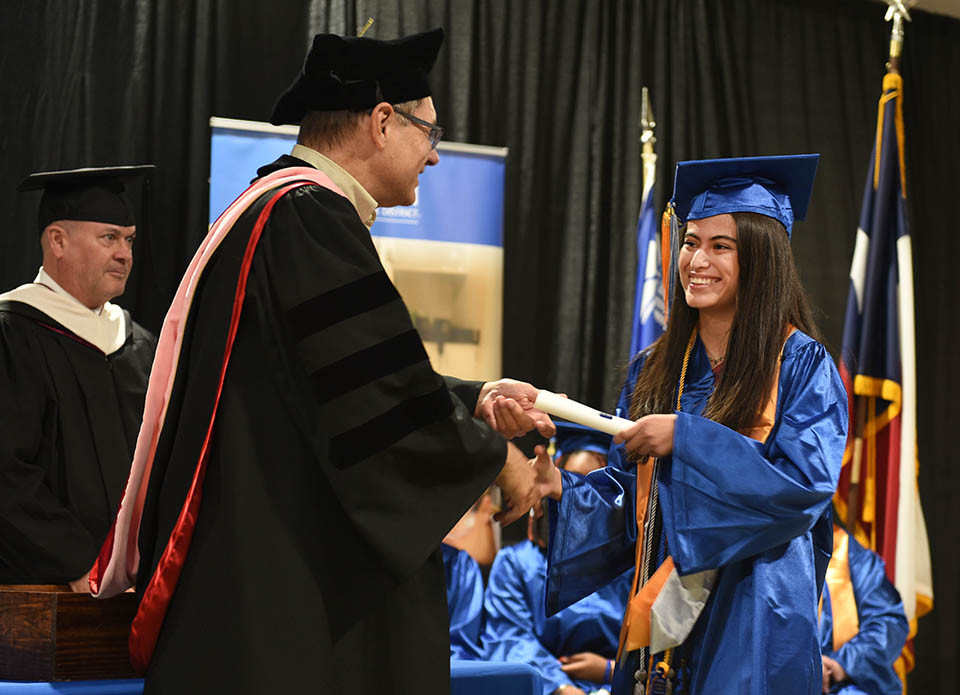 May 6, 2022
More than 200 Blinn College District graduates will walk the stage during the College's 145th commencement ceremony Thursday, May 12, at Brenham High School.
Blinn's graduation ceremony will feature two student speakers – Tajia Perry and Michael Rocha – and will be streamed live on the Blinn YouTube channel at www.youtube.com/Blinn1883.
A graduate of Alief Eslik High School, Perry enrolled at Blinn to pursue her degree in business administration and management. Following graduation, she plans to work in the medical field as a medical office manager.
Rocha is a U.S. Marine Corps veteran who also served 12 years as a police officer and sheriff's deputy before beginning a career in physician and nurse recruiting. In 2020, he enrolled at Blinn to pursue his Associate of Science Degree in Business. He will graduate with honors before transferring to the Texas A&M University Mays School of Business, where he plans to pursue his Master of Business Administration and Master of Healthcare Administration. After earning his bachelor's degree, Rocha plans to enter the field of medical equipment and device sales.
In total, including students who reverse transfer, Blinn will recognize approximately 900 graduates this spring.
Registration is now open for Blinn's May minimester, summer, and fall terms.
The May minimester runs Monday, May 16, through Wednesday, June 1, allowing students to earn full course credit in just a few weeks. These accelerated courses cover the same material as a full-length course, allowing students to make rapid progress toward their degree. For more information about the May minimester, including the courses offered and their transfer equivalents, visit www.blinn.edu/may.
Students have two opportunities to register for Blinn's summer courses. Summer I classes begin Monday, June 6, and summer II courses begin Monday, July 11. For more information about the summer I and summer II terms, including the courses offered and their transfer equivalents, visit www.blinn.edu/summer.
The fall 2022 semester begins Wednesday, Aug. 24. For a list of fall courses and transfer equivalents, visit www.blinn.edu/fall.
Registration for each term is open through the day prior to the first day of class. Students can choose from Traditional face-to-face courses, Live Online courses held at scheduled times using Zoom videoconference software, Flexible Online courses in which content is posted online with no scheduled class sessions, Blended courses that include Traditional and Flexible Online instruction, and Blended Zoom courses that include Traditional and Live Online instruction.
Prospective students can apply to Blinn via the GoApplyTexas.org application. Once admitted, they can register for classes at https://my.blinn.edu. Blinn recommends that all students speak to an academic advisor prior to registering for classes. Students can chat online with a Blinn admissions specialist between 8 a.m. and 5 p.m. Monday through Friday at www.blinn.edu/admissions and can call Enrollment Services at 979-830-4800.
To schedule a campus tour or apply, visit www.blinn.edu.
Related Links
Archives
GET CONNECTED