Innovation Center seeing growing use as students, staff embrace technology
Engineering major Aanooalii Filoialii calls it 'my favorite building on the whole campus'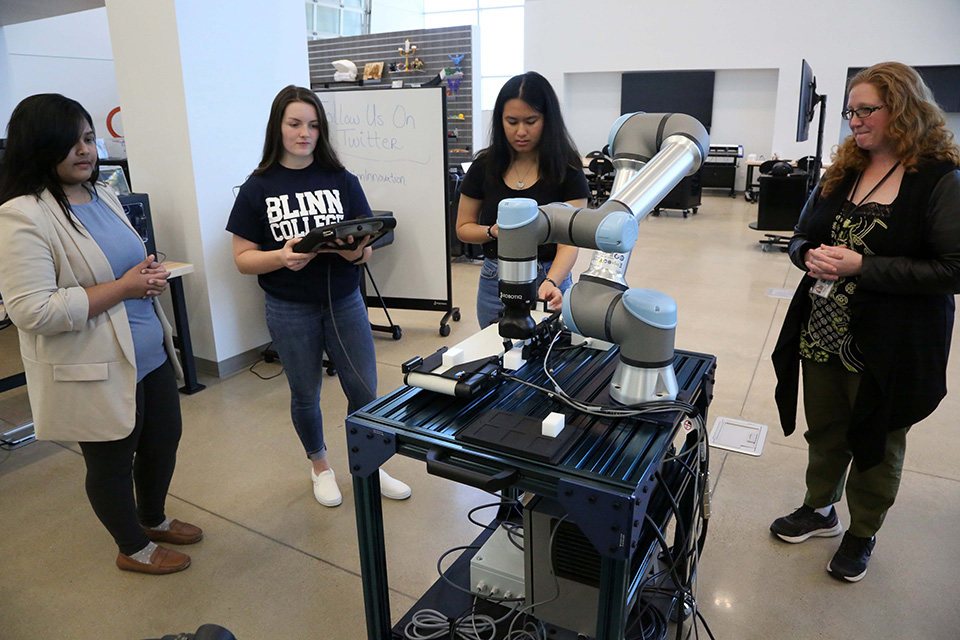 May 23, 2022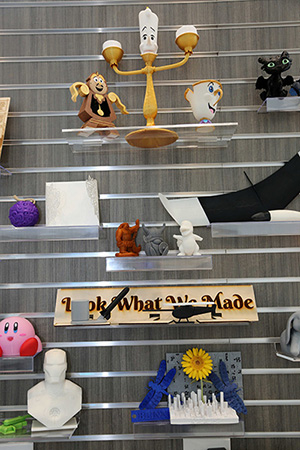 The "Look What We Made" wall at the Blinn College District Innovation Center was getting so full that Dr. Michelle Walbeck asked some of the creators for a favor.
"I said, 'Take some stuff home so we can put some new things up there,'" Walbeck said with a laugh. "It's exciting. The students start to see some of the things on the wall and they get ideas – 'I can do this too!'"
Walbeck manages the Innovation Center , located in the sparkling $35.5 million Science, Technology, Engineering, and Innovation (STEI) Building on Blinn's Brenham Campus . The STEI Building, which opened last fall, houses classes in anatomy and physiology, biology, chemistry, computer science, cybersecurity, engineering, geology, information technology, microbiology, nursing, organic chemistry, and physics.
The 3,000-square-foot Innovation Center contains high-tech programs like a 3-D printer lab, soldering stations, a robotics area, workspace for creating prototypes and component parks, a virtual reality space, and enough space to fly a drone.
The drone program lifted off with the fall 2021 semester, and Blinn has hired a new unmanned aircraft system adjunct faculty for the program. The 60-credit-hour Small Unmanned Aircraft Systems Technician Associate of Applied Science Degree provides instruction in maintenance, customization, acquisition, and commercial use of drones.
It includes learning how to fly a drone, which Walbeck said is a hit with students.
"I can really see people getting excited about that course, even as an elective," she said.
Since opening, the Innovation Center has seen a steady stream of visitors and growing use of its technology – especially the 3-D printers and a laser capable of cutting intricate designs on almost any surface.
"The students absolutely love them," Walbeck said of the 3-D printers whose creations adorn the "Look What We Made" wall. "We take them through the process of creating a (design) file or finding one online and preparing it for printing.
"We're really giving them a good edge on this technology that's emerging. Everyone from the cafeteria ladies to the nursing students upstairs have been taking advantage of it. The word is starting to get out."
The laser cutter "is always a great hit," she added. Walbeck said she envisions it as an emerging business opportunity that offers custom-made items.
"Instead of someone sitting there for hours at a mill saw or a jigsaw trying to cut things out, they can do it with a laser cutter pretty quickly and concisely," she said. "You name it, the sky is the limit."
The Innovation Center's laser cutter has been used to create a wide variety of items, ranging from Christmas ornaments to greeting cards to burning a photograph onto leather, wood, or even paper.
Walbeck said the center is getting more use by students as a study area.
"There's been a huge increase in the use of this room as a study room. Little groups come in here to study together," she said. "I can really see the learning and the engagement."
Averey Bunger, a freshman from La Vernia enrolled in the Texas A&M Engineering Academy at Blinn-Brenham co-enrollment program, is a frequent visitor to the center. Bunger plans to earn a degree in mechanical engineering and is looking to intern in that field this summer.
"I really like the campus here," she said. "I thought it would be best for me. The classes are smaller and the instructors are really one-on-one with you."
The Innovation Center, Bunger said, "is really fun."
"They show you how everything works," she said.
Engineering major Aanooalii Filoialii, a student worker in the center, called it "my favorite building on the whole campus."
"I really like the 3-D printers," Filoialii said.
Judging from the "Look What We Made" wall, a lot of her peers agree.