Blinn recognizes 62 Associate Degree Nursing graduates with pinning ceremony
Blinn ADN graduates rank among the state leaders on the national licensure exam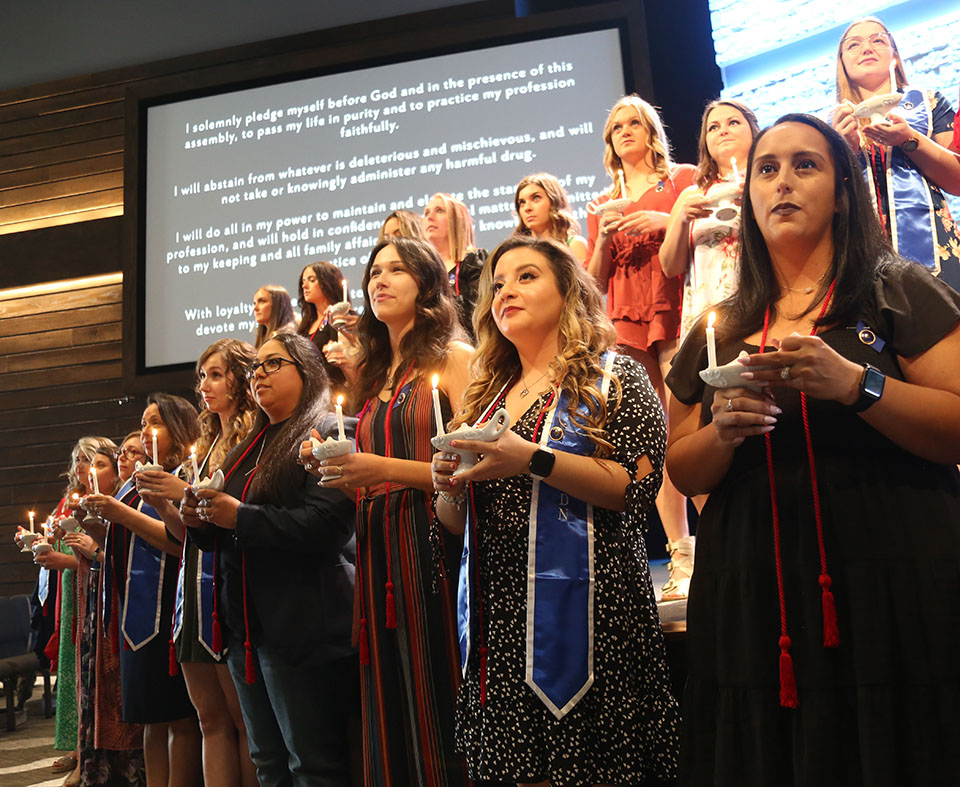 May 10, 2022
Sixty-two nursing professionals were recognized with their nursing pins Saturday, April 30, after completing the Blinn College District's highly regarded Associate Degree Nursing (ADN) Program.
"These students decided to enter the nursing field during an unprecedented time and have risen to each challenge that came their way," said Karla Ross, ADN Program Director. "The commitment and sacrifice our students make is a testament to their dedication as compassionate nursing professionals, and our program is proud to supply them with the knowledge, skills, and support necessary to embark on rewarding careers."
Blinn's two-year program prepares students for a nursing career and for transfer into a bachelor's degree program at a four-year university. Students who complete Blinn's ADN Program and pass the NCLEX-RN have a job placement rate between 97 and 100% and are qualified for a wide array of nursing positions, including pediatric, geriatric, hospice, school, and clinical nursing. With the demand soaring in the nursing field, new graduates can expect to make an average of $53,000 per year.
The spring 2022 graduating class includes Laura Acosta (Bryan), Shanna Adkins (Katy), Ashlee Ahn, Leirin Aylesworth (Brady), Cameron Denise Baughman (Leander), Cheyenne Leigh Beals (Fredericksburg), Akevia Burns (San Antonio), Melanie Denise Carson (Bryan), Jessica Chumley (Wylie), Sara Elizabeth Closs (College Station), Angel Credes Rojas (Caracas, Venezuela), MaryBeth DeLeon (Bryan), Travis Drewyor (College Station), Jessica Emola (Bryan), Haleigh Ann Fabac (Baton Rouge, La.), Jennifer Falcon (Katy), Hannah Elisabeth Farris (Bryan), Naomi Fawcett (Conroe), Dakotah Ferguson (Bigsville, Ill.), Emily Scarlett Fischer (Giddings), Jenna Raine Fritz (Brenham), Nayali Galvan (Bryan), Jenifer Gilmore (Lewisville), Ashley Hall (College Station), Skyler Handy (Carmine), Jennifer Havel (Sealy), Alexandria Danielle Haynes (La Grange), Isamar Hernandez (Navasota), Hannah Rylie Herring (Gainsville), Makayla Hickman (Caldwell), Brenda Jimenez Delgado (Bryan), Brianna Johnson (Bryan), Jenny Kelton-Alexander (Giddings), Stormie Key (Caldwell), Sarah Koenig (Ewing, N.J.), Isaac Martinez, Jessica Martinez (Sonoma, Calif.), Lizette Martinez (Lockhart), Kaylee Mayfield (Maplesville, Ala.), Kelley Caldwell McKethan (Bryan), MaryGrace McMullen (Spring), Kaitlyn Morton (Edna), Whitney Morton (College Station), Nneoma Okeoma Jean Okoro (Brenham), Rebecca Anne Owens (San Marcos), Karla Mae Randazzo (Marlin), Courtney Richey (Magnolia), Rai'Janiece Robinson (College Station), Dulce V. Rodriguez Gonzalez (College Station), Mariela Roman (Bryan), Rebecca Kate Rowan (Cypress), Vanessa Leann Sanders (Bremond), Kristi Denise Sewell (College Station), Cassandra Soto (Bryan), Cathy Diane Souquette (Bryan), Alyssa M. Trickett (Londonderry, N.H.), Olga Valdez (College Station), Allie Margaret Vessell (College Station), Shelby Eliese Wunderlich (Weimar), Ashley Steinbach Yantz (Giddings), Ashley Yantz (Giddings), and Crystal Mabel Zavala (Bryan).
Chumley, Jessica Martinez, Owens, and Randazzo each graduate as members of Alpha Delta Nu Nursing Honor Society. To be considered for membership, students must maintain a 3.5 grade-point average both overall and in their nursing courses. Members also must complete a capstone project and demonstrate conduct on campus and in clinical areas reflecting integrity and professionalism.
Blinn's ADN program is based at the RELLIS Academic Alliance Complex at the RELLIS Campus in Bryan, where students gain hands-on skills utilizing the facility's 16,000-square-foot simulation laboratories.
"Because of the caring and dedicated faculty that make up Blinn's nursing program, I feel ready to take on my next challenge in critical care nursing" said Sarah Koenig, ADN graduate and recipient of the class's Academic Excellence Award. "The structure of the program encourages us to connect our classroom learning with nursing practice and our varied clinical experiences have shown us so many ways that nursing can give back to our communities."
Nursing students spend at least two days per week in clinical rotations, in addition to lab, simulation, and lecture time. Most students dedicate 15 to 24 hours each week to scheduled program activities and at least 30 hours per week on study and preparation.
As a result of this success, Blinn's program has been recognized by Nursing Schools Almanac, NursingProcess.org, RNCareers.org, and RegisteredNursing.org.
For more information on Blinn's ADN Program, visit www.blinn.edu/adn.
Related Links
Archives
GET CONNECTED