Blinn launches new Paramedic-to-RN Transition Program for fall 2022
Streamlined degree plan allows paramedics to apply their knowledge and skills toward their Associate of Applied Science Degree in Nursing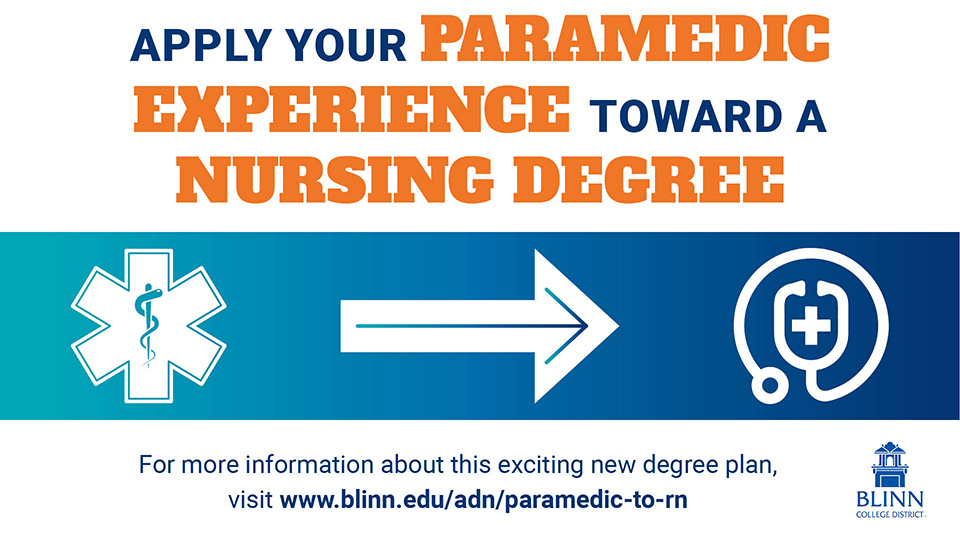 April 5, 2022
The Blinn College District Associate Degree Nursing Program is launching a new degree plan on the RELLIS Campus this fall to provide working paramedics a streamlined pathway toward their Associate of Applied Science (AAS) Degree in Nursing in preparation for new careers as registered nurses (RNs).
The new Paramedic to RN Transition pathway allows paramedics to apply their knowledge and skills toward the coursework necessary to earn their AAS Degree in Nursing, shortening their route toward that goal. Through this pathway, paramedics who wish to build upon their extensive medical training and experience to earn their nursing degree can transition toward their new career while making it possible in some cases for students to continue working.
"As the demand for caring, compassionate nurses continues to increase both in the State of Texas and across the nation, programs such as this allow us to better meet the needs of local healthcare facilities while providing students an opportunity to expand their medical knowledge and enter new career paths," said Jay Anderson, Vice Chancellor for Health Sciences, Technical Education, and Community Programs.
Blinn worked with Baylor Scott & White in developing the pathway, and in a recent Blinn survey of local paramedics, more than 96% of respondents indicated that they would be interested in a paramedic-to-RN pathway. According to the U.S. Bureau of Labor Statistics, the 2020 median salary for paramedics was $36,650 per year while registered nurses earned a median salary of $75,330.
At the RELLIS Academic Alliance Complex, Blinn ADN students gain hands-on skills utilizing the facility's 16,000-square-foot simulation laboratories. Blinn's Associate Degree Nursing Program has been recognized as one of the top programs in the state by NursingProcess.org, RNCareers.org, and RegisterNursing.org.
"The quality of our program is reflected by our students' success, but more importantly, by the graduates who go on to make an impact in the healthcare profession as knowledgeable, compassionate nursing professionals," Program Director Karla Ross said.
Students who complete Blinn's ADN Program and pass the National Council Licensure Examination (NCLEX-RN) have a job placement rate between 97 and 100% and are qualified for a wide array of nursing positions, including pediatric, geriatric, hospice, school, and clinical nursing.
For more information regarding the Paramedic-to-RN Transition Program, visit www.blinn.edu/adn/paramedic-to-rn and register for an online information session that will take place from noon to 1:30 p.m. Monday, April 11.