Blinn Dental Hygiene Program provides more than $20,000 in free dental services to local children
Fifty-eight children received free dental care during the 12th annual Give Kids a Smile event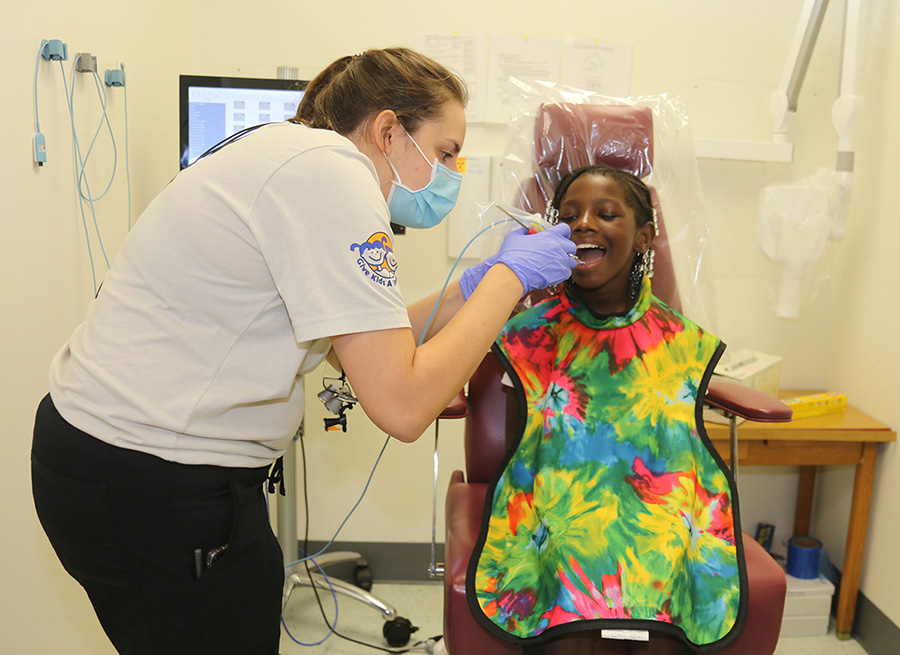 April 25, 2022
As she rounded the corner of the Blinn College District Dental Hygiene Clinic, 8-year-old Kaileyana Oliver's infectious smile lit up the room. This was her first trip to the dentist, and she could not contain her excitement.
"She's looking forward to the whole experience," said her mother, Kavashae Bircher. "She's very big on trying different things and being social."
Kaileyana was one of 58 children who received free dental services during Blinn's 12th annual Give Kids a Smile (GKAS) event, which provided more than $20,000 in donated care by the end of the evening. In addition to dental treatments, children enjoyed visits with princess entertainers, door prizes, and each left with a goody bag filled with tips and tools to promote proper oral health care.
"We know that overall health and oral health are linked, so this is our way of helping here in the Brazos Valley," said Dana Wood, Dental Hygiene Instructor. "In addition to our current students, we have so many former students who volunteered, which is wonderful to see that we foster a feeling of community and service and giving back that our students leave with and carry on in their practices."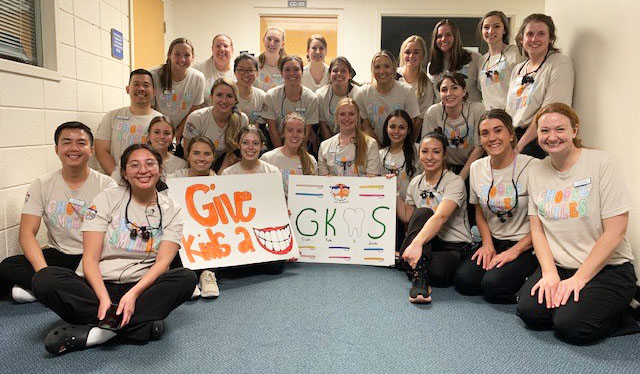 This year marked Blinn's return to GKAS after a two-year hiatus due to COVID-19. To date, Blinn's participation in the event represents more than $220,000 in exams, x-rays, cleanings, sealants, fluoride, and oral health care education for children in the Brazos Valley community.
A national initiative of the American Dental Association, GKAS supplies oral health care to local children who lack access to regular dental care. The event is coordinated, planned, and executed by Blinn dental hygiene students as a component of their community dentistry course.
"One of our biggest goals this year was to make dental care fun because for a lot of these kids, this might be their first dental cleaning ever. We want this event to be memorable in the best way possible," said Lauren Denham, dental hygiene student and coordinator of this year's GKAS event. "Seeing the kids smiling, happy, and excited and being able to provide great care has been the best part of this experience. It's also wonderful working with different local professionals. We actually had too many people offering to help, which is amazing."
This year, 28 dental hygiene students teamed up with approximately 25 local dentists, hygienists, assistants, administrative staff, and Blinn faculty to provide dental health care services. A cap was placed on the number of GKAS appointments due to ongoing COVID-19 health protocols, but waitlisted children will be invited back to the dental hygiene clinic for free services in the summer.
The Brazos Valley Dental Society, Brazos Valley Dental Hygiene Society, the Bryan and College Station school districts, and local dental professionals have been instrumental in making the event a success. Several local dentists routinely volunteer their services and supplies at the event and offer restorative treatments at no cost to the family.
In addition to GKAS, the Blinn Dental Hygiene Program offers discounted cleanings and screenings for the general public. These sessions are $20 per person and include dental cleanings, x-rays, examinations, fluoride, oral cancer inspections, and sealants.
For more information about a clinic visit, call 979-209-7283 or visit www.blinn.edu/dental-hygiene/dental-clinic.html.
Related Links
Archives
GET CONNECTED