Mary and Larry Whigham establish scholarship in honor of Blinn Professor John Dujka
John Dujka Excellence Scholarship will be awarded annually to a Blinn music student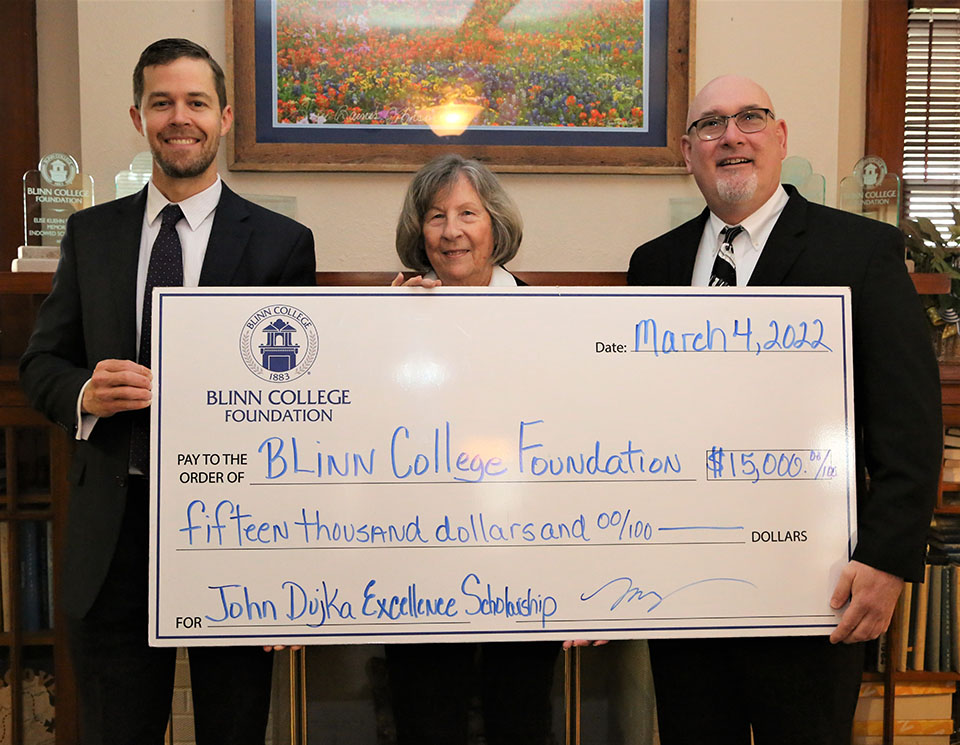 March 28, 2022
Mary and Larry Whigham are celebrating longtime friend John Dujka by establishing a Blinn College District endowed scholarship in his honor.
The Whighams donated $15,000 to the Blinn College Foundation to establish the John Dujka Excellence Scholarship, which will be awarded annually to a music student whose primary focus is the piano.
Dujka began teaching at Blinn in 1990 and has been a full-time professor since 1992, teaching piano, group piano, music theory, and history of rock and pop music.
When the Whighams moved from Houston to Washington County, they embraced the area. One of the first members of the Blinn community that they met was Dujka, Instrumental Music Professor in the Division of Arts, Kinesiology, and Agriculture.
"We got to hear him and admired what he did," Mary Whigham said. "We just thought, here is a young man whose expertise, love of music, and love of kids deserves to have something named after him."
"Larry and Mary Whigham have been dear friends and friends of Blinn College for many years and are huge fans of the arts at Blinn," Dujka said. "They have also been particularly supportive of keyboard studies and have been long-time supporters of the Blinn Young Pianist Competition. Through their generosity over the years, we have been able to purchase two Boston grand pianos which have enhanced our Music Department greatly.
"I want to thank the Whighams for their love and their support of Blinn College. I am greatly honored to have the establishment of this scholarship in my name. It is deeply meaningful to me, and I hope that it will be of great help to music students for many years to come."
Located on the Brenham Campus, the Blinn Music Department offers small classes, one-on-one attention, practical learning, and easily accessible faculty so that students are actively engaged in a superior learning environment.
The department's outstanding, world-class music instructors care about students and encourage their individual growth. Teaching is a top priority as students are exposed to a wealth of music, ideas, and issues that expand learning horizons. For more information, visit www.blinn.edu/music.
The Blinn College Foundation, which oversees more than 300 endowed scholarships, provides financial support for activities and programs that enhance educational opportunities for Blinn students.
Sam Sommer, Chair of the Foundation Board of Directors, said endowed scholarships are a way to honor someone deserving while benefitting Blinn students for generations.
"The Whighams' generosity is very much appreciated. Creating an endowed scholarship to honor a faculty member like John Dujka makes it even more noteworthy," Sommer said. "Larry and Mary Whigham have been longtime supporters of Blinn, especially the Music Department, where John has been a cornerstone for more than 30 years. Their gift will allow a lot of students to keep making music."
Endowed scholarships are available to new and returning students from a wide variety of backgrounds, majors, and experiences. Scholarships are awarded based on high academic achievement, participation in student activities, and community involvement.
Information regarding creating an endowed scholarship is available by contacting susan.myers@blinn.edu or calling 979-830-4017.
Students can apply for Blinn scholarships by completing a single application at www.blinn.edu/scholarships. Prior to applying, students must complete an application for admission to Blinn College at www.goapplytexas.org.