High school dual credit student finding his spark in Blinn College's Welding Technology Program
Jonathan Jameson is pursuing his Associate of Applied Science Degree in Welding Technology at the A.W. Hodde, Jr. Technical Education Center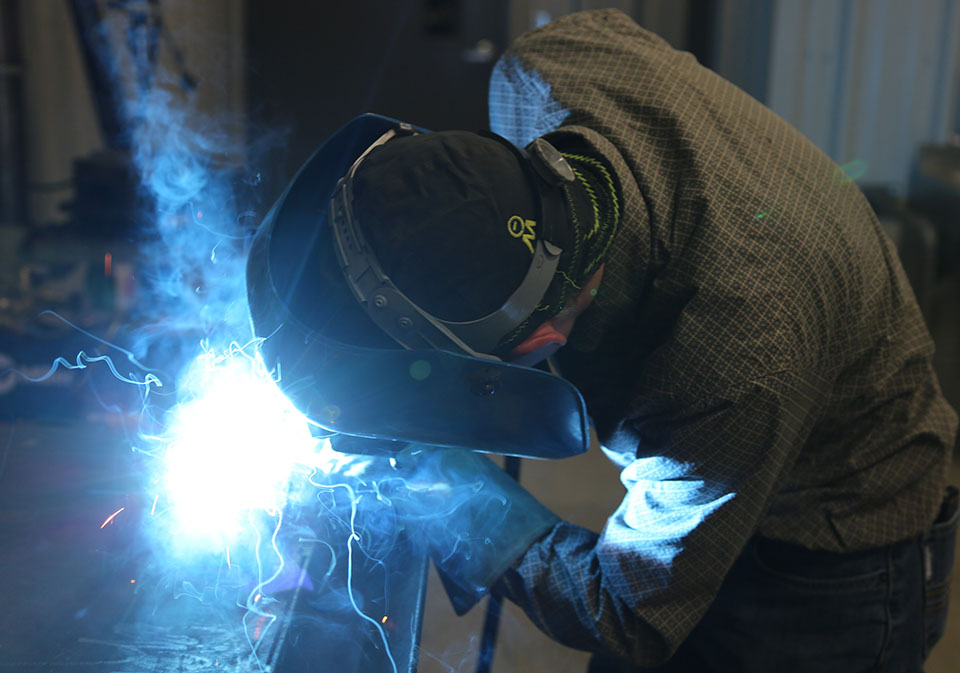 March 9, 2022
Jonathan Jameson isn't your average Blinn College student.
Jameson, 18, will be the first dual credit student to complete an Associate of Applied Science (AAS) degree in welding technology from Blinn before he graduates from high school this spring.
Jameson, who is home-schooled along with his seven siblings, began taking welding classes three years ago at Blinn's A.W. Hodde, Jr. Technical Education Center in Brenham. He has maintained a 4.0 grade point average at Blinn while staying on track with his high school classes and working part-time for Korth & Linke Welding in Brenham.
"I have always had an interest in welding," he said. "I had a friend who was coming to Blinn, and he told me to check it out. I've enjoyed the program here. The instructors really know what they're talking about and have been very encouraging."
His welding instructors say Jameson, the son of Jane and Kelly Jameson of Brenham, has been a model student.
"Jonathan is an exceptional student, especially for his age," said Dickie Jones, Welding Technology Program Manager. "He has been a pleasure to have in class. I was amazed at how many of the older students looked to him for information and assistance. Jonathan will do well in whatever he chooses."
Welding instructor Stanley Haferkamp called Jameson "a great student."
"Jonathan has taken several night classes with me over the past year. If there was a checklist for how to take full advantage of college, he would check every box," Haferkamp said. "I don't think he fully recognizes how far he has come in a short amount of time. There are great opportunities in life for individuals with his work ethic. Now it is up to him to go out there and reach his full potential."
Jameson said he also plans to complete Blinn's CDL Truck Driving Program but sees his future career in the welding industry.
According to the U.S. Bureau of Labor Statistics, the national demand for careers as welders, cutters, solderers, and brazers is expected to grow 8% between 2020-30, adding 34,100 new jobs with a median salary of $44,190 per year.
Blinn's Welding Technology Program offers competency-based training for students pursuing college credit or participating in continuing education. The hands-on skills development curriculum includes entry-level to advanced training in a variety of welding processes such as Shielded Metal Arc Welding (SMAW), Gas Metal Arc Welding (GMAW), Gas Tungsten Arc Welding (GTAW), Flux Cored Arc Welding (FCAW), basic metallurgy, and inspection procedures based on industry welding codes.
College credit programs build upon each other and include Level I and Level II certificates and an AAS in Welding Technology. With the credit program, technique coursework is interwoven with blueprint reading, quality control and inspection, and hands-on experience provided through internships.
Blinn offers credit and non-credit welding courses at the new RELLIS Campus Agriculture and Workforce Education Complex in Bryan, the A.W. Hodde, Jr., Technical Education Center in Brenham, and on the Schulenburg Campus.
For more information on the Blinn Welding Program, visit www.blinn.edu/welding-technology or email welding@blinn.edu.