Six students graduate from Blinn Phlebotomy Technician Program
Students received support through Project Unity partnership aimed at providing training and employment opportunities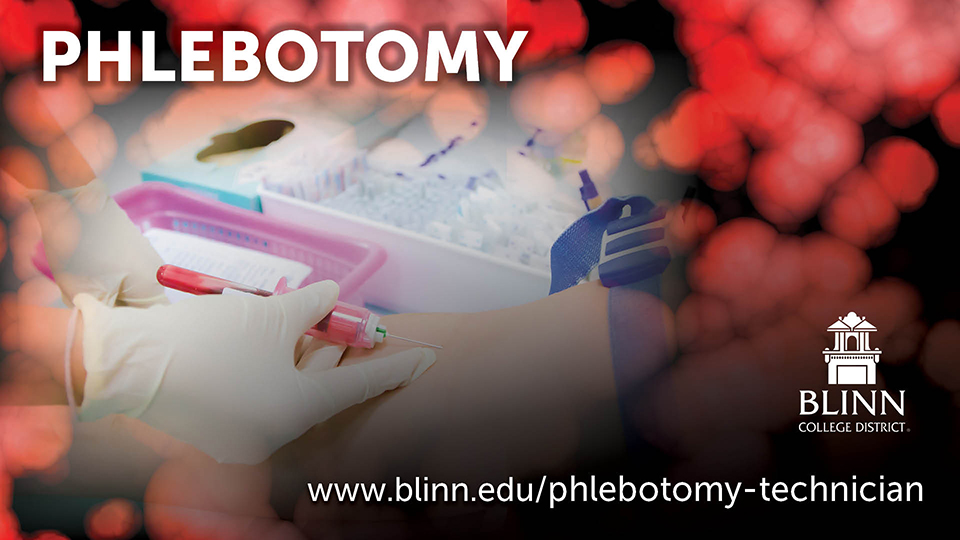 February 7, 2022
Six students recently completed the Blinn College District Phlebotomy Technician Program.
Held at the Bryan Post Office Center, the three-course program includes 60 hours of classroom instruction and 48 hours in a clinical setting. The classroom portion focuses on phlebotomy rules, regulations, and practices. Students must pass a skills test before proceeding to the clinical portion.
Students receiving certificates of completion include Tanesha S. Jones (Bryan), Mercedes N. Searcy (College Station), Samantha R. Grier (College Station), Ri'Keyna R. Washington (Bryan), Shameka S. Flowers (Somerville), and Digna Martinez-Neira (College Station).
Students received support for the course through a grant from Bryan's Unity Partners dba Project Unity, an organization focused on eliminating poverty in the Brazos Valley and empowering children, families, and individuals to reach their highest potential.
Phlebotomists draw blood for tests, transfusions, donations, or research. Blinn phlebotomy students learn state-of-the-art techniques for collecting blood from adults, children, and infants. The program emphasizes infection prevention, proper patient identification, proper specimen labeling, specimen handling, and quality assurance.
"These students gained the skills and training needed to fill vital roles in hospitals, labs, and doctors' offices," said Jay Anderson, Vice Chancellor for Health Sciences, Technical Education, and Community Programs. "Blinn is passionate about providing workforce training to our community and this program helps address the regional and statewide demand for phlebotomists and other healthcare professionals."
Phlebotomy is a fast-growing field, according to the U.S. Bureau of Labor Statistics, with national demand expected to grow 22% between 2020 and 2030. The average median salary in 2020 was $36,320.
Completion of the program also can serve as a foundation for nursing school or other careers in the medical field.
For more information about Blinn's Phlebotomy Technician Program, visit www.blinn.edu/phlebotomy-technician.
The program is part of Blinn's Division of Technical and Community Education, which includes courses aimed at training students to enter the workforce immediately after completion. Students in these programs may be eligible for Duddlesten Foundation scholarships.
For more information, visit www.blinn.edu/workforce.