Alfred Levien honored with new endowed scholarship at Blinn College
Scholarship will be awarded annually to students in the Agricultural Sciences Program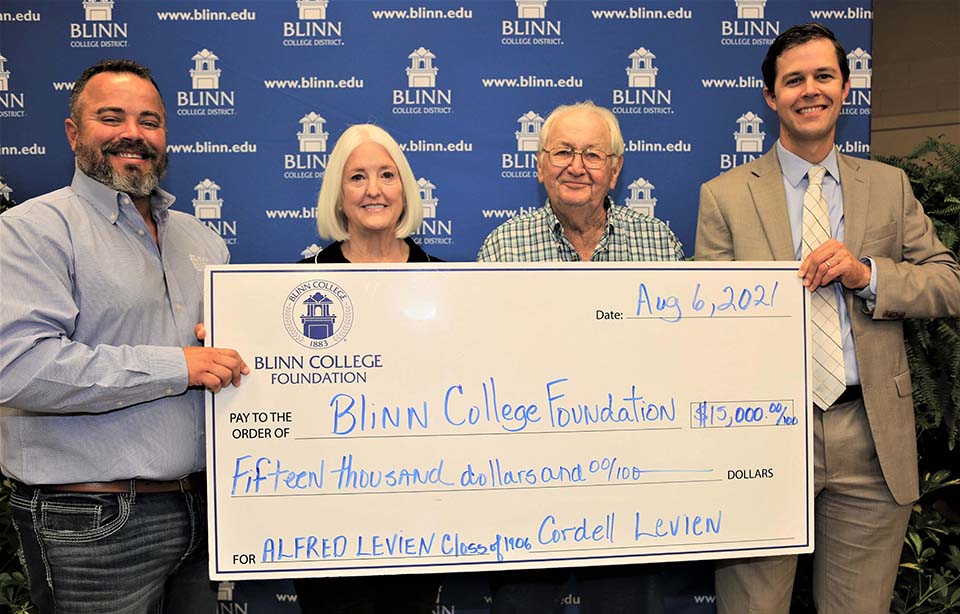 September 8, 2021
Alfred Levien, who left his family's farm near Round Top to attend Blinn College in 1906, recently was honored with an endowed scholarship.
Levien's son, Cordell Levien, gifted $15,000 to the Blinn College Foundation to establish the scholarship, which will be awarded annually to a student in Blinn's Agricultural Sciences Program.
Cordell Levien, who still lives on the property in Fayette County purchased by his great-grandparents in 1850, said his father never forgot his time at Blinn. Alfred Levien studied agriculture at Blinn, and the new scholarship pays tribute to that and to the Levien family's support of the College.
"I am close to Blinn," Cordell Levien said. "My son attended Blinn and my granddaughter went to Blinn. She received some scholarships, so this is kind of a payback for that. Scholarships are really important to a lot of kids."
Sam Sommer, Chair of the Blinn College Foundation Board of Directors, said the endowed scholarship list continues to grow.
"Scholarships like this have a huge positive impact on many students," Sommer said. "They can open the door to a college education for students who might not otherwise be able get that education.
"Every endowed scholarship we receive is appreciated. They're given for the best of reasons – to help someone else."
The Blinn College Foundation oversees approximately 300 endowed scholarships. It provides financial support for activities and programs that enhance educational opportunities for Blinn students.
Endowed scholarships are available to new and returning students from a wide variety of backgrounds, majors, and experiences. Scholarships are awarded based on high academic achievement, participation in student activities, and community involvement.
Students can apply for Blinn scholarships by completing a single application at www.blinn.edu/scholarships. Prior to applying, students must complete an application for admission to Blinn at www.applytexas.org.
Blinn's Agricultural Sciences Program is the largest two-year agricultural program in the state, with one of the most active extracurricular programs in Texas, including the Agriculture Club, Agriculture Mechanics Club, and livestock judging team.
Blinn offers agricultural sciences classes in Brenham, Bryan, Schulenburg, Sealy, and at its facilities on The Texas A&M University System's RELLIS Campus in Bryan.
For more information, visit www.blinn.edu/agricultural-sciences.
Enjoy this article? Share it with one click!