Livestock Judging Team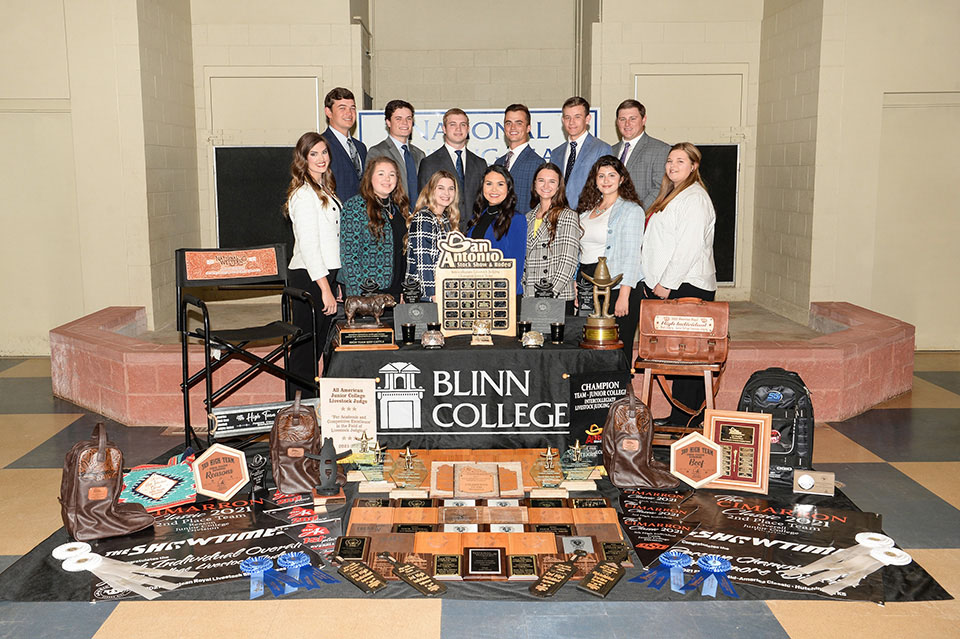 The Blinn College District is proud to offer a nationally competitive livestock judging program for students with an interest in livestock evaluation. Regardless of their prior experience, students are encouraged to participate in the judging team, and are not responsible for any costs associated with travel, lodging, or contest fees.
Traveling with the team allows students to see some of the most progressive and influential purebred and commercial seed-stock operations throughout the country. Employers often attribute the judging experience for developing and enhancing critical thinking, time management, and communication skills.
Annual Contests
American Royal - Kansas City, MO
North American International Livestock Exposition - Louisville, KY
Champion Team
Mid American Classic (Hutchison, KS)
Tulsa State Fair (Tulsa, OK)
American Royal (Kansas City, MO)
Griswold Cattle Classic (Stillwater, OK)
Fort Worth Stock Show and Rodeo (Fort Worth, TX)
Reserve Champion Team
Aksarben (Grande Island, NE)
State Fair of Texas (Dallas, TX)
North American International Livestock Exposition (Louisville, KY)
National Western (Denver, CO)
San Antonio Livestock Show (San Antonio, TX)
Livestock Judging Coaches
Brice Mund - Livestock Judging Coach
Quest Newberry - Livestock Judging Coach
Adrian Austin - Livestock Judging Redshirt Program Coordinator
Redshirt Program
Through the Livestock Judging Redshirt Program, students gain additional knowledge about livestock judging and the livestock industry as a whole.
This year-long program is designed for freshmen and allows participants to:
receive one-on-one training with program coaches.
help host multiple 4-H and FFA livestock judging contests throughout the state.
participate in internships with the San Antonio Livestock Exposition, National Swine Registry, State Fair of Texas, and Texas Pork Producers Association.
actively participate in the Blinn College Ag Club.
live in the Blinn College Park Apartments.
After completing their freshman year, Redshirt Program participants may earn a scholarship and compete on the traveling team during their sophomore year.
Students interested in participating can fill out the Redshirt Program Information Form.