Blinn summer camp allows high school students to explore careers in the construction industry
Introduction to Construction Summer Camp runs June 20-July 1 on the RELLIS Campus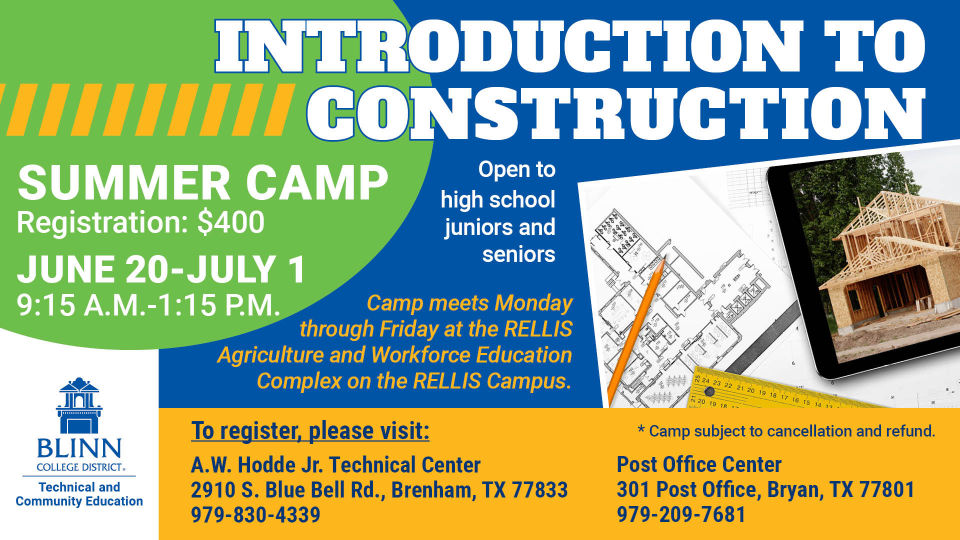 June 7, 2022
Local high school students are invited to explore careers in the construction trades at an upcoming Blinn College District summer camp offered on the RELLIS Campus in Bryan.
The Introduction to Construction Summer Camp is open to high school juniors and seniors and will run Monday, June 20, through Friday, July 1. The camp will meet Monday through Friday from 9:15 a.m. to 1:15 p.m. and costs $400.
"This camp provides high school students with an introduction to an in-demand, high-wage career option," said Karla Flanagan, Dean of Technical and Community Education. "Campers will work with our highly skilled instructors on projects in our state-of-the-art RELLIS facility and learn more about Blinn's skilled trades certificate and degree options."
The camp will be held at the new Agriculture and Workforce Education Complex, a 38,000 square-foot facility featuring the latest equipment and dynamic workshop spaces.
"We have brand-new equipment for the various trades and we constantly add more to ensure students are training with the best possible resources," Trades and Applied Technology Program Coordinator Richard Hobbs said. "This camp is a great way for students interested in the construction trades to get hands-on training, explore potential career opportunities, and learn more about continuing their education through Blinn's training programs."
The Introduction to Construction Summer Camp will introduce students to the different construction trades and will include instruction in carpentry drawings; how to work with various types of materials, fasteners, and carpentry tools; and floor, wall, joist, and roofing systems.
Campers interested in continuing their education can enroll in Blinn's Construction Management or Carpentry programs, both of which offer stackable credentials including certificate, occupational skills award, and Associate of Applied Science (AAS) degree options.
According to the U.S. Bureau of Labor Statistics , the median salary for construction managers is $98,890 per year, and employment is expected to grow 11% between 2020 and 2030, generating 51,400 new jobs nationwide.
The camp is being coordinated by Blinn's Division of Technical and Community Education , which offers programs that have been designed in partnership with industry leaders to provide students with the knowledge and skills needed to enter the workforce. Options include non-credit classes, certificate programs, industry-recognized credentials, and AAS degrees in Carpentry, Construction Management, Facility Maintenance, HVAC, Power Line Worker, Surveying Technician, Water Purification, and Welding Technology.
To register for the camp or learn more about Blinn's Technical and Community Education Programs, visit www.blinn.edu/workforce .