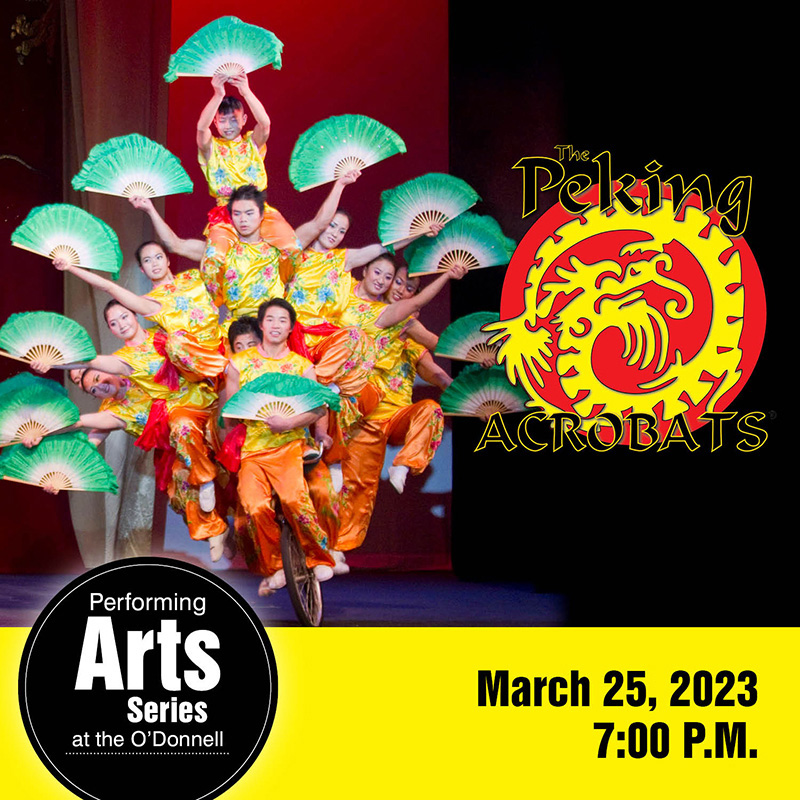 The Peking Acrobats
March 25, 2023 - 7 p.m.
THE PEKING ACROBATS are among the premiere Chinese acrobatic companies in the world today as they continue to redefine their ancient art form.
For the past 32 years, The Peking Acrobats have redefined audience perceptions of Chinese acrobatics as they perform daring maneuvers atop a precarious pagoda of chairs and display their technical prowess at such arts as trick-cycling, precision tumbling, juggling, somersaulting, and gymnastics.
The acrobats will be accompanied by live musicians who skillfully play traditional Chinese instruments. This time-honored Chinese music coalesces with high-tech special effects and awe-inspiring acrobatic feats to create an exuberant entertainment event with the festive pageantry of a Chinese carnival.
---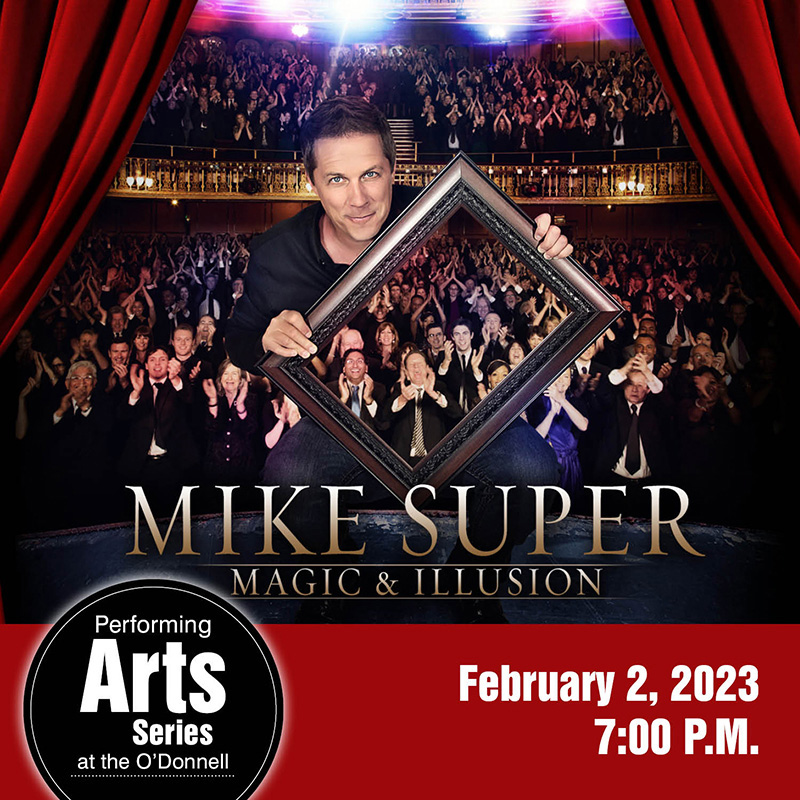 Mike Super - Magic & Illusion
February 2, 2023 - 7 p.m.
See 'America's Got Talent' Finalist and 'America's Favorite Mystifier' Mike Super live on stage! As the winner of NBC's hit TV show 'Phenomenon', Mike Super is the only magician in history to win a LIVE magic competition on primetime US network television and voted America's Favorite Mystifier! Mike is also a Top Finalist on NBC's #1 rated summer series America's Got Talent and Penn & Teller 'Fool Us!'.
Mike Super - Magic & Illusion
Mike Super has pioneered a new form of magic with his own inimitable, down-to-earth style and personality. The winner of NBC's "Phenomenon" and a top finalist from "America's Got Talent," Super has appeared in numerous TV shows, including "The Ellen DeGeneres Show" and "Penn and Teller's Fool Us," connecting personally with his audience with a natural ability to entertain and fascinate.
"Super gave a fantastic show," The Daily Nebraskan wrote in a recent review. "He didn't just do simple card tricks — he pulled off illusions that aren't typically performed by everyday magicians and he did them all effortlessly."
---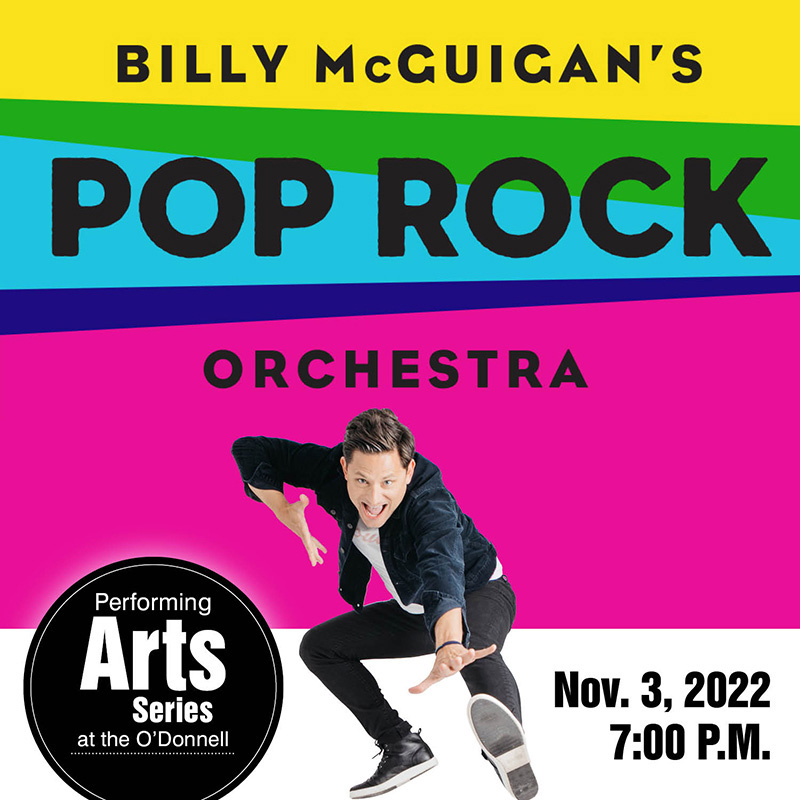 Billy McGuigan's Pop Rock Orchestra
November 3, 2022 - 7 p.m.
Billy McGuigan and his rock orchestra present a high-energy concoction of rock 'n' roll mega hits in a unique, live concert experience.
After bringing the music of Buddy Holly and The Beatles to the O'Donnell Center stage in previous trips to Blinn College, Billy McGuigan returns for his third Performing Arts Series performance with "Pop Rock Orchestra."
Like many others, the feeling McGuigan got from watching the big rock bands of the '70s was exhilarating. Think of Frank Sinatra and the Sands with the power of the Count Basie Orchestra behind him, the Moody Blues who put symphonic interludes in the middle of a rock song, ELO with an electric horn and string section - rock & roll was transformed! The set list is as varied and versatile as McGuigan himself.
'I discovered what lots of others already know: Billy McGuigan has tons of talent, stage presence, and charisma," raved the Omaha World Herald.
---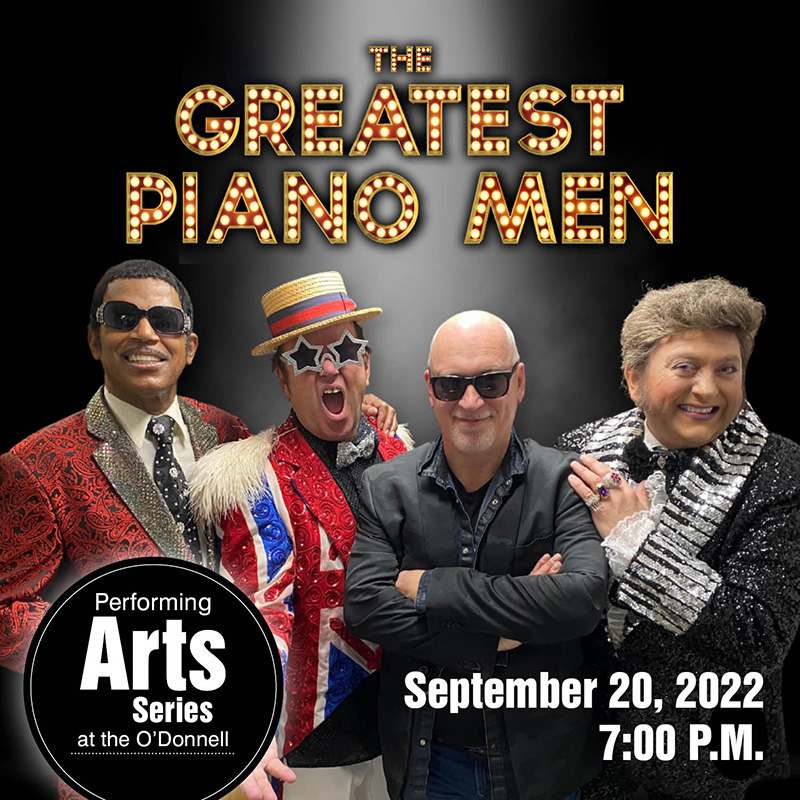 THE GREATEST PIANO MEN
September 20, 2022 - 7 p.m.
A live rock & roll celebration of the greatest piano icons in music.
With three pianos and a great band, 'The Greatest Piano Men' is a live rock & roll celebration of the greatest piano icons in music. The high-energy musical journey takes you through the '50s and '60s hits of Piano Men like Little Richard, Jerry Lee Lewis and Ray Charles to the '70s and '80s hits of maestros Stevie Wonder, Elton John and Billy Joel, and features 25 hit songs including "Good Golly Miss Molly", "Superstition", "Rocket Man:", "Tiny Dancer" and "New York State of Mind".
---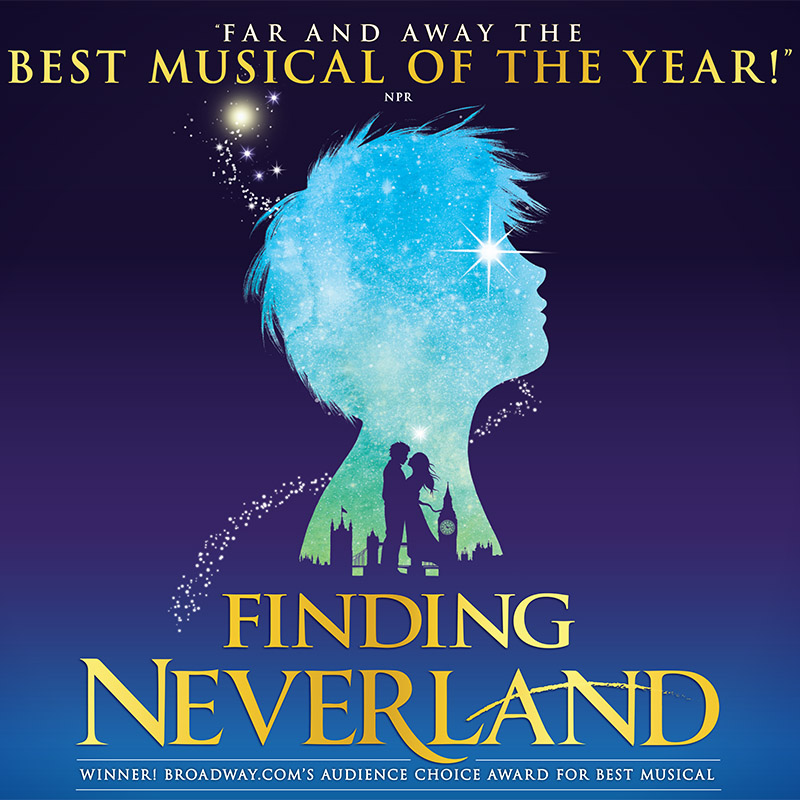 FINDING NEVERLAND
January 31, 2020 - 7 p.m.
This show is appropriate for children 7 years old and up, and theatrical fog and haze along with strobe lights will be used during the show.
Originally directed by visionary Tony® Award winner Diane Paulas and based on the critically acclaimed Academy Award®-winning film, Finding Neverland tells the incredible story behind one of the world's most beloved characters: Peter Pan. Playwright J.M. Barrie struggles to find inspiration until he meets four young brothers and their beautiful widowed mother. Spellbound by the boys' make-believe adventures, he sets out to write a play that will astound London theatregoers. With a little bit of pixie dust and a lot of faith, Barrie takes a monumental leap and leaves his old world behind for Neverland, where nothing is impossible and the wonder of childhood lasts forever. The magic of Barrie's classic tale springs to life in a show NPR calls, "far and away the best musical of the year!"
---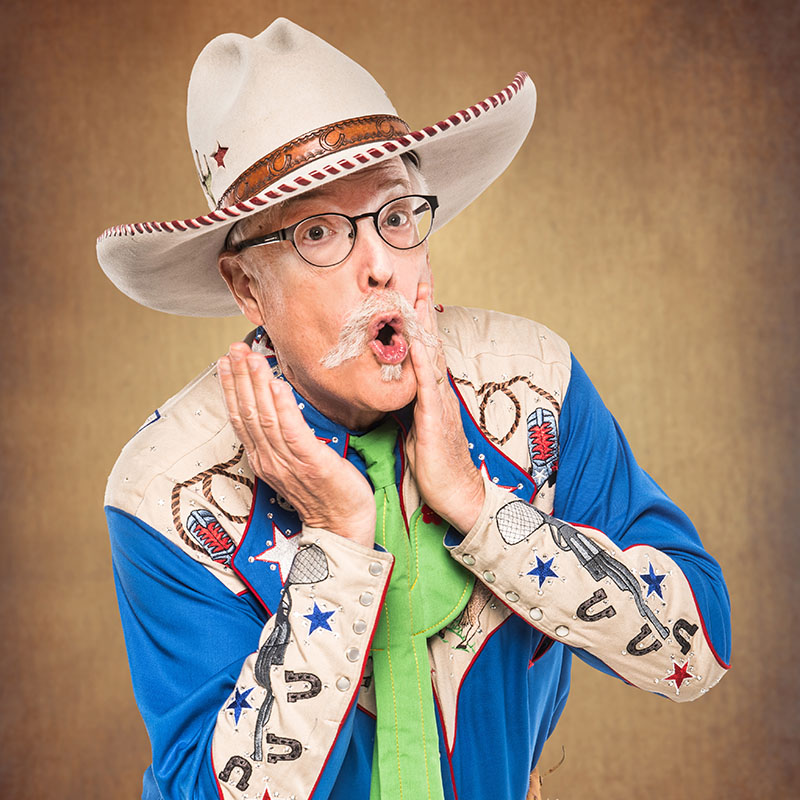 CHRISTMAS THE COWBOY WAY
December 8, 2019 - 4 p.m.
This holiday show blends a festive mix of western music classics, traditional Christmas music, and the Riders' original yuletide carols in a holiday spectacular sure to delight saddle pals of all ages. "Christmas the Cowboy Way" features the multi-Grammy Award-winning Riders' unique brand of cowboy humor sprinkled with a dash of holiday spice, which includes original songs like "Riding Home on Christmas Eve," "Deck the Bunkhouse Walls," and "The Last Christmas Medley You'll Ever Need To Hear." The audience will be invited to join the Riders in singing traditional holiday classics such as "I'll Be Home For Christmas," "Rudolph the Red-Nosed Reindeer," and others. All this yuletide charm is augmented with the classic western favorites the Riders have been singing for 30 years.
---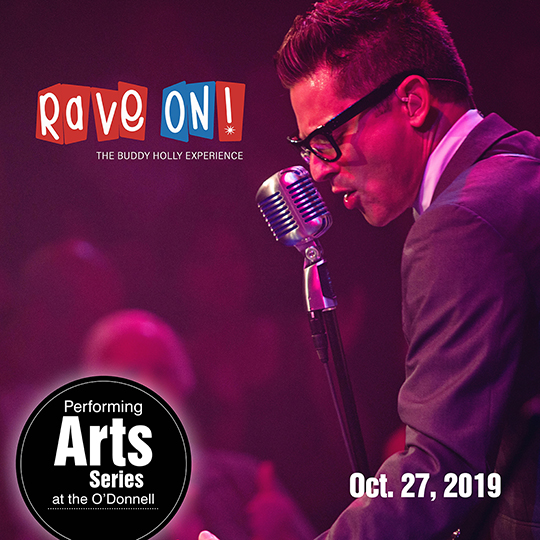 RAVE ON! THE BUDDY HOLLY EXPERIENCE
October 27, 2019 - 4 p.m.
After selling out "Yesterday and Today: The Interactive Beatles Experience" last fall, Billy McGuigan returns to the O'Donnell Center with his Rave On Band. Rave On! reinvents the ordinary tribute show with an electrifying, high-energy, rock n' roll extravaganza featuring McGuigan as America's premiere Buddy Holly interpreter. In this tour de force, audiences experience all the thrills of a Buddy Holly concert re-imagined, including hits such as "Peggy Sue," "Raining in My Heart," "It's So Easy," "That'll Be The Day," "True Love Ways," "Oh Boy," and, of course, "Rave On." In a unique twist, McGuigan's Buddy Holly celebrates the birth of an era and pays homage to fellow rockers Jerry Lee Lewis, Elvis Presley, Chuck Berry, Ritchie Valens, and the Big Bopper.
---
March 31, 2019 - 4 p.m.
THE DOO WOP PROJECT - The stars from Broadway's smash hits Jersey Boys and Motown The Musical recreate 50s and 60s favorites and re-doo contemporary pop hits by stars like Jason Mraz, Adele, and Maroon 5.
---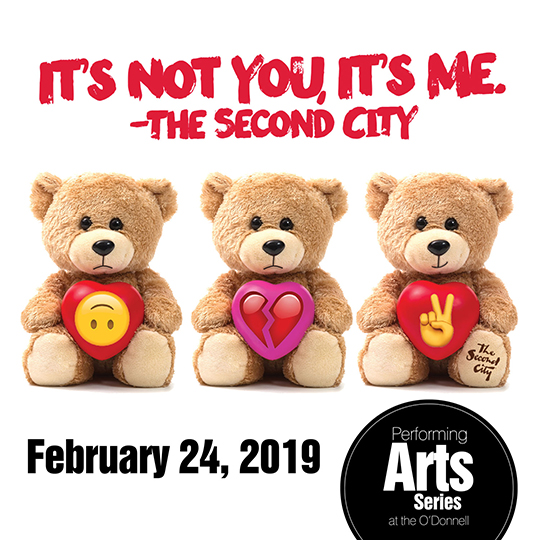 Feb. 24, 2019 - 4 p.m.
THE SECOND CITY: IT'S NOT YOU, IT'S ME. THE SECOND CITY: IT'S NOT YOU, IT'S ME. - The Second City has been laughing at love and its infinite scroll of side effects for decades. In the world-famous comedy company's latest laughter-inducing undertaking, "It's Not You, It's Me" finds the humor in heartbreak, missed connections, and the mire of human relationships. Your friends, family, and even your blind date will find something achingly familiar to laugh at thanks to comedy's newest generation of writers and performers.
---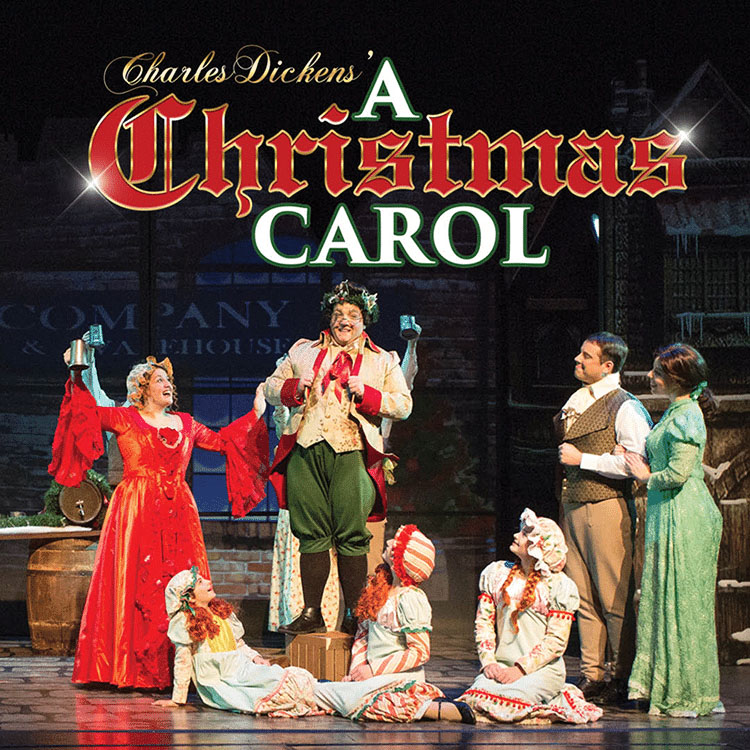 Dec. 2, 2018 - 4 p.m.
A CHRISTMAS CAROL - Kick off your holiday season with a Christmas classic. With 26 beloved Christmas carols, a cast of 20, and beautiful sets and costumes, "A Christmas Carol" is the perfect way to ring in the holiday season without the big city traffic.
---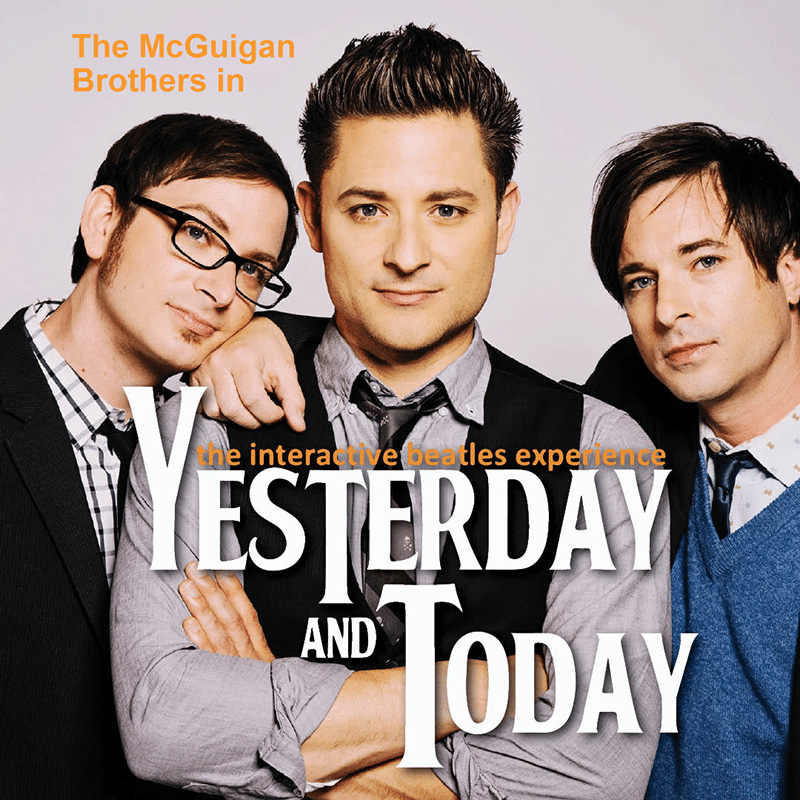 Oct. 28, 2018 - 4 p.m.
YESTERDAY AND TODAY: THE INTERACTIVE BEATLES EXPERIENCE - Do you have a favorite Beatles song? Share that with the McGuigan brothers, and your song could be selected for the concert play list. Join us for this unique Beatles experience.
GROUP WEBSITE
---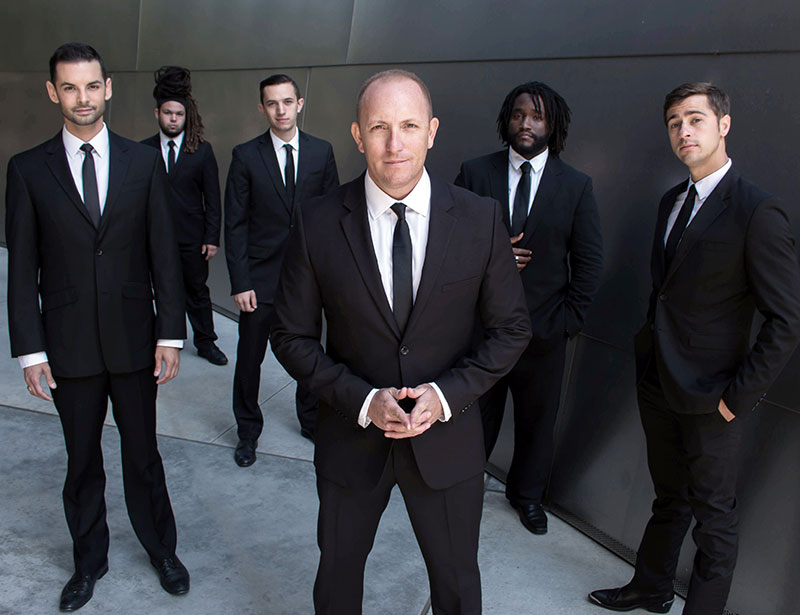 April 13, 2018 7:00pm

The smooth soul of Sam Smith, the percussive power of Stomp, the funk and groove of Bruno Mars, the sophisticated harmonies of Take 6, and the brass bite of the Michael Bubl Big Band all created by the human voice alone!
Hailed as "one of the best pop-jazz vocal groups in the world" by the San Francisco Chronicle, m-pact is respected worldwide as a cutting-edge trailblazer in the realm of vocal music. Emerging from an age of auto-tune and overproduction, this Los Angeles-based ensemble has cultivated a new generation of ears hungry for the fresh, raw power of nature's "first instrument" - the human voice.


---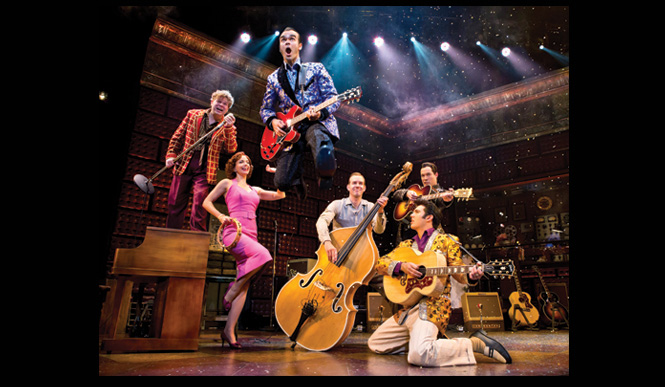 February 8, 2018 at 7pm
MILLION DOLLAR QUARTET is the new smash-hit musical inspired by the famed recording session that brought together rock 'n' roll icons Elvis Presley, Johnny Cash, Jerry Lee Lewis, and Carl Perkins for the first and only time.
On December 4, 1956, these four young musicians gathered at Sun Records in Memphis for what would be one of the greatest jam sessions ever. "Million Dollar Quartet" brings that legendary night to life.
This thrilling musical brings you inside the recording studio with four major talents who came together as a red-hot rock 'n' roll band for one unforgettable night. Don't miss your chance to be a fly on the wall of fame ... at "Million Dollar Quartet!"
---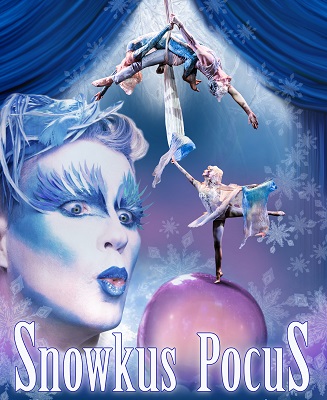 November 26, 2017
SNOWKUS POCUS - Journey to a magical winter wonderland of circus spectacle and derring-do! Marvel at the bendy ballerina in her living snow globe. Be blown away when the icy north wind battles Jack Frost in an epic, acrobatic snowball fight. Feel the warm glow of winter's end as the aerial snow ballet melts your heart. Snow-y, blow-y family fun abounds in the whimsical world that is SNOWKUS POCUS!!!
Young Brianna has whisked away to an enchanted winter wonderland where she encounters the colorful characters that inhabit this magical world. Our tale is told through dazzling cirque, breathtaking ballet, and incredible acrobatics that will amaze, inspire and enchant your imagination. This snow show for all ages will melt your heart!