Affordability at Blinn College
Blinn College offers a quality education at a great price.
Beginning at Blinn means access to top-notch faculty, a wide range of excellent courses and degree programs, and the support you need to succeed - for a fraction of the cost. Students who choose Blinn College save thousands of dollars compared to the average cost of attendance at a Texas public university. At Blinn, you can feel confident that you are getting a great value for your tuition dollars.
Determine your costs.
Blinn College tuition rate per hour
In addition to Blinn's $75 per credit hour general fee, the College's tuition rate is set according to students' permanent place of residence:
Students who reside in Washington County, Texas, pay an in-district tuition rate of $61 per credit hour
Texas residents who reside outside of Washington County pay an out-of-district tuition rate of $120 per credit hour
Students from outside the state of Texas pay an out-of-state tuition rate of $277 per credit hour
Tuition and fees for 30 credit hours 1
| | |
| --- | --- |
| In-District | $4,260 |
| Out-of-District | $6,030 |
| Out-of-State | $10,440 |
| Average Public University in Texas: In-State | $10,165 |
| Average Public University in Texas: Out-of-State | $24,823 |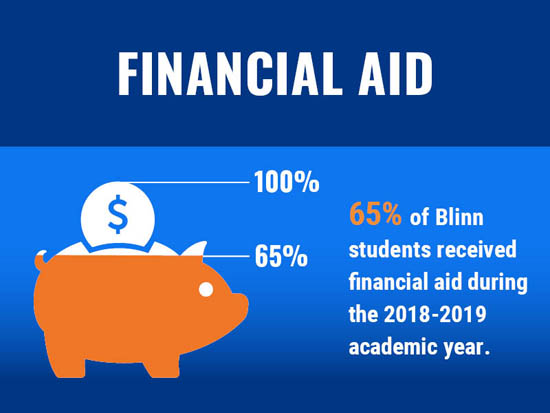 Explore financial aid opportunities.
Scholarships 
Blinn offers academic scholarships for full-time students participating in UIL, earning high school valedictorian or salutatorian honors in high school, and Brenham Campus students who earned a grade-point average of at least 3.0 in high school. Blinn also athletic and fine arts scholarships and students can apply for approximately 300 endowed scholarships through a single application at www.blinn.edu/scholarships. 
Grants 
Grants are funds provided by the federal and/or state government that are awarded based on financial need. Grants do not have to be repaid. 
Loans 
Loans are funds provided by a range of sources that may or may not be awarded based on need. Loans must be repaid at a future date, and interest is charged on the remaining amount until it is paid off. 
Federal Work-Study 
Federal Work-Study is funds that can be earned through specific part-time jobs that are awarded by the U.S. Department of Education and are allocated on a first-come, first-serve basis. Students may qualify for Federal Work-Study as part of their financial aid package as determined by their Free Application for Federal Student Aid (FAFSA) application. 
Other financial aid 
Other financial aid, such as exemptions, waivers, tuition plans, additional academic scholarships, and Veteran Benefits, may also be available for qualifying students.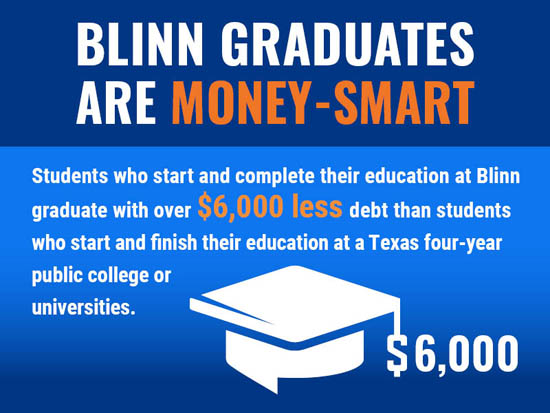 Graduate with less debt. 2
Blinn college sets graduates up for success
In their first year after graduating, 91.9% of Blinn graduates are either employed or enrolled as students at another Texas institution. 
Blinn's academic transfer rate ranks #1 among Texas Community Colleges 
Blinn ranks No. 1 among Texas two-year colleges with a 48.2% academic transfer rate. No other institution exceeds 40%, and the state-wide average is 25.4%. 
Sources: 1. College for all Texans (collegeforalltexans.com), 2. Texas Higher Education Coordinating Board (thecb.state.tx.us) 
Ready to get started?
Admissions 
Phone: 979-830-4800 
Email: admissions@blinn.edu
Financial Aid 
Phone: 979-830-4144 (Brenham) 
Phone: 979-209-7230 (Bryan) 
Email:  finaid@blinn.edu 
For more information:
Related Links