Blinn Veterinary Technology Program celebrates 11 new graduates
Graduates honored at pinning ceremony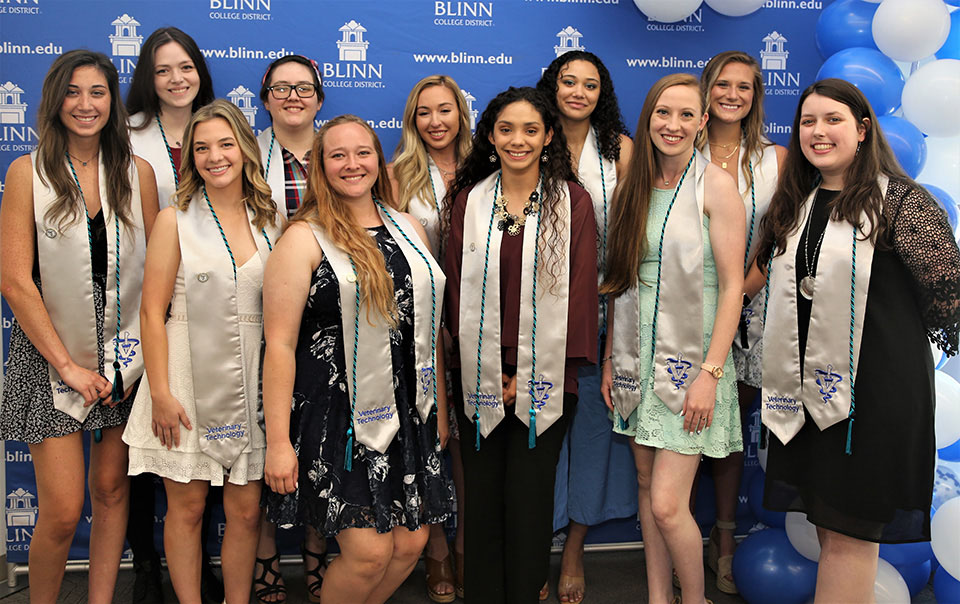 May 18, 2022
The Blinn College District Veterinary Technology Program recently honored 11 graduates at a pinning ceremony on the Brenham Campus.
Honored were Kaylee Blasingame (Caddo Mills, Texas), Christina Fredella (Marshall, Texas) Alexis Gernenz (Huntsville, Texas), Torie Joiner (Killeen, Texas) Paige Lucas (Magnolia, Texas), Cara McFarland (Farmersville, Texas), Margret Moerman (Comanche, Texas), Kaylianne Neuendorff (Columbus, Texas), Amanda Page (Fulshear, Texas), Tabitha Rodriguez (Odessa, Texas), and Brianne Franques (Abilene, Texas).
One of only 11 accredited programs in Texas, Blinn's Associate of Applied Science Degree in Veterinary Technology prepares students to become fully credentialed licensed veterinary technicians (LVTs).
"This is such a great profession," said Dr. Jim Hurrell, Blinn Veterinary Technology Director. "The pre-requisite is to love animals, and we look for someone who's passionate about that and wants to make a difference in the animals' lives and hopefully in the owners' lives also."
Blinn offers a traditional two-year track and a three-year blended track in which students complete their classes online and their labs on campus. Both pathways include the same coursework, including veterinary medical terminology, veterinary nutrition, veterinary anatomy and physiology, exotic animal clinical management, veterinary parasitology, veterinary radiology, veterinary pharmacology, veterinary clinical pathology, equine clinical management, food animal clinical management, canine and feline clinical management, as well as clinical experiences.
"Academically it's a very challenging program," Hurrell said. "In many ways, it's more challenging than a human nursing program because they not only do animal nursing, they do radiology, they do diagnostic laboratory work, and they deal with client education, so there are a lot of different areas that go into the associate degree."
Coupled with small class sizes and dedicated faculty, Blinn veterinary technology students benefit from the College's partnership with the Texas A&M University College of Veterinary Science & Biomedical Sciences. That relationship gives students hands-on training in every aspect of the wide-ranging field.
Blinn is the only community college that has an agreement to complete laboratories and clinicals at A&M's Veterinary Medical Teaching Hospital.
The program prepares Blinn graduates for a number of animal-related fields, including veterinary clinics, animal shelters, educational institutions, government agencies, laboratories, and research facilities.
According to the U.S. Bureau of Labor Statistics , the median salary for veterinary technicians is $36,850 a year. Between 2020 and 2030, the demand for veterinary technicians is expected to grow 15%, creating an additional 17,100 jobs nationwide.
"It's an up-and-coming profession," Hurrell said. "More and more veterinarians are learning the importance of a veterinary technician, especially the credentialed, licensed veterinary technician. It's not just on-the-job training. On-the-job trained people can do things, but they don't have the knowledge base. When they come through an American Veterinary Medical Association (AVMA) program such as Blinn's, they have the knowledge base as well as the clinical experiences to be able to do wonderful things in their profession."
Moerman, who earned a Veterinary Technology Student Organization Excellence Scholarship, has applied to veterinary school and will work as an LVT in the meantime.
"I really enjoyed the program. Everyone is super friendly," she said. "Any time we needed help, they were always there. Even if it was like midnight, they were always available."
Hurrell said Blinn's new graduates are passionate about the profession.
"It's so touching for me to see them today, to celebrate their accomplishments, because they truly are accomplished professionals," he said.
Applications for the fall 2022 cohort are open through May 31. For more information, visit www.blinn.edu/veterinary-technology .