Blinn Agricultural Sciences Program hosts camps for students wanting to hone their livestock judging skills
Novice, experienced camps attract more than 250 students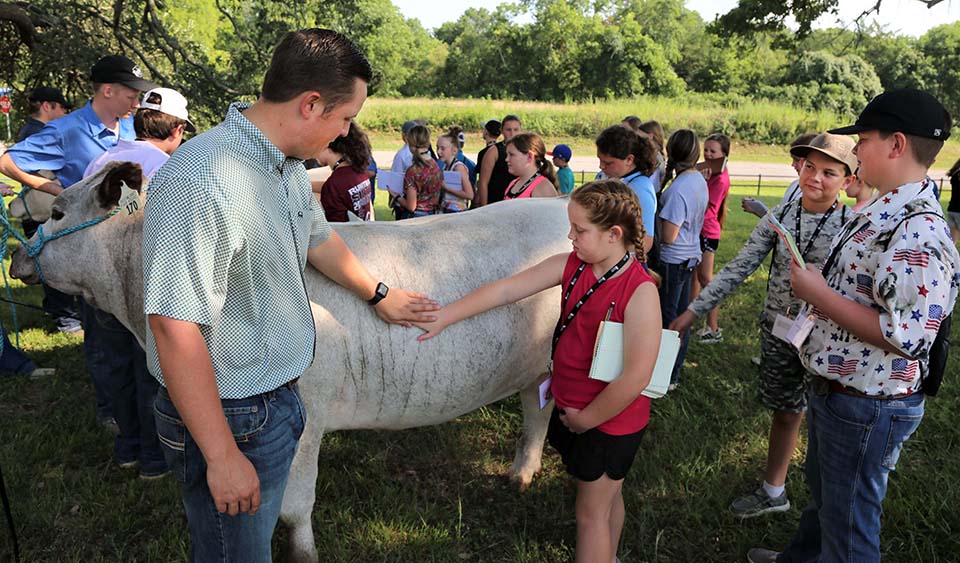 June 30, 2023
Shelby Cones has come full circle.
The freshman recently volunteered to serve on the staff of the Blinn College District livestock judging camps that drew more than 250 youngsters from Texas and several other states. The camps were hosted by Blinn's Agricultural Sciences Program at the W.J. "Bill" Rankin Agricultural Complex on the Blinn-Brenham Campus.
"I used to come to these camps," Cones said. "Now I guess I'm on the other side of it. It was very hot all week, and we've been in and out of barns, but the kids are learning a lot."
Livestock judging coach Quest Newberry said both camps – one for novices and the other for FFA and 4-H students with judging experience – were quickly filled to capacity.
"I thought the camps went great," he said. "The campers were able to evaluate high-quality livestock and improve their skill set, and they got to learn from our collegiate judgers. I enjoyed seeing our students teach and work with the campers."
Sophomore Brooke Poole said seeing the young campers learn more about judging various animals was exciting.
"There have been early mornings and late nights, but the kids have learned a lot," Poole said.
Newberry said the camps also gave the campers a chance to see Blinn's world-class agricultural facilities.
"I hope our camp allows students and their families to see the success of our program and our great campus," he said. "As a judging coach, I feel our camp allows students to see the opportunities Blinn College has to offer."
Blinn's Agricultural Sciences Program is approximately four times the size of any other two-year agricultural program in the state. For more information, visit www.blinn.edu/agricultural-sciences.
Enjoy this article? Share it with one click!