Veterinary Technology Student Organization named NAVTA chapter of the year
Blinn students were recognized for their leadership, community service, and promotion of veterinary technology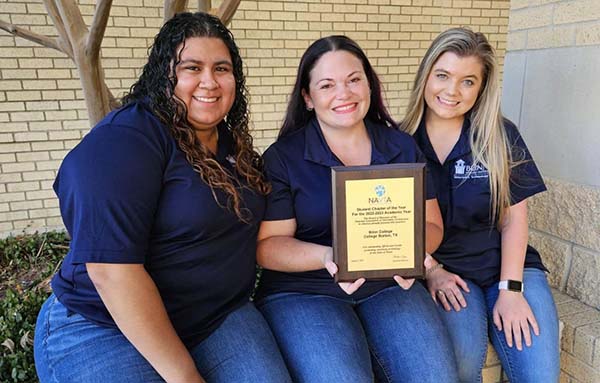 August 15, 2023
The National Association of Veterinary Technicians of America (NAVTA) recently recognized the Blinn College District Veterinary Technology Student Organization as its 2022-23 Student Chapter of the Year.
The award recognized Blinn students for their leadership, community service, role in promoting veterinary technology, and their responses to NAVTA requests for input. Advisor and Veterinary Technology Program Director Jessica Salazar Garza has actively served as a NAVTA liaison.
The Veterinary Technology Student Organization consists of student members of the Veterinary Technology Program. Through community outreach, volunteer work, and pet health promotion the student club is an advocate for all animals and the people that play such an important role in their lives. Officers for the organization include President Morgan Odom, Treasurer Kaylei Cooper, Secretary Nora Goodyk, and Communications Officer Jaky Yanez.
Among its many activities, the Veterinary Technology Student Organization:
provided microchips for more than 200 pets in partnership with the Long Way Home Adoptables rescue organization,
volunteered at Brazos valley Fair to check Coggins paperwork for incoming horses,
taught young students about reptiles and their care at the Franklin Elementary School STEAM (Science, Technology, Engineering, Arts, and Mathematics) Night,
handed out information regarding veterinary technology as a career at community events,
volunteered at the Blinn College Alumni and Friends Clay Shootout to help raise money for future student scholarships,
and attended veterinary conferences such as the Southwest Veterinary Symposium and the Texas Veterinary Medical Association Conference.
Salazar Garza and instructors Heather Kennedy and Mandy Zachgo accepted the award at the Association of Veterinary Technician Educators conference in Palm Springs, Calif.
Blinn's Veterinary Technology Program is a competitive-entry program designed to prepare students to become fully credentialed licensed veterinary technicians (LVTs). Blinn offers two pathways toward an Associate of Applied Science in Veterinary Technology: its traditional, two-year program in which courses and labs are completed on the Bryan Campus, and its blended, three-year program in which courses are completed online and labs are completed on campus.
Blinn is the only community college in the state that has an agreement to complete laboratories and clinicals at Texas A&M University's Veterinary Medical Teaching Hospital, providing its veterinary technology students hands-on training in every aspect of the wide-ranging field. Upon completion of the program, graduates are prepared for careers in animal shelters, educational institutions, government agencies, laboratory facilities, research, veterinary clinics, and zoological facilities. Due to Blinn's reputation for excellence and a state-wide shortage of veterinary technicians, program graduates often accept jobs prior to graduation and many choose from multiple opportunities.
For more information regarding Blinn's Veterinary Technology Program, visit www.blinn.edu/veterinary-technology.
Enjoy this article? Share it with one click!
Related Links
Archives
GET CONNECTED