Bryan High School graduate finds rewarding career through Blinn's Surgical Technology Program
Surgical technologists are vital members of a surgical team
August 4, 2023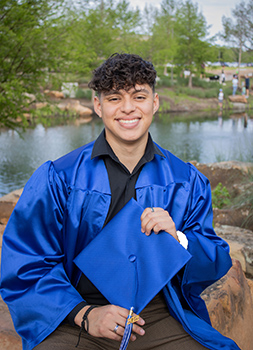 When Samuel Rosas-Esquivel graduated from Bryan High School, he knew he wanted to pursue a career in the medical field but couldn't decide on a specific career path. Then, through a fortuitous conversation, he discovered the Blinn College District Surgical Technology Program.
Rosas-Esquivel's passion for medicine began when he took a mission trip to El Salvador and saw the difference proper medical care could make in the lives of the people living there. He realized a medical career would give him the skills he needed to make a real difference in people's lives.
After a member of his church began his career in radiologic technology and told Rosas-Esquivel about his experience, the 24-year-old thought he would follow a similar path. However, when he went to apply for the program, he learned that he had missed the deadline by two weeks. That was when Administrative Assistant Victoria Parnell told him about the Surgical Technology Program and the opportunities it would provide.
"It's honestly the best outcome," Rosas-Esquivel said. "I think back sometimes and I feel like God put me someplace where He knew I would love what I do every day."
The Surgical Technology Program is a two-year associate degree program that prepares students for high-demand careers as surgical technologists. Surgical technologists are integral members of the surgical team, assisting surgeons, anesthesiologists, and registered nurses in providing care to patients in the operating room and facilitating the safe and effective conduct of invasive surgical procedures.
Through the Blinn Surgical Technology Program, students engage in lecture and laboratory classrooms, clinical observation, and hands-on experience to earn their 60-hour Associate of Applied Science Degree. Based at the RELLIS Academic Complex at Texas A&M-RELLIS, Blinn's Surgical Technology Program features an innovative simulation laboratory that provides students the opportunity to engage in hands-on learning opportunities.
To enter the program, Rosas-Esquivel needed to complete two prerequisite courses, including Anatomy & Physiology. It was a challenging course for Rosas-Esquivel and he leaned upon the guidance of his professor, Michael Ko, for both instruction and the occasional confidence boost.
"He told me, 'It's not going to be easy, but I want you to believe in yourself. If you're in this position, it's probably for a reason. Don't give up, and when it gets tough, that's what I'm here for,'" Rosas-Esquivel recalled. "He made understanding the body and its systems a little easier, and once I got into the program, I felt like I had a bit of an advantage because I had already gotten through anatomy and physiology."
Rosas-Esquivel graduated last week with his Associate of Applied Science degree. Even before he crossed the stage, he already had been hired as a general surgical technologist at Baylor Scott and White.
"You have to have your heart in it," Rosas-Esquivel said. "You have to care a lot. It's a person on the table trusting you to be part of this procedure that they are scared to have in the first place. You have to be very serious and committed to what you do."
Rosas-Esquivel hopes his dedication to the profession serves as a model for his younger siblings, nieces, and nephews. The second of four children, he will be the first member of his family to graduate from college.
"I'm hoping to set the precedent for my nieces and nephews and my younger siblings to show them that even against the odds, we can do something," he said. "We can make a difference."
Rosas-Esquivel plans to pursue a bachelor's degree in health science so he can then train to become a physician's assistant. Like many students, he hopes that surgical technology marks just the first step in his medical career.
"If you want to help people and that's what you're called to do, this is a great place to start," Rosas-Esquivel said. "The Surgical Technology Program has opened doors to me that I didn't realize I had available until I applied and was accepted. This is a great program to get your feet wet, to get into the medical field, and see if this is what you want to do."
For more information, visit www.blinn.edu/surgical-technology.
Enjoy this article? Share it with one click!