Blinn College invites students to explore rewarding career opportunities in dental hygiene
Two-year program prepares students for high-demand careers as dental hygienists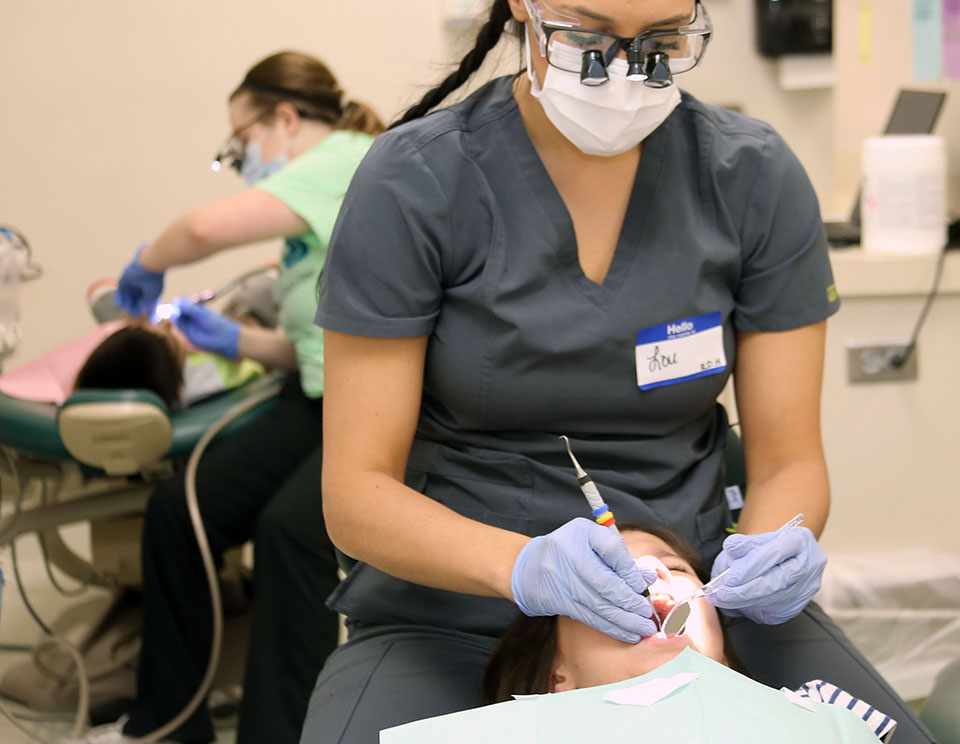 August 1, 2023
The Blinn College District invites prospective students to explore the exciting career opportunities made possible through its highly regarded and nationally accredited Dental Hygiene Program.
Blinn's comprehensive, two-year Dental Hygiene Program prepares students for careers as dental hygienists with a curriculum that provides hands-on learning opportunities both in the classroom and its fully equipped dental hygiene clinic.
"Our faculty bring significant career experience into the classroom and are committed to ensuring that our students receive the knowledge and skills they need for a successful career in this field," said Lisa Wiese, Dental Hygiene Program Director. "With an emphasis on practical experience in patient care, our graduates emerge with the confidence to enjoy a successful and rewarding career in this field."
Program applicants are encouraged to attend an information session, which includes information regarding the program's admissions criteria, application process, and the role of a registered dental hygienist. These sessions will be held in Room CC-7 of the Post Office Center at 301 Post Office Street in Bryan on the following dates:
Friday, Aug. 4, at 12:30 p.m.
Wednesday, Aug. 16, at 5:30 p.m.
Friday, Sept. 15, at 12:30 p.m.
Wednesday, Sept. 27, at 5:30 p.m.
Wednesday, Oct. 11, at 5:30 p.m.
Friday, Oct. 27, at 12:30 p.m.
Friday, Nov. 3, at 12:30 p.m.
Wednesday, Nov. 15, at 5:30 p.m.
Friday, Dec. 1, at 12:30 p.m.
Wednesday, Jan. 10, at 5:30 p.m.
Friday, Jan. 19, at 12:30 p.m.
Blinn's Dental Hygiene Program is accredited by the Commission on Dental Accreditation. Upon successful completion of coursework, students receive an Associate of Applied Science (AAS) degree and are eligible to take the National Board Dental Hygiene Examination and a regional or state board clinical exam.
According to the U.S. Bureau of Labor Statistics, dental hygienists earned a median salary of $77,810 in 2021.
Blinn College's Dental Hygiene Program goes beyond the classroom by actively engaging in community service projects. Each year, the program participates in a variety of community service projects, including Give Kids a Smile, an initiative of the American Dental Association that provides free dental services to qualifying local children. At the most recent Give Kids a Smile event, almost 100 children received cleanings, x-rays, and sealants at no cost, totaling approximately $25,000 in preventative care. Since the inaugural event in 2008, Give Kids a Smile has provided approximately $225,000 in preventative dental services.
The Dental Hygiene Program is part of Blinn's Division of Health Sciences, which offers associate degree nursing, emergency medical services, fire science, health information technology, physical therapist assistant, radiologic technology, surgical technology, and vocational nursing programs designed to quickly train students for high-demand professions.
For more information or to register for an information session, visit www.blinn.edu/dental-hygiene.
Enjoy this article? Share it with one click!